'Right to roam' policy and what we mean by 'responsibly' just needs to be revised, not scrapped - Katharine Hay
There has been some whispering among the hills lately about some unintended consequences of Scotland's "right to roam" policy .
"Right to roam" is colloquial for the country's general public right of access introduced in The Land Reform (Scotland) Act 2003.
It allows members of the public to access most land and inland water in Scotland for recreational or other purposes provided the right is exercised responsibly. Landowners have an obligation to ensure others are able to exercise public access rights over the land they own and must use and manage their land in a responsible way, having regard to the rights of the public.
The fight dates back to the 1800s during which James Bryce MP pushed for the Access to Mountains (Scotland) Bills, among others.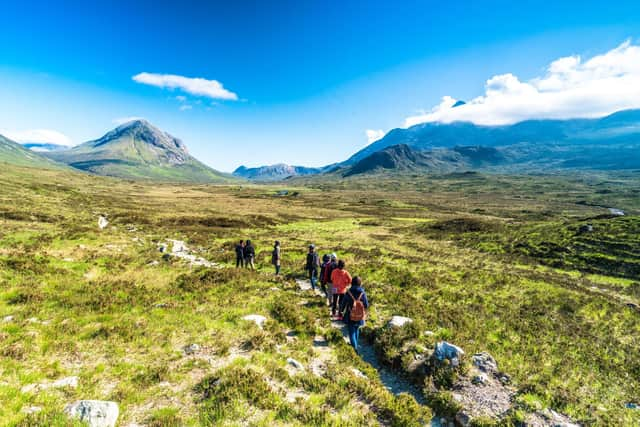 I say whispering because the move was, and still is, considered ground-breaking – a sacred cow for Scotland. And rightly so, in my opinion. The freedom to access nature is essential for our sense of freedom, wellbeing and educational purposes.
This week, however, a report came out with suggestions on how to combat "over-tourism" in Scotland, one of which included a review of the Act and its accompanying Outdoor Access Code – a set of guidelines to follow when out roaming to help ensure a person is accessing land in Scotland responsibly in accordance with the Act.
The report pointed out that despite the "massive growth" in tourism, which includes the roadside and wild campers, there has not been the appropriate investment in infrastructure and facilities to accommodate this influx.
The consequences of this, to name a few cited in the report, include extensive litter and human waste pollution, damage to flora and fauna, wildfires, erosion of road verges by parked vehicles, obstruction to other road users, including emergency services, and disturbance to farm animals and wildlife.
This month, the whispering turned to shouting in the Outer Hebrides when one man posted a picture of human waste on social media that his dog is understood to have rolled in.
A heated discussion ensued which prompted a reaction from the chief executive of the islands' tourism board. She said social media "amplifies" negative views, which are held by a minority of people.
It may be an isolated case, but while many rural communities proudly welcome visitors, from home and abroad, the impact of over-tourism on them and the environment cannot be overlooked. We need to address it, not sweep it under the rug and for it to get worse.
A post on social media which shared the report said it was just calling for our freedom to be taken away. But that was a serious case of jumping to conclusions.
We don't need to scrap right to roam at all. We just need to review it, be more nuanced with what we mean by "responsibly" and make the appropriate changes to reflect challenges and unintended consequences we are facing two decades on.
Comments
 0 comments
Want to join the conversation? Please or to comment on this article.