Hearts aflutter as vanished butterfly returns to Scottish region after 100 years
It's small, chocolate-coloured with splashes of orange and a pair of pale spots and hasn't been seen in Stirlingshire for a very long time. Until now.
The northern brown argus butterfly has returned to the region, where it had been considered locally extinct for a century.
The insect, which is listed as vulnerable by the International Union for Conservation of Nature, is found in small colonies across Scotland, mainly on the east coast but also a small population in the south-west.
It was once found in abundance throughout the Ochil Hills, but due to habitat-loss it was believed to have vanished from Stirlingshire and across much of its former range.
Very few colonies remain in the Ochils, with small numbers clinging on above the village of Alva in Clackmannanshire, living on steep crags where sheep cannot heavily graze the food plants required for their survival.
But now Ida Bailey, a volunteer for the charity Butterfly Conservation, has spotted the northern brown argus on her own doorstep – or, in fact, in her garden in Blairlogie, just inside the Stirlingshire border – after planting common rock-rose, which the caterpillars depend on.
The "remarkable" discovery sparked a wider hunt for the species in the region.
And the efforts have paid off.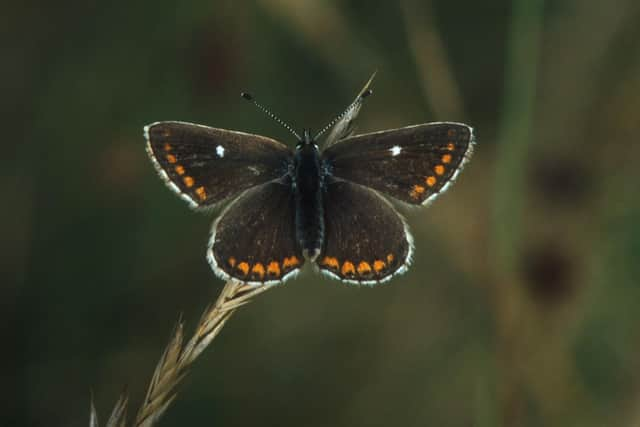 A series of searches carried out at Dumyat Estate in Blairlogie, which is owned by the Future Forest Company (FFC), uncovered a few small colonies of the butterflies on the steep hillside.
It has since been confirmed that the species is breeding at the site, giving new hopes for the return of the northern brown argus across its former habitat.
The State of UK Butterflies Report in 2022, published by Butterfly Conservation, revealed that northern brown argus numbers had crashed by almost 60 per cent in the past 40 years and their distribution had shrunk by 43 per cent over the same period.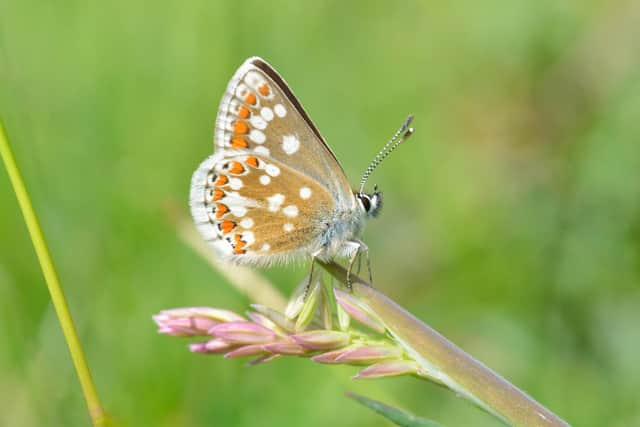 The species – found almost exclusively in Scotland, with a few colonies in northern England – needs short grassland to thrive, but much of its former habitat has been lost to overgrazing, lack of grazing or encroachment of scrub and woodland.
Staff and volunteers at the charity and FFC, a reforestation firm set up with the aim of restoring biodiversity and tackling climate change, will be working to ensure the species is given all the help it needs to multiply in the region.
"This is a once-in-a-lifetime event," said David Hill, conservation manager at Butterfly Conservation.
"The re-emergence of a previously locally extinct species in its former habitat is incredibly special and rare.
"We're committed to protecting the northern brown argus and helping it to thrive, with hopes that it will spread across its former home and stretch right across the Ochil hills once again."
Lindsay Mackinlay, head of biodiversity for the FFC, said: "We are delighted that this rare butterfly can once again be spotted on the hills below Dumyat.
"We hope to work in partnership with Butterfly Conservation to monitor its numbers in the coming years.
"With the help of volunteers, the Future Forest Company is starting to clear the invasive scrub that is threatening the common rock-rose plants which this beautiful butterfly depends on.
"However, more conservation work is required to ensure the long-term survival of this species at Dumyat."
"We have a biodiversity crisis on our hands and everyone can play a part in reversing this, including the private sector," she said.
"That's why we are inviting any company that wants to help ensure a future for wildlife at Dumyat, or through our other exciting projects, to get in touch and help transform our landscapes into wildlife havens for local people."
FFC was set up in March 2020 to deliver reforestation projects at scale across the UK, with the mission to plant enough trees to remove one million tonnes of climate-warming carbon dioxide from the atmosphere by 2030.
It already owns enough land in the UK to plant more than one million trees, with plans to buy, reforest and restore 50,000 hectares and put in 50 million trees.
The firm has a number of sites in Scotland, including Dumyat and one on the Isle of Mull, with new forests created with native broadleaf trees and managed using agroforestry techniques.
It sells carbon credits to other businesses looking to offset greenhouse gas emissions.
Comments
Want to join the conversation? Please or to comment on this article.