Deposit return scheme: Would Scotland's DRS help slash greenhouse gas and CO2 emissions?
Scotland's controversial new cash-back bottle recycling scheme would prevent around 160,000 tonnes of greenhouse gas emissions being released into the atmosphere each year if were to go ahead as originally proposed, according to official calculations.
Environmentally that would have the same effect as taking 85,000 petrol or diesel cars off the road.
However, the reduction would make only a small dent in Scotland's total annual emissions, casting some doubt on the environmental credentials. The scheme would remove just 0.4 per cent of the 40 million tonnes of carbon dioxide equivalent produced in 2020 – the most recent figures.
And taking glass out of the scheme would only shrink the possible savings even further, by more than a quarter – losing around 50,000 tonnes a year, or 0.125 per cent of the total emissions.
The deposit-return system (DRS) is due to be rolled out in Scotland in March 2024, a year ahead of a similar scheme across the rest of the UK.
It would see shoppers charged an extra 20p for each single-use bottle or can of drink purchased, with the levy refunded in cash or as a voucher when the container was taken to a designated collection point. But last-minute disagreement from Westminster means it is unlikely to go ahead in its proposed form.
The key stumbling block has been potential discrepancies between the materials to be collected north and south of the border.
The proposed Scottish system included PET plastic containers, metal cans and glass bottles, but it's thought glass will not be collected elsewhere.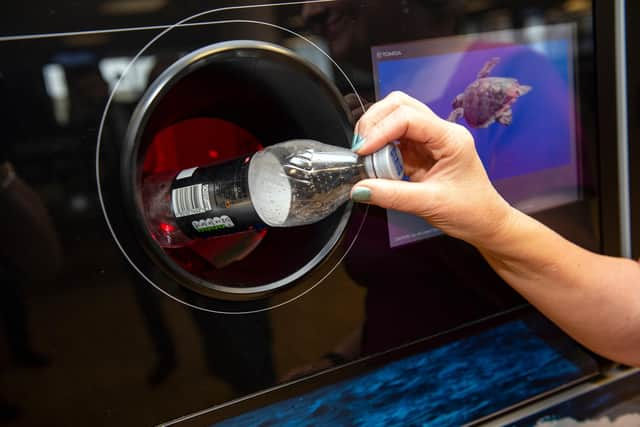 Calculations by Zero Waste Scotland suggest at least 560 million glass bottles would have been returned to the DRS annually, resulting in an extra 53,000 tonnes of glass being recycled each year.
A spokesperson for Circularity Scotland, the company set up to administer the scheme, said: "We have been clear that industry is well prepared for the DRS to go live in March 2024, and that a scheme without glass is both economically viable and is an opportunity for Scotland to provide a platform for a UK-wide DRS.
"We will continue to work with all stakeholders to address the impact of any planned changes to how DRS may operate in Scotland with the aim of preventing any further delay in introducing this vital environmental initiative."
Environmentalists say the DRS is not just about combating emissions but also tackling litter and plastic pollution which poses a threat to wildlife.
Barry Fisher, chief executive of Keep Scotland Beautiful, said: "The climate, nature and litter emergencies need committed action now. A well-designed deposit-return scheme can play a crucial part in tackling litter and waste and creating a more circular economy.
"We've consistently called for an all-in DRS to maximise environmental benefits and provide value for money – because a scheme that accepts the same material types makes it easy for people to understand and use, and clearer for businesses to support the implementation.
"It is really disheartening that despite a Scotland-wide proposal gaining cross-party support in 2019, we still have no operational scheme."
Catherine Gemmell, Scotland conservation officer for the Marine Conservation Society, highlighted the dreadful levels of rubbish piling up on shorelines across the country, with beach-cleans finding drinks containers on 93 per cent of all areas surveyed.
She said: "We need a deposit return scheme that includes metal cans, plastic and glass bottles. We are in a climate and nature emergency, and for too long the ocean has paid the price for our waste.
"We must put the onus on manufacturers to pay for the recycling of the litter they are producing to stop this kind of litter reaching our seas, harming marine life, and reduce our emissions."
Comments
 0 comments
Want to join the conversation? Please or to comment on this article.