David Harris, the chief executive of Circularity Scotland (CSL), said his company had "made it clear" during its application process to become the DRS administrator that it would not be able to meet the Government's initial launch date of July 2022, raising questions over why it took so long for the scheme's timetable to be reset.
The Scottish Government announced the appointment of CSL as the scheme administrator in a press release issued on March 24, 2021. It noted that while an independent gateway review was underway at the time to assess the impact of the pandemic on the DRS timetable, it was "currently scheduled for July 2022".
It is not clear exactly when CSL raised such concerns with the Government before then; applications for scheme administrators opened in June 2020. But it was not until December 2021 that Lorna Slater, the circular economy minister, announced the launch had been pushed back to August 2023. "Implementing a scheme on this scale is a massive national undertaking involving tens of thousands of producers and retailers," she said at the time.
That same month, the Government's DRS gateway review team warned the July 2022 target was "not achievable", noting while the pandemic and EU transition process had had an impact on the planned rollout, the delays "could not be wholly attributed to these challenges".
Giving evidence to the Scottish Parliament's net zero, energy and transport committee, Mr Harris said there was a "great deal to do" to meet August's go live date, describing it as an "immovable object". He insisted: "We did not not set the timetable, we were given the timetable."
However, it is his remarks concerning when the Government was told that its scheduled launch for the DRS could not be achieved that will increase scrutiny of Ms Slater and Humza Yousaf's Government. Asked by Liam Kerr, the Scottish Conservative net zero spokesman, what contingency planning was underway in case the scheme is not ready for August, Mr Harris also revealed CSL had proposed an even later revised go live date.
He told the committee: "This timetable never gave us a great deal of time contingency and, at the time when we were appointed as scheme administrator, at that point the deadline for the scheme was July 2022. Within the application to be scheme administrator, we made it clear we could not deliver that.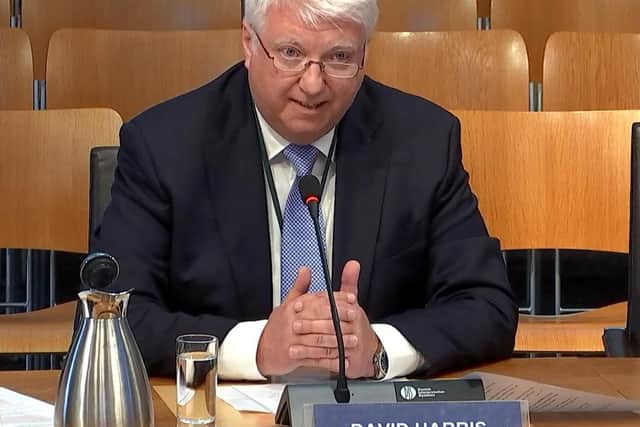 "Following that, we made representations to government around how we saw the scheme going live, and we identified a period of September to October 2023 was deliverable, but contained a degree of risk, and it did not allow for a great deal of contingency. That's the timetable that we're now working to. That risk has not gone away and the contingency has not grown."
Mr Harris explained that in terms of contingency planning, the firm was looking at what "alternatives" could be put in place "right through the programme", adding: "It is worth stressing, particularly looking at the operating side of this business, we are building an infrastructure to cope with returns of 90 per cent. That will not be the case on day one. There'll be a fairly extensive period where the scheme ramps up."
Donald McCalman, CSL's programme director, said that faced with an "immovable deadline", the firm has also reduced the scope of the scheme come its roll out. "Unashamedly, there are things that we perhaps set out to say 'we're going to have these in place for go live' – we've had a long, hard look at what we do and don't need, and there are some things where we've said 'guess what, we don't really need this for go live'."
Responding to questions from Scottish Greens MSP Mark Ruskell about a grace period for small producers, as proposed by the new first minister, Mr Yousaf, Mr Harris said he was concerned that any such move could have a detrimental impact on their sales.
"Everything you do with deposit return has unforeseen and potentially unpredictable adverse consequences," the 51-year-old explained. "We have to be very careful that small producers who may be relieved at having a grace period do not find that they are commercially disadvantaged. If you are a small producer supplying a big retailer, that big retailer has a lot of power, and wants things to be very simple."
Ms Slater has also questioned the wisdom of any such exclusions, insisting on Tuesday that she wants small business to "fully participate" in the DRS, warning any changes have to be "right and legal and fair". She told the BBC: "If you exclude small businesses, what does that mean for medium-sized businesses?"
The committee also heard of ongoing uncertainty facing retailers over point of sale labelling for the scheme, with Mr Harris admitting: "The issue we have is that trading standards and SEPA have not agreed on what the correct approach is." Elsewhere, Mr Harris defended his salary under questioning from Fergus Ewing, the SNP MSP and former business minister. Earlier this month Scotland on Sunday revealed Mr Harris is being paid £300,000 a year, with other CSL board members receiving cumulative annual fees totalling nearly £370,000.
Mr Harris said that in addition to his salary, he was receiving a pension contribution at the same level as every other employee of the company. He also told MSPs his role at CSL was full time, and that he was working about 80 hours a week. "I was asked by industry to do this, I gave my word that I would do the job and deliver what they asked me to do," he said.