The Corrieshalloch Gorge, a 15-minute drive south of Ullapool, drops to 100m in some areas and boasts a 45m (147ft) waterfall. The 0.6 mile-long canyon, created by meltwater from glaciers, takes its name from the Gaelic meaning "ugly hallow."
The new National Trust Scotland (NTS) centre includes a café, covered outdoor seating area, toilets and a new car park with electric vehicle charging points.
Designed to have a low carbon footprint, the rainwater collected on the large canopy roof is used for flushing toilets. Waste disposal facilities are also available for campervans and grey water recycling – the treatment of wastewater from appliances to be re-used for non-potable purposes.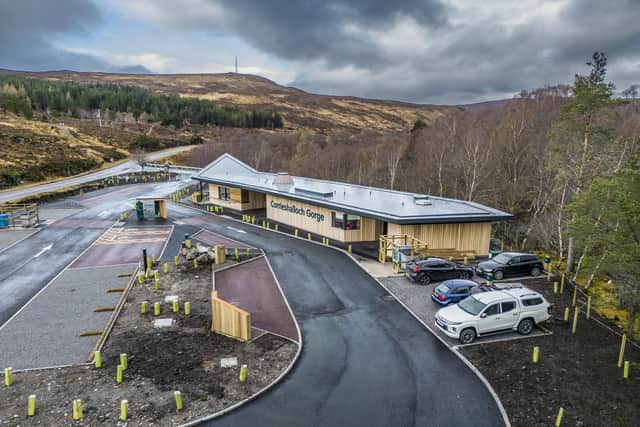 Viewing points have been created surrounding the gorge, along with more than 800m of new pathways. The site's Victorian suspension bridge, which visitors can stand on to admire the waterfalls, has recently gone through £10,000 worth of renovation works.
The structure was built by Sir John Fowler in 1873, who went on to design the Forth Bridge and was heavily involved in designing the London Underground
The centre, which is about an hour's drive from Inverness, is open daily from 9:30am to 4pm until the end of October, when it will close over the winter months.
The multi-million pound project received a £1,297,071 cash injection from the Natural and Cultural Heritage Fund, led by NatureScot and part-funded through the European Regional Development Fund. The purpose of the fund is to promote and develop the natural and cultural heritage of the Highlands and islands.