Climate change: Summer 2023 confirmed as world's hottest on record
This summer has been the world's hottest on record, after unprecedented high temperatures in many countries over the past three months.
The average global summer temperature was eclipsed by "a large margin", reaching 16.77C – 0.66C higher than normal.
The findings come from weather monitoring by the EU-funded Copernicus Climate Change Service (C3S), which reports on surface air temperature, sea ice cover and hydrological variables based on measurements from satellites, ships, aircraft and weather stations around the globe.
The data shows last month was the hottest August on record worldwide and warmer than all other months except July 2023. The month is estimated to have been around 1.5C warmer than the pre-industrial average for 1850 to 1900 – the target warming limit set out in the landmark Paris Agreement.
June, July and August also saw record-breaking high sea surface temperatures in the north Atlantic and around the world.
Marine heatwaves were recorded in several areas around Europe, including the UK and Ireland in June and across the Mediterranean in July and August.
It is possible 2023 could become the world's hottest year since accurate recording began in 1880, with only a small margin separating it from the current leader, 2016. All the warmest years have occurred in the past decade.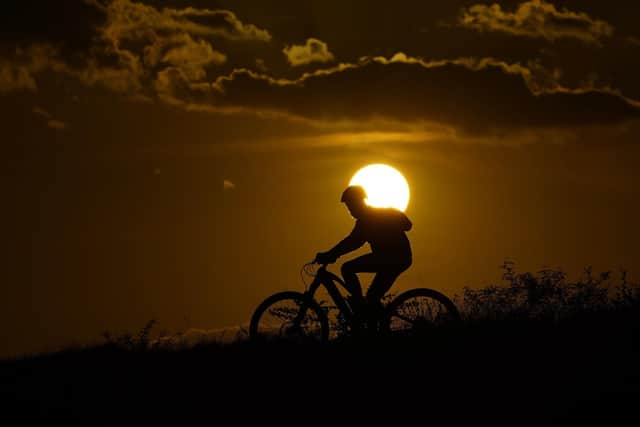 Experts attribute the rising temperatures to the impacts of human-induced climate change, caused by the build-up of greenhouse gas emissions in the atmosphere.
"Global temperature records continue to tumble in 2023, with the warmest August following on from the warmest July and June leading to the warmest boreal summer in our data record going back to 1940," said Samantha Burgess, deputy director of C3S.
"2023 is currently ranked as the second warmest, at only 0.01C behind 2016 with four months of the year remaining. Meanwhile, the global ocean saw in August both the warmest daily surface temperature on record, and it's the warmest month on record.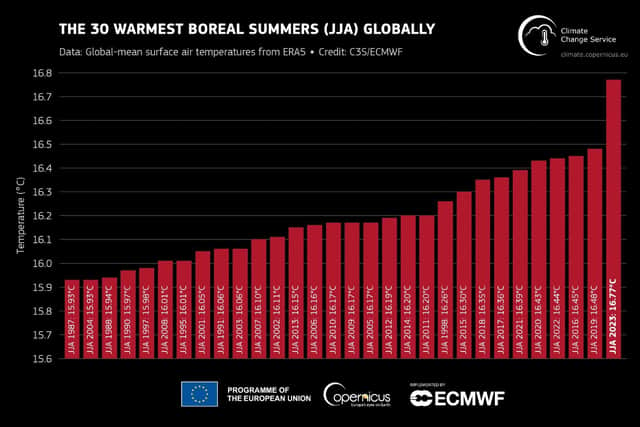 "The scientific evidence is overwhelming – we will continue to see more climate records and more intense and frequent extreme weather events impacting society and eco-systems, until we stop emitting greenhouse gases."
The UK this year experienced its hottest June, although July and August were less remarkable. However, forecasters are warning June's top heat of 32.2C – the highest temperature of 2023 so far – could be surpassed this weekend, with up to 33C expected in parts of southern England on Saturday.
This would make it the new hottest day of the year, despite summer officially ending in August.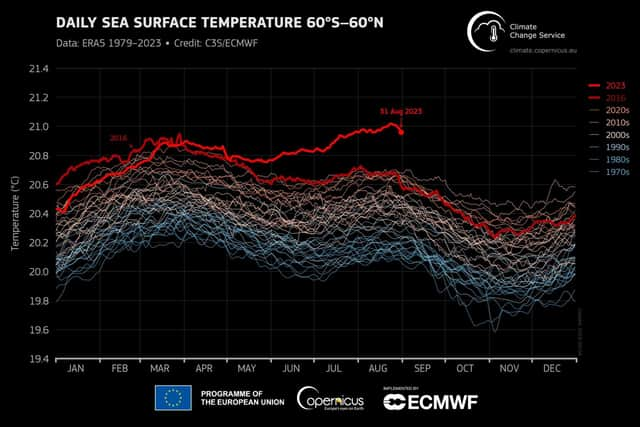 Across the world, records show Iceland, the Alpine arc, northern Scandinavia, central Europe, large parts of Asia, Canada, southern North America and most of South America experienced drier-than-average weather over the past three months.
In many regions, parched conditions fuelled major wildfires which left many people dead, destroyed nature and wiped out homes, businesses and landscapes.
Conversely, most of western Europe and Turkey experienced above-average rainfall this summer, with local records broken and flooding in places. Western and north-eastern North America, parts of Asia, Chile, Brazil, and north-western Australia were also wetter than usual.
Around 200 countries have signed up to the Paris Agreement, which commits to keeping global temperature rise below the 'danger' level of 2C above pre-industrial times and ideally no higher than 1.5C.
Comments
 0 comments
Want to join the conversation? Please or to comment on this article.