Wildfires Scotland: When is peak wildfire season and are outdoor blazes becoming more common in Scotland?
A giant wildfire that has been burning for several days in the Highlands is one of the largest ever to hit Scotland.
Satellite images suggest a giant wildfire burning for several days in the Highlands has already engulfed around 3,000 hectares of forests and scrub, with smoke from the massive blaze visible from space.
Two firefighters were injured at the scene of the fire, which broke out last week at Cannich, near Beauly, on Tuesday morning after their all-terrain vehicle overturned. Both are reported to be in a stable condition and are expected to be released from hospital later.
But more than 20 firefighters are still battling the blaze, with helicopters being used to waterbomb the flames.
The blaze comes during peak wildfire season in Scotland and just weeks after another huge fire left large swathes of the hillside – more than 3,000 hectares – at Glenuig in Lochaber scorched.
According to records, Scotland's biggest wildfire to date was a gigantic blaze in Sutherland in May 2019, which raged for six days and affected more than 5,700 hectares, including globally important peatlands in the Flow Country.
If it continues to burn over coming days, as has been predicted by fire services, the Cannich fire could easily become the next-largest – and the situation could be worse if peat ignites, which can cause a fire to massively intensify and spread underground.
The blaze has already spread from ground owned by Forestry and Land Scotland to RSPB Scotland's Corrimony nature reserve and private land.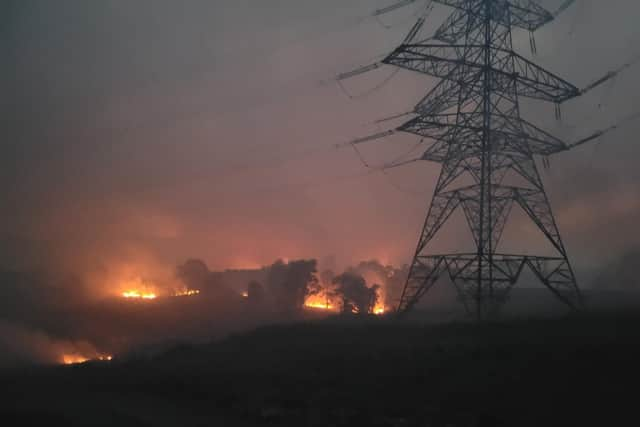 A spokesperson for RSPB Scotland said the main areas affected were birch woodland and heather moorland, which would have impacted ground-nesting birds such as the rare black grouse, as well as common lizards and various insects.
It is thought the peat bogs have so far resisted igniting due to their moisture content.
Most wildfires happen between March and May, when lots of dead and dried-out vegetation remains on the ground and provides a ready source of fuel to help flames to spread. The Scottish Fire and Rescue Service (SFRS) has tackled almost 1,000 wildfires over the past six years.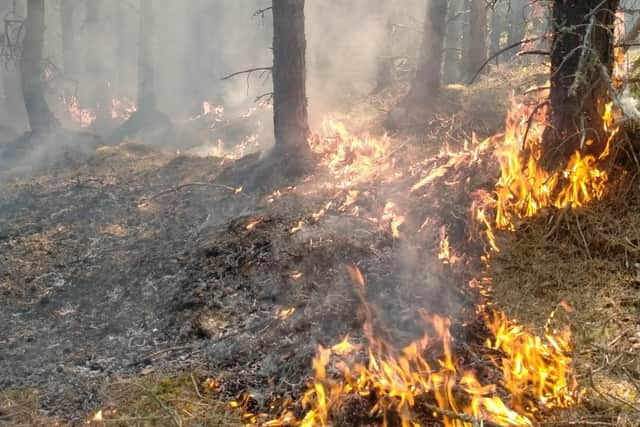 While the total number of outdoor blazes has fallen since a peak in 2018, numbers have been slowly rising again since a lull during the lockdowns of 2020.
And it is feared the situation will get worse due to the effects of climate change and a shift in land management practices.
Some land managers believe muirburning – a controversial practice where 'controlled' fires are lit to burn off old heather and grass – should be more widely used to reduce the incidence and severity of wildfires.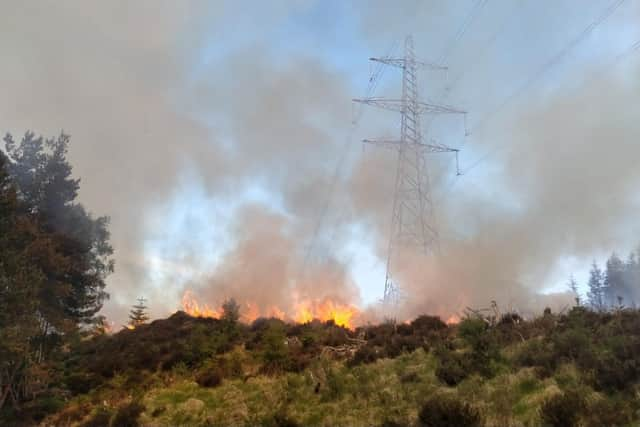 Ross Ewing, director of moorland at membership body Scottish Land and Estates, said: "Wildfires have a devastating impact on wildlife and habitats, generating catastrophic carbon emissions.
"They are becoming increasingly frequent in Scotland, partly due to climate change and partly due to a lack of fuel-load management in some areas. This wildfire demonstrates how important it is to utilise all the tools at our disposal to manage the fuel-load of vegetation, which has been shown to increase wildfire risk."
The SFRS last week issued warnings of a high risk of outdoor fires due to dry conditions and warm weather. The latest assessments show the threat level remains 'very high' across eastern, central and southern Scotland until Friday and across the whole of the country from then into next week.
Comments
 0 comments
Want to join the conversation? Please or to comment on this article.