Blur chooses image of Scottish outdoor pool for new album cover
The image of a lone swimmer in the pool under a dark sky will grace the front of The Ballad of Darren.
Britpop supergroup Blur has chosen an image of an outdoor pool in a Scottish town for the front cover of their first album in eight years.
Blur visited Gourock in 1995 as they caught the ferry to Dunoon for a gig at the Queen's Hall as part of a tour of "odd" seaside towns.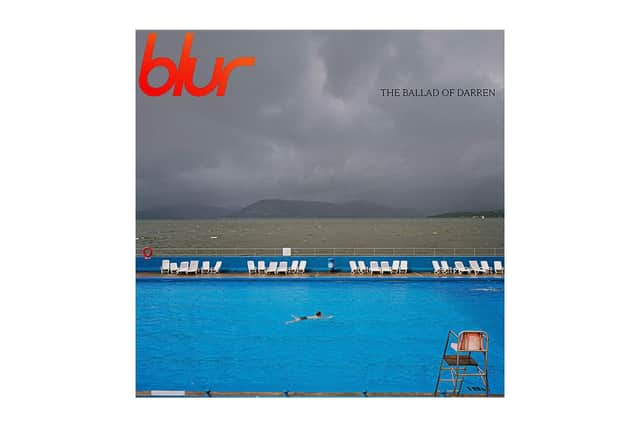 The image features lone swimmer Ian Galt, who started swimming in the pool as a child and was captured unaware in the water by British photographer Martin Parr back in 2004. Mr Galt saw the photo at an exhibition in Glasgow years later.
Parr's photograph is set to take the pool's profile to an international audience once again, with the picture previously used to promote Scotland as a destination at Heathrow Airport and JFK Airport in New York.
Inverclyde Council, which runs the pool, has welcomed the use of the image, which comes at the start of the new swimming season.
Provost of Inverclyde, Drew McKenzie, said: "It's great that all the people, so many people, are now talking about Gourock Pool thanks to Blur. Of course, the beauty and allure of the pool comes as no great surprise to Inverclyde residents present and past as it is such an iconic attraction for the area.
"But the stir caused by Blur can only help springboard Gourock Pool and indeed Inverclyde as a whole to a much wider, global audience and that can only be a good thing because we want more people to discover the many wonderful things we have to offer.
"And our door is always open should Messrs Albarn, Coxon, James and Rowntree ever fancy a dip in the pool or indeed make a welcome return to perform in Inverclyde to promote their new album."
Use of the image has created a stir in the town. One resident said: "Who would have thought?! Blur & Britpop were a huge part of my teenage years in Gourock. Surreal!"
Mr Galt earlier wrote about appearing in the photograph. In 2014, an article said he had been swimming in the pool for 40 years, with the lido becoming particularly important to him after he was badly injured in a car crash in 1995.
He wrote: "I was in intensive care for two months and told I might never walk again. But I managed to get down to the pool on my crutches – and for the first time I was able to move without them. It was a blissful moment. I thought to myself 'I'll never let an opportunity pass me by again'. If I'd lost the ability to swim, what would I have given for just one day in the pool?"
Mr Galt, a dentist, said he had swum exactly 32 lengths almost every day during the summer, when the pool is open.
He added: "I have my own swimming pool in Cape Town, where I spend the winter – but even that can't quite compare to swimming here. It's great therapy. I'm a dentist. All that time spent leaning over patients leaves me looking like a question mark by the end of the day.
"The pool straightens me out, it soothes my cares and troubles. I like the lapping of the water, the silence, and the seagulls – though people do occasionally get bombed by seagull poo, especially while they're eating their sandwiches."
Photographer Parr has been taking photographs north of the border for more than 30 years with an exhibition, Think of Scotland, touring the country in 2014.
Of Scotland, he said: "Firstly, it's a very beautiful country, and second the people are great – very friendly, the social scene is very interesting. It's different from where I live in Bristol, it's rougher and more engaging and quite dramatic. That difference really appeals to me."
The original pool opened in 1909. Back then it was cold, tidal and had a sandy floor, but heating was added in 1969, In 2010, a £1.8 million refurbishment was completed.
Comments
 0 comments
Want to join the conversation? Please or to comment on this article.