Wilfried Zaha: Boy, 12, arrested over racist messages sent to Crystal Palace player
A 12-year-old boy has been arrested in connection with racist messages which were sent to Crystal Palace footballer Wilfried Zaha.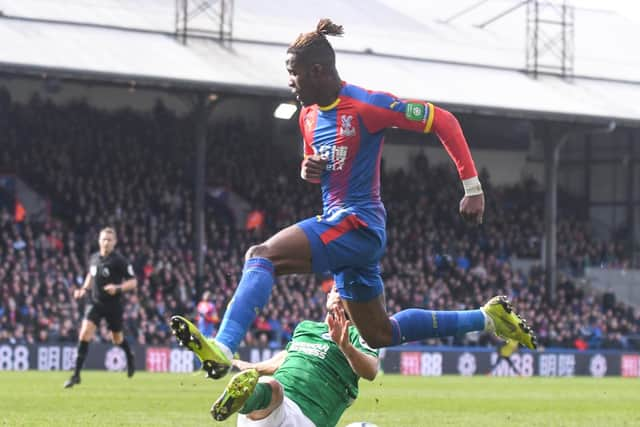 Crystal Palace footballer Wilfried Zaha. Pic: Cosmin Iftode/Shutterstock
Zaha, who also plays for the Ivory Coast, shared screenshots of the messages which used highly offensive racist terms including one which read: "You better not score tomorrow you black ****."
Another contained an image of the Ku Klux Klan surrounding a blindfolded black man and a mocked up cornflakes box showing a man in black face.
Zaha shared the screenshots on Sunday morning just hours before his team's match against Aston Villa.
Both Crystal Palace and Aston Villa issued statements on twitter today condemning the incident.
West Midlands police confirmed this afternoon that a 12-year-old boy from Solihull, near Birmingham, has been arrested in connection with the incident.
The statement read: "We were alerted to a series of racist messages sent to a footballer today and after looking into them and conducting checks, we have arrested a boy.
"The 12-year-old from Solihull has been taken to custody.
"Thanks to everyone who raised it. Racism won't be tolerated."