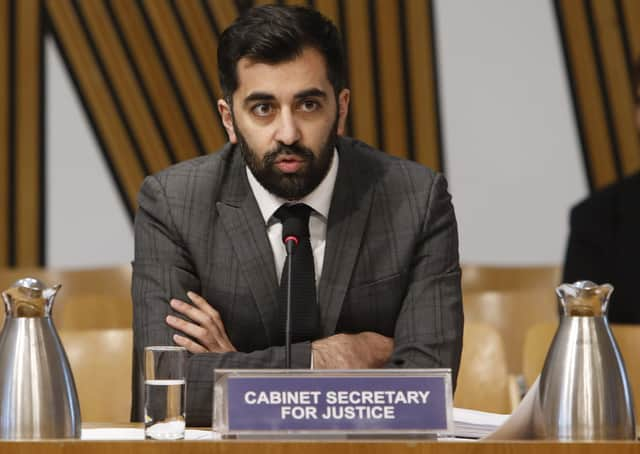 Humza Yousaf, Cabinet Secretary for Justice, says the new Hate Crime bill is not a threat to free speech (Picture: Andrew Cowan/Scottish Parliament/PA Wire)
Hate crime has real-life consequences. Like many people, I have been subject to bigoted abuse and know the damaging impact it can have, not just on the individual but on families and the community. I am asking Parliament to approve this Bill as creating robust laws will ensure action can be taken against perpetrators and send a strong message to victims and communities that offences motivated by prejudice are not tolerated. The Bill has received support from numerous organisations including Engender, the Humanist Society of Scotland and the Scottish Council of Jewish Communities. The Bill builds on existing laws. It retains existing characteristics in relation to the aggravation of offences by prejudice and adds age as a new characteristic.
Where a person is stirring up hatred in others, I believe criminal law should treat this as an offence. Stirring up hatred can incite people to commit offences against individuals in the targeted group and contribute to an atmosphere in which prejudice is accepted as normal. That is not the Scotland I want.
Our legislation, if passed, would offer greater protection for those who suffer from this kind of behaviour. The Bill provides for new 'stirring up' of hatred offences that would apply to all characteristics listed in the Bill: age, disability, race, religion, sexual orientation, transgender identity and variations in sex characteristics.
Currently such offences only apply to racial hatred. The racial hatred offence criminalises conduct which includes "insulting" behaviour intended or likely to stir up hatred. This approach is nothing new in Scots law. Stirring up of racial hatred offences in this form have been part of Scots criminal law since 1986.
The new stirring-up hatred offences for the other characteristics use a threshold that the conduct must be "threatening or abusive" and intended or likely to stir up hatred. So actions must either be threatening or abusive before the new stirring up hatred offences can be committed.
I firmly believe the Bill strikes the right balance between respecting freedom of speech and tackling hate speech. Let me be clear, people can hold and express views on any topic and subject – including opposing Scottish Government policy. It is absolutely not a criminal offence to do so – unless this is expressed in an abusive and threatening manner with an intention to stir up hatred, or where it is likely that hatred will be stirred up.
The Bill ensures stirring up of hatred offences do not unduly inhibit freedom of expression protections set out in the ECHR. The Bill's provisions on freedom of expression provide reassurance that stirring up offences will not unduly restrict people's right to express their faith, or to criticise religious beliefs or practices or sexual practices. Freedom of expression is not without limit, but this Bill will not inhibit controversial and challenging views being offered as long as this is not done in a way that is threatening or abusive.
Lord Bracadale recommended that gender should be added to hate crime law. Leading women's organisations were opposed to this. They proposed a standalone offence on misogynistic harassment be developed, which the Scottish Government is committed to in principle.
A working group will consider how Scotland's criminal justice system deals with misogyny, including consideration of a specific offence on misogynistic harassment and whether sex should be added to the characteristics in hate crime law.
We are living through extremely challenging times, but it is important that victims and witnesses continue to report hate crime to the police or through a third-party reporting centre. We have a responsibility to challenge prejudice to ensure Scotland is an inclusive and respectful society. This Bill will play an important part in realising this.
Humza Yousaf is Scottish Justice Secretary