What is Novichok? Nerve agent used in Alexei Navalny poisoning and Salisbury attacks explained
Boris Johnson has described the use of Novichok as outrageous and called for the Russian Government to explain themselves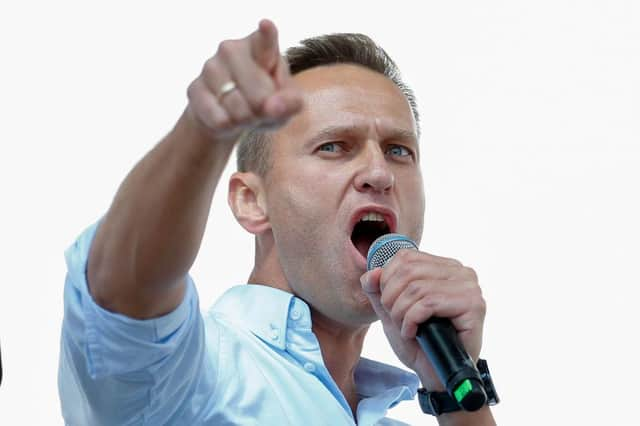 The German government has confirmed that Russian opposition leader Alexei Navalny was poisoned with a nerve agent.
Mr Navalny fell into a coma after becoming ill on August 20 while in Siberia, with supporters quick to claim that he had been poisoned by the Russian state.
The nerve agent in question was a Novichok agent, a family of chemical weapons developed by the Soviet Union and Russia from 1971 to 1993.
Novichok will be familiar to much of the British public, having gained international prominence after the poisonings of five people in Salisbury in 2018.
Translating as 'new boy' or 'beginner' Novichok is a series of nerve agents developed by Russia and the Soviet Union between 1971 and 1993.
Developers say they are the most deadly nerve agents ever developed.
The agent was designed to be undetectable, capable of breaching NATO protective gear, safer to handle and capable of circumventing the Chemical Weapons Convention list.
A former Russian double agent who passed secrets to British intelligence was poisoned with the nerve agent along with his daughter in 2018 when in Salisbury.
Both recovered, though one local woman who came into contact with the substance died.
Novichok targets the nervous system, preventing chemical messages getting around the body.
This causes the heart rate to slow and restricts airways, potentially leading to suffocation or brain damage.
Alastair Hay, professor of environmental toxicology at the University of Leeds explains: "they do this by inhibiting a specific enzyme, acetylcholinesterase.
"The enzyme is crucial for regulating messages from nerve to muscle – and its inhibition leaves muscles in a sort of spasm. Muscles cannot contract and relax as they do normally.
"The nerve agents are extremely potent, with very tiny quantities sufficient to kill."
What happened in Salisbury?
On March 4 2018, ex-Russian spy Sergei Skripal and his daughter Yulia were found unconscious on a park bench in Salisbury. Critically ill, the pair were taken into intensive care following exposure to the then-unknown substance.
Days later, it was revealed the substance was Novichok and the case was treated as attempted murder after police said the pair were targeted deliberately.
The poisoning led to a decontamination effort in Salisbury, which took months to complete.
Wiltshire Detective Sergeant Nick Bailey was also taken to hospital after he became seriously ill following apparent contact with the poison. All three were discharged.
On June 30 two Amebury residents fell ill after coming into contact with the substance.
It is believed Dawn Sturgess and Charlie Rowley became unwell after they were exposed to the military-grade nerve agent from a perfume bottle discarded by those responsible for the attack on Mr Skripal and his daughter.
Mr Rowley survived the poisoning and later said Ms Sturgess had sprayed the substance on to her wrists believing it was perfume.
Two suspects were identified in the attack, known by their aliases Alexander Petrov and Ruslan Boshirov.
In September 2018, Mr Putin said there was "nothing criminal" about Petrov and Boshirov.
Downing Street insisted they were GRU officers "who used a devastatingly toxic illegal chemical weapon on the streets of our country".
Petrov and Boshirov told Russian state-funded news channel RT that they travelled to the "wonderful" city in Wiltshire after recommendations from friends.
Boshirov told the broadcaster: "There's the famous Salisbury Cathedral, famous not only in Europe but in the whole world."
What happened to Alexei Navalny?
The 44-year-old felt unwell on a flight back to Moscow from Tomsk, a city in Siberia.
Mr Navalny's spokeswoman Kira Yarmysh suggested he may have consumed something in a cup of tea he drank at an airport cafe before boarding the plane.
During the flight Mr Navalny started sweating and asked her to talk to him so he could "focus on a sound of a voice". He then went to the toilet and lost consciousness.
Anatoliy Kalinichenko, deputy chief doctor of the hospital in Omsk, Siberia, where Mr Navalny is being treated, said he was in grave but stable condition.
Doctors say no poison was found in his body, but his supporters believe that a poisonous substance could have been put into his drink at an airport cafe in Tomsk as he prepared to fly to Moscow.
Medical professionals have currently deemed Mr Navalny too ill to be transferred to Germany for further medical attention.