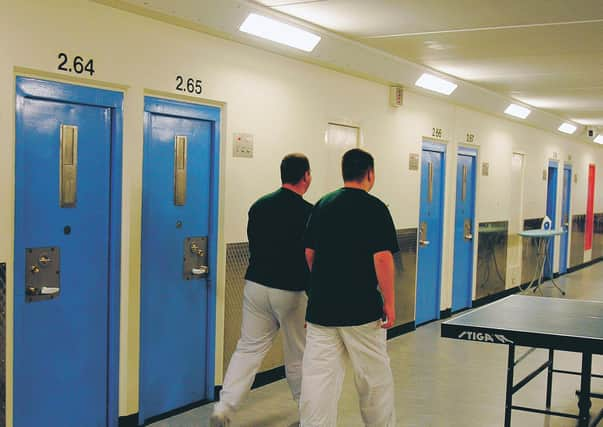 No physical visits have taken place since lock-down, but the installation of computers and broadband in revamped visitor areas in Shotts, Polmont and Cornton Vale will allow relatives to connect with their loved ones from their own homes from Monday,15 June.
The virtual visits are expected to be rolled out to other Scottish jails by the end of June. Before the pandemic, prisoners would be allowed a minimum of two visits a month, more if the jail had the capacity to provide them. Remand prisoners were entitled to a half-hour visit every day.
However, all visits were cancelled in March as the country moved into lockdown, with families becoming increasingly distressed by the separation. As a result, some prisoners have missed out on major milestones, such as babies being born, or taking their first steps.
There have been concerns about the impact of lack of contact on mental health and on relationships. Research has shown that maintaining family connections reduces both depression and recidivism.
Yesterday Nancy Louks (right), chief executive of Families Outside, welcomed the new technology, which it has spent many years campaigning for. "It will make such a difference to relatives, who haven't seen their loved ones for three months now," she said.
"It's been really hard for them. They worry about how the prisoners are doing with the Covid-19 outbreak, which is not good news in an institution where social distancing is impossible, but it is particularly stressful for those with young families.
"For example we are supporting a mum with a 14-year-old who has autism. He is suicidal because he hasn't seen his dad. How do you explain that to children, especially really young children, who can't speak on the phone or write letters and need to see their parents' face?"
Virtual visits were recommended by the UN Committee on the Rights of the Child in 2011 as a supplement to face-to-face visits and have already been successfully implemented in other countries including Northern Ireland and Wales.
Those taking part will have to go through a few preliminary identification checks and the half-hour calls will be monitored if required. It is not yet clear how many visits a month will be possible.
The virtual visits will also be a plus for those who live too far from the prison to make regular trips. Travelling from the Western Isles to HMP Inverness, for example, is a three-day round trip.
Louks said she hoped the virtual visits would continue after the pandemic is over. "They are good for people who live far away and give a lot more flexibility."
For those with broadband connection the virtual visits will be free. However, for those using pay-as-you go mobile phones, the data could cost several pounds. "We are concerned about that, as people are not able to go and access free data in a café right now," says Louks. "We are looking at whether there is a way of supporting that. There is a UK government scheme to support prison visits by people on benefits – what I would like to see is that funding being used to support other types of prison visits as well."
Justice Secretary Humza Yousaf said the video conferencing pilots would help maintain the mental health and well-being of those in custody. "The prison service has had to take some difficult but necessary steps, including the suspension of visits in order to ensure the health and safety of those who live and work in prisons," he said. "This is one of a number of measures being taken forward by the prison service to support prisoners during the pandemic.
"The prison service will make sure implementation of virtual visits across the prison estate is done in a way which is practical and safe – for those in custody, their families, and those in the wider community."