Theft of mountain rescue donation box in Highlands 'not the only one' in the community, says local trust
The theft of a donation box for a mountain rescue team is one of several to hit a community in the north west of Scotland, a local trust has said.
The Assynt Mountain Rescue Team confirmed on Sunday that its collection box, located in a car park Inchnadamph, near Lochinver, was damaged and every penny inside was taken. Police Scotland said it was looking into the incident and is appealing for witnesses to come forward.
Nigel Goldie, chairman of the Assynt Development Trust, said thefts of donation boxes are not uncommon in the area. "This is not the only one that has happened lately," he said.
"We have had other community collection boxes stolen, including the one for Historic Assynt, which supports Ardvreck Castle. It is a real shame and it's a sad reflection of people taking advantage of these more rural areas."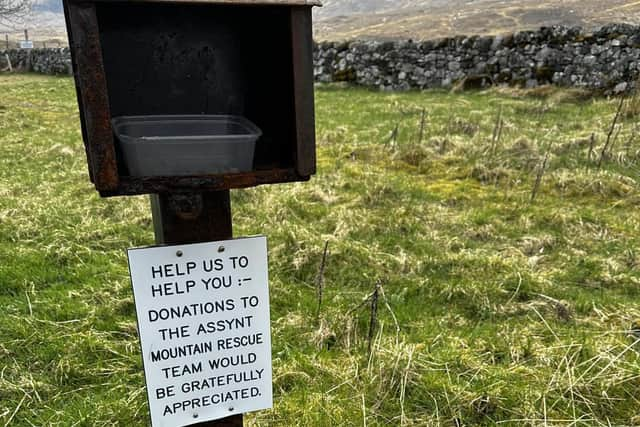 Mr Goldie said attractions such as the North Coast 500, which bring more people to the area, could explain why there have been multiple thefts of this kind in the community.
"With donation boxes, we are largely built on trust," he said. "Living in more secluded areas, we don't have the sort of robust infrastructure you might get elsewhere for these things."
The Assynt Mountain Rescue Team said it has been struggling, having lost funding, and relied heavily on donations from the public to continue saving lives.
In a post on social media following the theft, the team said: "So sad to say our collecting box at the Inchnadamph car park has been broken into and all our generous donations stolen. The police have been informed.
"We rely on the generosity of the public to fund our volunteer team. We couldn't save lives without you.
"This year we are already struggling as we have lost some areas of funding, and costs are going sky high.
"Cash in boxes is great, but we also have a JustGiving page. You can find this and other ways to support us on our webpage."
A Police Scotland spokesperson said anyone who had information relating to the theft of the Assynt Mountain Rescue Team donation box can contact Police Scotland on 101.
Comments
Want to join the conversation? Please or to comment on this article.