Sheku Bayoh: Inquiry into man's death in police custody to start next week
A long-awaited public inquiry into the death of a Fife man in police custody is set to start next week, it has been announced.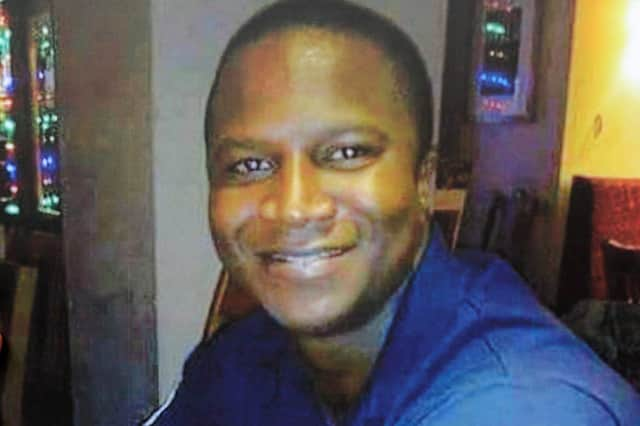 Sheku Bayoh died while being pinned down by as many as six police officers on Kirkcaldy's Hayfield Road.
Sheku Bayoh died while being held down by up to six police officers in Kirkcaldy's Hayfield area in May 2015.
Lord Bracadale, a retired senator of the College of Justice, will lead the inquiry which begins on Monday, November 30.The Justice Secretary also appointed Michael Fuller and Raju Bhatt as assessors to support Lord Bracadale with their knowledge and experience in their individual areas of expertise, as well as on race and diversity issues.
Justice Secretary Humza Yousaf said: "The family of Mr Bayoh have shown remarkable dignity and perseverance during their five-year wait for an inquiry into the death of Sheku.
"I hope that today's announcement gives them comfort and reassurance that the circumstances surrounding his death will be examined in a public and transparent manner.
"Lord Bracadale and I worked closely together in selecting the assessors and we agreed that Mr Fuller and Mr Bhatt would provide extensive levels of experience and expertise to the Inquiry.
"The formal start of the Inquiry is a key milestone and I am confident the assessors will ably assist the chair to consider issues relevant to the Terms of Reference.
"The Inquiry will examine the circumstances leading up to the death of My Bayoh, the post incident management process and subsequent investigation.
"The inquiry will also establish the extent to which Mr Bayoh's actual or perceived race played a part in events, if any."
Solicitor Aamer Anwar has issued a statement on behalf of Sheku's family.
It said: "Sheku Bayoh's family welcome today's statement by Humza Yousaf on Lord Bracadale's Public Inquiry into the death in police custody of Sheku.
"That the Public Inquiry came about at all is the direct result of the tenacious determination and campaigning of Sheku's partner Collette and his family.
"The family have suffered considerable anguish, anger and frustration about the lack of accountability after Sheku's death and the failure of the Crown to hold the police to account.
"The review by Dame Angiolini QC on the 11 November 2020 (Independent review of complaints handling, investigations and misconduct issues in relation to policing) delivered a damning indictment of the lack of accountability and racism in Police Scotland.
"The last five years have been extremely damaging to Sheku's family and public confidence in the investigation and the prevention of the abuse of power and misconduct, but at the heart of this inquiry is a young black man, Sheku Bayoh, whose two young boys will grow up without knowing their father.
"Fighting for a proper investigation, never mind achieving robust and meaningful change, has involved the Bayohs in enormous challenges and obstacles at great personal cost to Sheku's family.
"Over the course of the five long years Sheku's family have lied to, patronised, smeared, with repeated attempts to bully them into silence.
"Too often their needs have been reduced to the lowest priority by institutions who were more concerned about protecting their officers and flawed practices and procedures.
"Today's announcement is an important milestone for the family and the appointment of the two assessors, with highly respected judge Lord Bracadale as chair fills the family with hope."