Russell Brand: YouTube stops comedian from making money off platform as BBC removes Russell Brand content from iPlayer and Sounds apps
Russell Brand has been accused of rape, assault and emotional abuse between 2006 and 2013, when he was at the height of his fame and working for the BBC, Channel 4 and starring in Hollywood films
​YouTube has stopped Russell Brand making money on its platform because of the rape and sexual assault allegations made against him, as the BBC also removed content involving the comedian.
The monetisation of 48-year-old Brand's channel was suspended because he was "violating" its "creator responsibility policy", YouTube said.
In a statement, the Google-owned company said: "If a creator's off-platform behaviour harms our users, employees or ecosystem, we take action to protect the community."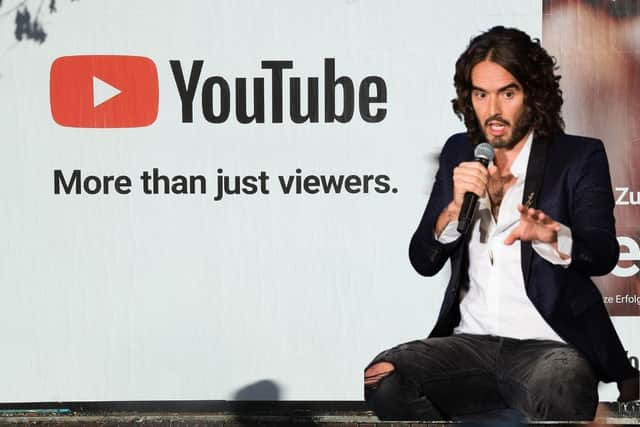 The decision comes as the BBC removed some Brand content from its iPlayer and Sounds apps, which the corporation said "now falls below public expectations".
In a statement confirming the decision, a BBC spokesman said: "The BBC does not ban or remove content when it is a matter of public record, unless we have justification for doing so.
"There is limited content featuring Russell Brand on iPlayer and Sounds. We've reviewed that content and made a considered decision to remove some of it, having assessed that it now falls below public expectations."
The removal of content follows the remaining shows of Brand's Bipolarisation tour being postponed and the Metropolitan Police confirming they had received a report of an alleged sexual assault in the wake of media allegations about the comedian and actor.
Brand's YouTube account, which has 6.6 million subscribers, has been suspended from YouTube's Partner account "following serious allegations against the creator", meaning the channel is no longer able to make money from advertising on the platform.
The statement added: "This decision applies to all channels that may be owned or operated by Russell Brand."
Other channels associated with his main YouTube page include Football Is Nice, which has some 20,000 subscribers, Awakening With Russell, which has 426,000 subscribers, and Stay Free With Russell Brand, which has 22,200 subscribers.
YouTube said suspending a creator from the YouTube Partner Programme means they are "prohibited from using a new or alternate channel to circumvent our enforcement decision".
Brand still has a presence on video platform Rumble, where his channel has 1.4 million followers and he hosts a weekly live show at 5pm BST, but there was no new episode on Monday.
His most recent video on Rumble is the short clip from Friday when he denied the allegations against him which were published the following day.
The Rumble channel description reads: "Everybody knows that the old ideas won't help us. Religion is dead. Capitalism is dead. Communism is dead. Where will the answers of the next century lie? Particularly, when we're facing a mental health epidemic and ecological meltdown."
Brand also has a dedicated subscribers' area on the online community platform Locals, where members can sign up for a minimum $60 (£48) a year – or enter a higher amount if they wish to donate more – to access special bonus content from Brand, as well as the opportunity to interact with him directly.
Brand has been accused of rape, assault and emotional abuse between 2006 and 2013, when he was at the height of his fame and working for the BBC, Channel 4 and starring in Hollywood films, following a joint investigation by The Times, Sunday Times and Channel 4's Dispatches.
He has strongly denied the allegations, which also include claims of controlling, abusive and predatory behaviour.
Comments
Want to join the conversation? Please or to comment on this article.