Residents demand action to tackle chaos of 'rammed' road amid fears large numbers visiting Cramond
Worried residents have demanded urgent measures to tackle bottleneck traffic on main road down to the shore at Cramond, amid fears about large numbers heading to the beauty spot.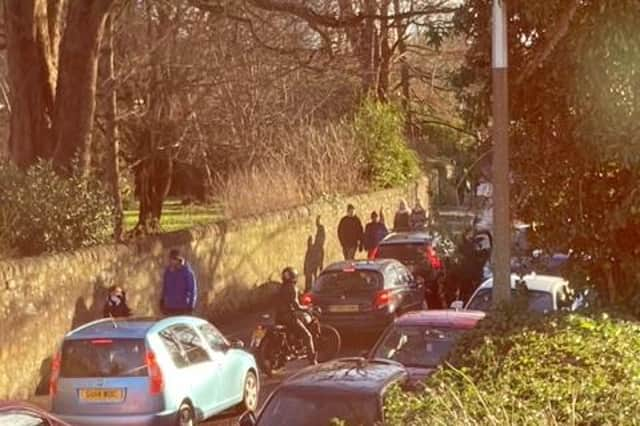 Residents told the Evening News that Cramond Glebe Road was "choked with traffic" yesterday as groups of people made their way to the beach.
Locals have said the area is packed again today and called for measures to limit cars using the single track main road.
Mr Adam Cumming, from Cramond Association, said: "I can see why folk are desperate to get out to open space like down here. This weekend it has been so busy on the main road. And with the tide being very high you can't get out as much onto the sand, there's less space. Me and my wife don't go down to the shore, we don't want to add to the problem.
"We are worried about it. I think folk are demob happy now, they are fed up after restrictions lasting so long and with good reason. But it has to be managed safely."
The 70-year-old added: "Closing off Silverknowes Road has caused major problem as people bottleneck here now. The last thing that should be done is forbidding people getting out to lovely spots in the city, but people do need to take responsibility for their actions. It's incumbent on all of us to make sure restrictions are tightened ever further."
One woman who has lived in the area for 20 years said: "People think we are saying don't come here but it's not the case. The traffic management here along the main road is the problem. It's got so much worse in lockdown. It has really amped up. I walk the dog up and down every day and it's impossible to social distance.
"And the amount of road rage is absolutely shocking. People are always out of their cars arguing over who has to reverse their car on the single track road. It really frightens me. We need to stop so many cars bombing down this road. Folk come down to the car park at foot of road but it's rammed by 9.30am. This has been brought up with local councillors several times but nothing has been done. It's daft not to sort it out now, in the middle of a pandemic. We need measures put in place to help people stick to the rules."
But one business owner hit back at claims of unsafe numbers visiting the area.
Eddie Tait, owner of the Boardwalk Cafe, said: "Far too many cars are parked here – but it's safe once people get down the Shore. The problem is a lack of parking and access for cars. There's no buses coming down here. And it's been black with ice, no gritting on paths. But a big problem is the council shut Silverknowes Road and that took away parking capacity. Many get here in cars and all the traffic is funnelled down the Glebe road.
"Residents are hacked off because this creates a massive jam. Once people get down to the Shore it's a safe open space. The council need to reinstate the old road at Silverknowes and urgently sort out the bus route."
Edinburgh City Council was contacted for comment.
A message from the Editor:Thank you for reading this article. We're more reliant on your support than ever as the shift in consumer habits brought about by Coronavirus impacts our advertisers.
If you haven't already, please consider supporting our trusted, fact-checked journalism by taking out a digital subscription.
Comments
Want to join the conversation? Please or to comment on this article.