Police Scotland pledge review as seven members of Glasgow paedophile gang convicted of 'horrific' abuse
Case believed to be the largest prosecution of a child abuse ring in Scottish legal history
Police Scotland has promised a multi-agency review will be held after seven members of a paedophile gang were found guilty of a slew of charges, including the gang rape of primary school aged children, in a case described by a judge as exposing "the depths of human depravity".
In what the National Society for the Prevention of Cruelty to Children (NSPCC) charity described as one of the most "truly shocking" cases seen in decades, the High Court in Glasgow heard four children under the age of 13 were exposed to a litany of sexual abuse and violence in a drugs den in the city over a period of several years.
After a harrowing eight week-long trial that is believed to have been the largest prosecution of a child abuse ring in Scottish legal history, five men and two women – Paul Brannan, 41, John Clark, 46, Scott Forbes, 50, Elaine Lannery, 39, Iain Owens, 45, Barry Watson, 47, and Lesley Williams, 41 – were found guilty of sexual abusing the children.
Four of the accused – Brannan, Lannery, Owens and Williams – were found guilty of the attempted murder of a young girl by pushing her into a microwave and trapping her in other places. An eighth accused, Marianne Gallagher, 38, was found guilty of assaulting a child and was granted bail. A further three accused – Mark Carr, 49, Richard Gachagan, 45, and Leona Laing, 50 – were acquitted of all charges.
Police Scotland's Detective Superintendent Nicola Kilblane said the children who had been abused had undergone a "horrific ordeal", and stressed the levels of depravity exhibited were "extremely rare" in Scotland. She said the courage of the victims was "essential" in securing the convictions, and they were continuing to receive support from a range of partners.
The convictions mark the culmination of a complex and distressing investigation that spanned more than 1,000 lines of enquiry. But there will be questions for authorities as to how the offences, which took place between 2012 and 2019, could have gone on for so long. The trial heard the children first came into contact with social work in Glasgow in August 2017, before being deemed to be at risk in July the following year. However, the allegations of violence and sexual abuse did not come to light until 2020.
Det Supt Kilblane described it as a "very rare" investigation that was "like nothing we've come across before." She said a multi-agency learning review would be carried out at the conclusion of the court proceedings. Colin Anderson, the independent chair of Glasgow's Child Protection Committee, characterised it as a "highly complex case", but said it would be inappropriate to comment further before a case learning review was carried out in accordance with Scottish Government guidelines.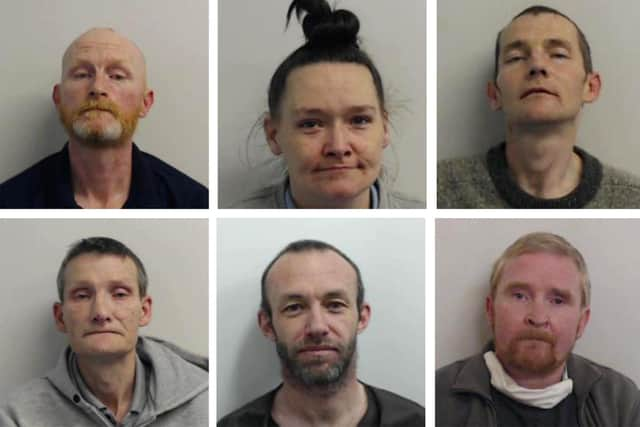 Throughout the trial before judge Lord Beckett, the High Court jury heard upsetting evidence, with allegations of gang rape, forced sexual activity, and physical abuse over a period of several years. An allegation the accused used a Ouija board to "call on spirits and demons", causing the child victims to "believe that they could see, hear and communicate with spirits and demons" and making them take part in "witchcraft", was dropped by prosecutors during the trial.
Owens and Lannery were both convicted of attempted murder and multiple counts of assault, sexual assault, rape, and causing a child to ingest drugs and alcohol. Williams was convicted of attempted murder, assault, rape and supplying drugs. Brannan, 41, was convicted of attempted murder, sexual assault, rape, causing children to consume drugs and alcohol, and supplying class A drugs.
Forbes was found guilty of rape, while Watson was found guilty of rape and sexual assault. Clark was found guilty of rape and sexual assault. All 11 of those who stood trial were acquitted of killing dogs.
Concluding the trial on Tuesday, Lord Beckett addressed those remaining in the dock. He told them: "None of you can now enjoy the presumption of innocence. You have all been found guilty of at least one serious charge."
In discharging the jury, who took just over a day to deliver their verdicts, Lord Beckett thanked them for their "remarkable public service", and said they would all be excused from ever again serving on a jury. "It has been a very difficult trial to listen to," he said. "It has been pretty unpleasant and shocking. It plunges to the depths of human depravity."
Speaking at a press conference in Glasgow, Det Supt Kilblane said: "This has been a horrific ordeal for the young victims who were subjected to years of unimaginable abuse. Our thoughts are with them today and I hope this outcome can help them in moving forward.
"The levels of depravity shown in this case are extremely rare in Scotland and the courage of the victims was essential in securing this conviction. This was a long, complex and challenging investigation for a team of officers and staff who had to work through the most harrowing evidence to bring those responsible for these despicable crimes to justice."
She added: "We remain committed to supporting victims of sexual crime and protecting children from harm and abuse. We will use all available resources to find and arrest the abusers, no matter how much time has passed. I would urge anyone who is a victim of abuse to speak to police in the knowledge you will be listened to, taken seriously and fully supported."
Brannan, Clark, Forbes, Lannery, Owens, Watson, and Williams will be placed on the sex offenders' register, but the length of this will be determined at sentencing. Lord Beckett remanded all seven in custody and adjourned the case until January for reports and sentencing.