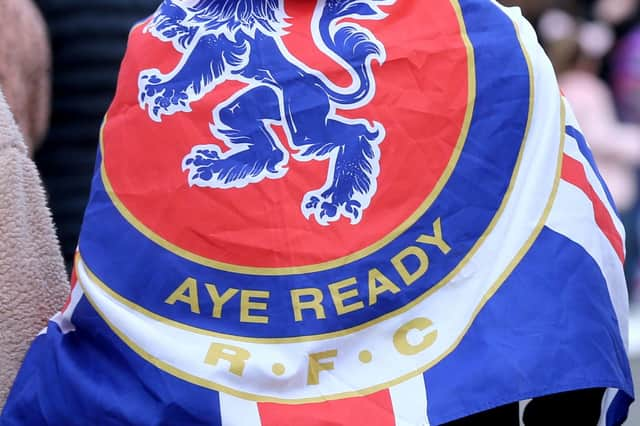 The organiser of a Rangers fans' celebration in Corby could be fined a maximum 10,000 pounds. Picture: Robert Perry/PA Wire
Evidence has been seen suggesting the gathering was not spontaneous.
About 200 Glasgow Rangers fans sang, used smoke bombs and let off fireworks on Abington Road Park on Sunday after the team won their first Scottish Premiership title in a decade.
Nicknamed "Little Scotland", Corby was where many Scots flocked to from the 1930s onwards to staff the steelworks that helped to build the town.
The town is 325 miles south of the Scottish border. It is the only town in England apart from London with two Church of Scotland churches.
In scenes widely criticised across the town that has consistently had the worst Covid rates in England, fans were eventually dispersed by police officers.
Three fines were issued as most fans scattered as soon as they saw police.
But now officers say that they are reviewing footage taken of the event and are considering fining the organiser with the maximum £10,000 fine if they can prove who organised it.
Although it was first thought the celebration was spontaneous, witnesses who contacted the Northants Telegraph have suggested the event may have been a week in the planning.
It is believed local fans planned the meet-up on Facebook and that it was an organised affair. Many fans travelled to the park by car and clogged up nearby roads.
Gatherings of more than two are currently banned under Covid laws.