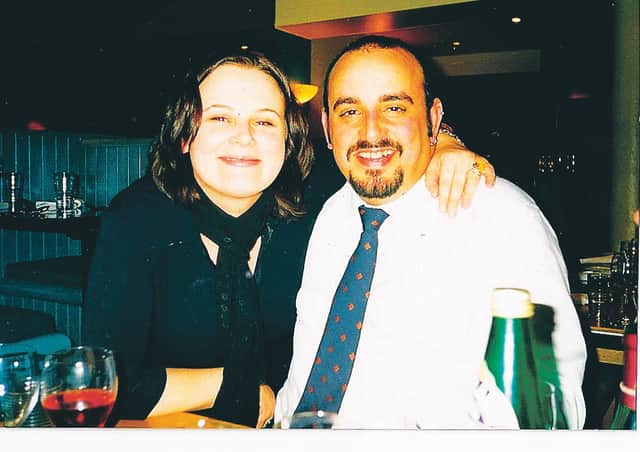 Donna McLean and the man she knew as Carlo Neri at the height of their relationship
Imagine waking up one day to discover that two of the best years of your life were a fiction; that the man who had shared your bed, proposed to you, asked you to have his child, was not a knight in shining armour, but an undercover police officer interested in you only as a supplier of useful information.
Imagine realising that all those things you thought you had in common – your politics, your taste in books and music – were not fate working her magic, but the result of a cynical mirroring exercise designed to reel you in.
Imagine finding out the mental breakdown you tried to help him through was a ploy, a cynical means of extricating himself from your life.
Donna McLean has taken part in the Mitting Inquiry and hopes to publish a memoir within a year. Photograph: Lisa Ferguson
Then, imagine – in a cruel twist – that these revelations forced you to lead a double life; to take on a pseudonym and deceive your friends, just as he had deceived you.
This is what happened to McLean, who comes from Ayrshire. In 2015, she found out the man she knew as Carlo Neri was, in fact, a married father of one young child (and later two), and member of the Metropolitan Police's top secret Special Demonstration Squad (SDS). Since then, she has juggled two identities: Donna, a mother of 11-year-old twin girls, who works in mental health services, and "Andrea", one of at least 30 women duped into relationships with spies who infiltrated protest groups. As Andrea, she has been fundraising, campaigning, giving talks and interviews, and preparing to take part in the Mitting Inquiry into undercover policing.
Earlier this month, however, McLean, now 48, took the decision to waive her anonymity. She found living two lives exhausting – "and I was only doing it for very small portions of time. God knows how Carlo managed to do it 24 hours a day for five years" – and felt her twins, who are not Neri's, were old enough to understand what she had been through.
She has also written a memoir – part catharsis, part an attempt to take control of her own story – which she hopes will be published within a year.
Though 12 women have secured an apology and compensation from the Met, eight more, including McLean are still waiting for theirs. Like the other women she has been prohibited from seeing her files for reasons of "national security" ("reasons of national embarrassment more like," she says).
"There's such a power imbalance there," McLean adds. "Writing my own account is like saying, 'You have all this information on me, but I am telling the truth, and the truth will be out there on my terms.'"
Her decision to stop using a pseudonym also means she can be interviewed as herself for the first time. At last she can tell the full story of the life she led with the man she now knows to be a lie.
It's an incredible story of how the state sanctioned the covert surveillance of 1,000 mostly left-wing protest groups, including environmentalists, animal rights campaigners and trade unionists. It's the story of how "fieldcraft guidance" and the culture at the Met condoned the widespread practice of sexual relationships within this context. And how – even now – the CPS refuses to charge the officers involved with rape by fraud because there was no deception "as to the nature or purpose of the sexual act itself", and because it believes some of the undercover officers' feelings were genuine.
But we will come to all that. For the moment, let's rewind to 28 September, 2002, and the anti-Iraq war protest in London's Hyde Park.
More than 400,000 people took to the streets that day. Lines of protesters marched in the sunshine from Embankment to the rally, organised by the Stop the War Coalition and the Muslim Association of Britain, where they listened to London mayor Ken Livingstone, ex-MP Tony Benn and former United Nations weapons inspector Scott Ritter rail against the coming conflict.
In Hyde Park, the 30-year-old McLean, who was living in London, spotted her pal Dan, who worked with her at a hostel for homeless people, and was active in trade union and anti-fascist campaigning. He was there as a steward with his friend, Carlo Neri.
Neri, a "locksmith", had a way of winning people over. He was charming, but he was also useful. "Unlike most of the activists, he had a car, and would offer to transport people here and there, and he was a good cook too," McLean says. "He could cater for 40 people no bother. He was very popular."
McLean didn't know Neri then, although he had been in her flat to drop off packing boxes nine months earlier. She had just broken up with her partner of 12 years, and was throwing herself into life as an antidote to unhappiness. Neri was not long out of a much shorter relationship with another unwitting woman, known as "Lindsay".
Chatting to McLean now in a Glasgow pub, it is not difficult to see how Neri might have picked up on her openness and her slight air of vulnerability. The pair clicked immediately. They liked the same authors – intellectual Europeans, like Primo Levi, and both owned Marvin Gaye's Greatest Hits. When – six weeks later – Neri moved from his bedsit in Hackney to her flat in Maida Vale, McLean was amused by how many of the same books they owned. "I would smile to see the two copies – mine and his – sitting side by side on the bookshelf." Years later, the penny dropped: Neri had looked to see what books she liked on that earlier visit, so he was able to worm his way in.
Back then, though, it felt like it was meant to be. And Neri was so full-on. He insinuated himself into every aspect of her life: her work friends, her old school friends, her family. In November, he travelled to Scotland with her for the first time to attend her sister's graduation – everyone took to him immediately.
The following month, he suggested a trip to see Stiff Little Fingers in Kilmarnock. "I thought it was a bit odd to travel all that way when we could have seen them at Shepherd's Bush Empire, but he said, 'It will be so nice for you to see your family'," she says. Coincidentally – or with hindsight, not so coincidentally – neo-Nazi Combat 18 turned up "and it all kicked off".
Then – at a Hogmanay party at McLean's flat – he proposed. They had been together for three months. "I said 'Yes'. Of course I did. I was totally in love with him."
The whirlwind romance continued for a while. They talked about where and when they would get married: would it be in Scotland or Bologna, where his father lived (his mother having died some years earlier)? He asked her to have his baby, but she said no. "I mean, I absolutely would have had one – I just wanted to wait a wee while," she says.
McLean was not enough of an activist to be a police target, but she was well-placed because many of her friends were. "They have a name for what I was," she says. "It's collateral intrusion." While they were together they went to many Socialist Party and other meetings. "Some of the other women used to say to me, 'How come Carlo takes you to everything?' I realise now, it's because I lent him credibility. I was working-class from the west of Scotland with a father who was a trade union convenor. No-one was going to suspect me."
Neri had told McLean he had been born in London, but that his parents – who had owned a café in Islington – had taken him back to Italy when he was in his teens. He had lived there for more than a decade, leaving when he was in his early 30s.
Yet, despite being keen to know McLean's family, he was reluctant to share his own. Neri said he did not get on with his father who had hit his mother, so they did not contact him during a Valentine's trip to Bologna in February 2003. His sister, "Ren", who lived in Peterborough, suffered from depression. He would make arrangements to meet up and she would break them. "It was all quite plausible," McLean says.
She eventually found out he did have family (though not his father) in Bologna. His real sister owned an upmarket delicatessen in Hampstead and his wife and child lived in Barnet, 10 miles from Maida Vale. "All that time we were in Bologna or gadding about London, eating in Primrose Hill, there was always a chance we would bump into people he knew," McLean says. "But then the risk is part of the attraction for undercover officers. They are thrill-seekers, who thrive on adrenaline. Carlo loved motorcycles. He liked speed. He liked risk."
Neri was also an agent provocateur. On at least one occasion, he tried to incite the activists to firebomb a charity shop he claimed was a front for one of the fascists who had bombed Bologna railway station in 1980. "There was another officer, Bob Lambert, who had been involved in firebombing Debenhams, and I think the others all looked up to him," McLean says. "He was hero-worshipped and emulated." While undercover, Lambert had a child with a woman known as "Jacqui".
Early on in their relationship, Neri started talking about his "estranged son". He was ashamed of this aspect of his life, he said, but wanted McLean to support him to tell the rest of the group. This public admission was swiftly followed by the news his son's mother had agreed to grant him access, so he started spending every second weekend with the boy in Cornwall. A photograph appeared on their mantelpiece. It was his real son; the one who lived in Barnet.
This micro-drama apart, everything was going well, until July 2003, when Neri cancelled a trip to see the Tour de France the night before they were due to leave, telling her his father had suffered a stroke. "When he came back from Italy he was subdued," she says. "He started saying maybe we would have to go and live in Bologna – and I said, 'That sounds great'."
Ordinary life resumed. There was less talk about the wedding, but there were weekend trips away to Whitby and the New Forest. In December, Neri told McLean he planned to spend Christmas in Bologna, so she said she would go home to Ayrshire. They agreed to meet back in the flat in time to throw another Hogmanay party. But he phoned shortly after Christmas to say his father was very ill, and again on New Year's Day to say he had died.
When Neri returned to London a few weeks later, he was a different man. "He had lost weight, he had grown a huge beard instead of his neat goatee, his hair was all scruffy and he looked empty-eyed," McLean recalls. He told her a terrible thing had happened. On the day of the funeral, his sister had admitted their father had sexually abused her.
And so began Neri's "breakdown". For the next few months, he was distant and volatile. He claimed to be suicidal. He would disappear for up to a week, until, finally, he said he was moving into the home of a prominent trade unionist activist to get his head together.
McLean was not angry. "I was worried sick. I still loved him and he was still saying he still loved me; that we would be together forever."
"I need some headspace, Donna," he would tell her. "I can't cope with what's happened. I feel guilty. I never protected my mother. I never protected my sister."
"I believed all of it," McLean says. "Why would I not? Why would anyone make this stuff up? I had worked in mental health and it seemed real. I could see the change in him. When he broke down and cried, he really cried."
To an outside observer, this part of the story seems particularly savage. If Neri needed out, why didn't he just tell her he didn't love her any more? Why did he drag it out, like a method actor revelling in a new role? "I don't know," she says, "it does seem deliberate and cruel."
Neri came home less and less, then one day he emailed her at work to say the relationship was over and he had "moved on". She never saw him again. Some years later, she bumped into an old friend who said he had gone back to Italy, "got fat and fallen off his Ducati". Another myth. The truth was very different.
It took a long time for McLean to get over Neri. "Those were a dark couple of years," she says. "My gran had died too – there was a lot for me to deal with." She stayed in London, but moved flat and changed her job, trying to make a fresh start. Initially, she found it hard to trust men; to form new relationships. But in 2006, she met a new partner, and in 2008, she gave birth to twins.
Around 2012, by which time the SDS had become the National Public Order Intelligence Unit (NPOIU) the story about Mark Kennedy – the first of the undercover officers to be exposed – broke. In 2014, McLean read Undercover: The True Story Of Britain's Secret Police by Rob Evans and Paul Lewis. By then, it had become clear this was not about one rogue officer: the abuse of women by undercover officers infiltrating protest groups was widespread. The thought went through her mind, but she pushed it away.
Then, one day, the following year, a Facebook message pinged on to her phone. It was from one of her old activist crowd. "We need to talk," it said. "I immediately knew what it was about," she says. She turned up at a pub when they laid out their suspicions before her. "They wanted information from me – dates and times – so they could be sure." They put her in touch with solicitor Harriet Wistrich, who had helped secure the apology and a settlement for the first eight women. Within three weeks of her launching a legal action, in January 2016, the Met admitted Neri had worked with the SDS.
What do you do when you find out a formative part of your life has been a lie? "You go over and over everything he did and said and file them under 'Things that weren't true', 'Things that were true', 'Things that were possibly true'," she says.
But there are things that cannot be so easily categorised, such as love and loss. When McLean thinks about Neri now, it's as a thief. "You look at all the time they have stolen from you," she says. "There's the time you are in the relationship, there's the aftermath of them leaving, there's the finding out, which creates a whole new whirlwind, and then finally the desire to find out the truth when it is being withheld from you." She doesn't expect to be called to give evidence to the public inquiry until 2023. By then Neri will have imposed himself on 21 years of her life.
One of the things McLean finds unforgivable is the way he and the others targeted women whose biological clocks were ticking. Some went on to have children with them. Lambert's son was 26 when he discovered his father was not a radical animal rights campaigner forced to flee to Spain to avoid arrest, but an undercover officer.
McLean is glad she didn't have Neri's baby. But she says the years she spent with him could have wrecked her chances of having a family. "I was lucky in that when I met my new partner, I fell pregnant quite easily," she says. "But I was 37 by then – older than I'd like to have been – and it might not have happened. Some of the other women never had children. They were robbed of their most fertile years."
The scandal of the undercover officers continues to grow. We now know the SDS and NPOIU targeted not only "radical" protest groups, but also the Stephen Lawrence family and campaigners protesting about deaths in police custody. They also provided information that led to trade unionists being blacklisted in the construction industry.
The Mitting Inquiry has come under fire for delays which mean that six years after it was set up it has cost tens of millions of pounds and taken no evidence. Some of those delays have been caused by police obfuscation and the Met lodging legal challenges over the anonymity of particular officers. Most of the women who have discovered their partners' real identities have done so with the help of activists, researchers and journalists. The police have no power to prevent them releasing information unearthed in this way.
McLean and the others hope the inquiry will find the Met guilty of institutional sexism, institutional racism and institutional class bias. They want it to recommend all files on them should be disclosed and that spying on political organisations should be outlawed. "Does anyone believe groups like Black Lives Matter are not being infiltrated?" McLean asks. They want the law on consent to be changed and the blanket ban on prosecuting undercover officers for rape by deception to be lifted.
It would also be interesting to know what, if anything, was achieved by the SDS and the NPOIU. All that hurt and betrayal. Were any great acts of criminality averted? Did any groups disband? "The biggest acts of criminality were those incited by the police officers themselves," says McLean. "And – though looking back he may have planted little seeds of discord – Carlo didn't disrupt our group. If anything his actions have brought us closer together."
Neri did not return to Italy or fall off his Ducati. So where did he go after he disappeared from McLean's life? He remained on the periphery of the activist scene for a while before moving in the Met to counter-terrorism – SO15. Finally, in 2016, when the story of "Andrea" became public, he retired from the force.
But there's another murky chapter which has not yet been explored. While still undercover, he started a relationship with a third woman. At some point, this relationship transformed from fake to real. Neri and his wife divorced. No longer a police officer, he now lives, with his new wife.
When and how did those lines blur? Were they blurred with McLean and the others? "Some of the women believe there were genuine feelings, but I don't," she says. "I am sure there was a genuine physical attraction, but any emotional depth? I don't think so."
She pauses, then adds: "Maybe in believing there were no genuine feelings, it's easier for me to put it to one side. It's less complicated."
In any case, she accepts the truth is unknowable. "People often ask me, 'Would you like to confront him?' And I say, 'Not really' because I don't know who I'd get," she says. "Asking for the truth is a pointless exercise because he is a trained liar. I could say, 'Did you have genuine feelings for me?' and he could answer, 'Yes, of course I did.' And I would have no idea if it was true or not."
Visit the website for McLean's campaign at policespiesoutoflives.org.uk/