Long Read: Dani Garavelli: On the road with Scotland's drug consumption van
Dani Garavelli investigates one man's attempts to prevent overdoses and the spread of HIV with his controversial safer drugs consumption van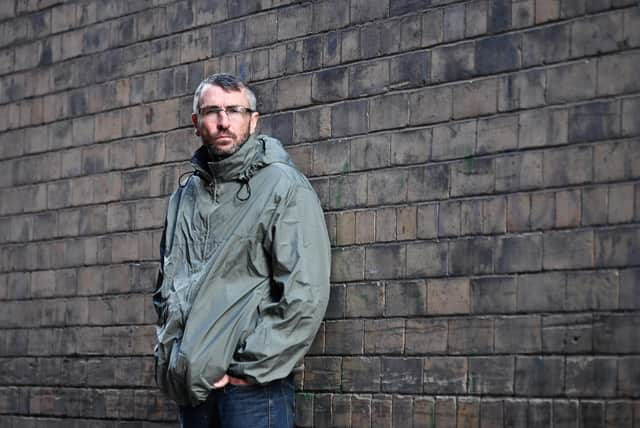 Peter Krykant. Picture: John Devlin
Graham Shepherd, 21, had been out of prison for just a few days when he overdosed on valium. He can't remember much about what happened next, but when he came round he was at Glasgow's Queen Elizabeth University Hospital. "The nurses offered to contact my family, but I told them not to. I won't go back until I can make them proud," he says.
The story of Shepherd's life is a fable scrawled all over the city's high rises and overspill estates: a story of trauma, loss and cross-generational abuse. The children of addicts, he and his sister were brought up by their grandparents until they could no longer cope, and Shepherd was sent to a care home.
He might have come out of this intact if he hadn't then re-met his father who passed on his heroin habit like a twisted heirloom. His father is dead now. He suffered a fatal overdose while Shepherd was in jail, the guards hammering on his cell door one morning to break the news.
A GV of a lane with a shooting gallery, yards from the Consumption Van. Picture: John Devlin
So, here he is, 10 days after his release, a few days after his own overdose, shivering on Parnie Street - a waif-like figure in a G-Star Raw jumper and bomber jacket. He has just emerged from Peter Krykant's controversial safer drugs consumption van having injected himself with cocaine. It is shortly after 10am.
Shepherd doesn't want to be here. He wants - he says - to be in The Haven, a Christian rehabilitation centre in Kilmacolm. But, realistically, if he wasn't here, he would be, where? "Injecting in an alleyway, under a bridge, in bushes," he says. You don't have to walk far to test this theory. Less than a minute's walk away, is a cobbled enclave littered with discarded needles and cooking spoons; vomit and other effluence. A slick of human waste. The safer drugs consumption van is a haven of sorts.
Sturdy and sterile, it has room for two, three at a push. On each table, lies a stainless steel plate and a sharps bin, like a small desk tidy. There are storage units full of clean needles and naloxone, the antidote to a heroin overdose, and other first aid equipment. Harm reduction leaflets are strewn over a table. A defibrillator hangs behind the driver's seat.
The mobile consumption room run by Peter Krykant. Picture: John Devlin
The interior is cramped, and not much can be offered in the way of counselling, but Krykant is sure it is saving lives at a time of soaring drugs deaths and the biggest spike in HIV infection in decades. "It is relatively easy to reverse a heroin overdose," says Krykant. "If people inject in the van, rather than in an alley, we can stop them dying."
Over the last couple of months, Krykant's mobile drugs consumption room (DCR) has become a Friday fixture on Parnie Street: a hotpotch of graffitied shutters, wargame shops, tattoo parlours and art galleries.
It exists in a liminal space: physically, legally and politically. As an ad hoc service, operating a few hours a week, its immediate impact is limited. Having to keep a look-out for the police, who monitor its activities, cuts into the time Krykant and other volunteers can spend talking to users; and there is no throughline to other services.
But as an experiment, a provocation, it is powerful. Krykant's Ford Transit minibus may be ageing and rusty, but it has the potential to test political will and to revolutionise drugs policy.
Drugs are used inside the van set up by Peter Krykant. Picture: John Devlin
For the last few years, DCRs have become something of a totem for the SNP. All those involved in tackling
Glasgow's drugs deaths problems support the opening of a permanent facility and a site has been identified. But, the Scottish government and Lord Advocate, say it cannot legally be done without a change in the Misuse of Drugs Act 1971, which Westminster has steadfastly refused to countenance, fuelling demands for independence.
Krykant does not dispute the inadequacy of the legislation, which was drafted before heroin ravaged successive generations, but he believes that - with health and law and order devolved - the Scottish government could and should be forging a path not only for itself, but for the rest of the UK. If they won't do it, he will.
Mild-mannered and bookish-looking, Krykant, 43, is not a natural rebel; and his is not some wild Quixotic quest. He is following a model which has proved already successful in other countries - including Denmark - where DCRs began as an underground movement before being embraced and expanded as part of the official system.
Andy MacAuley. Picture: Peter Devlin
Yet it has already cost him. Krykant lost his job with Waverley Care - an HIV and Hepatitis C charity - when his plan became public. The first crowdfunder he launched was taken down, and his insurance policy was cancelled and then renegotiated.
Then - a fortnight ago - police officers who had been keeping a low-ish profile - charged him with obstruction, as they attempted to enter the van to search three users. A report was sent to the procurator fiscal.
The van sits around the corner from the Abbey Chemist - home to the city's biggest needle exchange. "What's the point of monitoring my vehicle?" Krykant says. "They would be as well monitoring the pharmacy because [the users] leave there and go straight into the alley."
Krykant is married to an American, Catherine Lido, professor of psychology and adult learning at Glasgow University, and their two sons, aged nine and five, have dual citizenship, so he is not looking to notch up another conviction; but neither is he easily deterred.
Nor are the users, who flock to the van the following Friday, despite the police intervention.
Some of them have more front than Saltcoats. "Are you the journalist?" Angie barks as she climbs out of the van after injecting cocaine twice in quick succession. "Come here, I want to talk to you." Her gallusness evaporates when I ask her why she is using. "I've just had a wee baby and he's been took off me," she says, tearfully.
"He was 51b 13 and he was born at 5.13 in the afternoon." Angie had a Caesarian section. She lifts up her shirt. "Do you think my scar is healing?" she asks.
Inside the van, Jackie, a tiny young woman with a baseball cap, is having her back scratched vigorously by her friend as rain batters the roof. The rush of heroin has made her itchy. She started taking it five years ago. She is 20 now and injects several times a day. "If I wasn't in here, I'd be outside doing it up a lane," she says, "and then a wean might see me. I grew up around all of that and it is horrible." Jackie shows me her scars too - self-harm slash marks up her arm. "I have been quite suicidal," she says.
"They held me down and injected me with Largactil"
All the users trust Krykant.
Perhaps they know about his past; or perhaps they just have an instinct for scars.
In a coffee shop on the Trongate, he tells me about it. Born in Maddiston, on the outskirts of Falkirk, his parents split up when he was four and his mother moved in with a violent man. They both drank and there was a lot of fighting. "When you've seen your mum fall through a glass table, you don't really forget it." he says. He had been "out of his head" on drink by five, smoked cannabis regularly by 11 and was hospitalised after downing a bottle of Thunderbird at 12.
At 16, he was sectioned, the result of drug-induced psychosis. "They held me down and injected me with Largactil - otherwise known as liquid cosh." And by 17, he had spent time in a young offenders' institution and was injecting heroin. He carried on living in the village until he was 20; but one day he walked into the local newsagent and saw a newspaper headline about himself. "Local junkie breaks into father's house," it said. He packed a bag and travelled first to Glasgow and then to a Christian rehab centre in Birmingham, where he was expected to go cold turkey.He lasted all of 36 hours. "When I left, people were holding up photos shouting: 'This is me when I arrived and look at me now.' But all I was thinking about was my next hit.".
For three years, Krykant lived in Birmingham, spending much of the time on the street, begging. By then was injecting heroin mixed with crack cocaine several times a day. "Heroin had been sort of manageable, but crack cocaine wasn't," he says.
Eventually he was approached by Birmingham's rough sleepers team who had been given a grant to help public-injecting drug users. They offered him the opportunity to enter an upmarket rehab programme. This time it involved a slow detox which he followed up with a CBT-based course in Brighton. "I had thought: 'I will just stop taking heroin and crack cocaine and recapture my glory days', but when I looked at it critically, I realised I never had any glory days. I started to understand that drugs caused me issues throughout the whole time I took them."
Very quickly, he got a good job in sales, went travelling, met his wife, had his sons. For two decades, he shied away from working with addicts for fear of relapsing. But, then, three years ago, he had a change of heart. He started out working with a recovery community, followed by a brief spell as a criminal justice worker before moving to outreach work with Waverley Care.
Krykant's experiences with the recovery community - where vulnerable people were turned away to protect the "clean" - had left him frustrated by the split between harm reduction and abstinence-based approaches.
But the catalyst for the van came when he attended the Scottish drugs death summit in February.
There, he grew increasingly irritated by what he saw as buck-passing between the political parties in Holyrood, but also between the Scottish and UK governments.
Krykant came to believe that Westminster's intransigence over the Misuse of Drugs Act 1971 was being weaponised both to advance the argument for independence and to distract from the SNP's own failings - for example the much-criticised funding cuts to treatment programmes. . "The Misuse of Drugs Act is 50 years old. It's not fit for purpose - drugs have changed and the way drugs are used has changed. I don't contest this," he says, "but the reality is SNP MPs, including Alison Thewliss and Pete Wishart, have been fighting for change at the UK government level and the Home Office have made it clear that isn't going to happen.
"Unlike in England, however, where all aspects of policy come under the UK government, here in Scotland, health and criminal justice are devolved. I believe that if the Scottish government had the will it would find a way to challenge the UK government and operate these facilities within the existing system. I mean what is the UK government going to do: send in the tanks?"
After the summit, Krykant booked a flight to Copenhagen where he met activists who launched an "illegal" mobile DCR in 2011. Their act of civil disobedience led to a change in legislation and the setting up of a network of official DCRs, including Skyen. There, drugs can be tested prior to use, vein scanners make injecting easier and antibiotics are available in case of infections. There have been hundreds of overdoses, but no deaths.
On his return, he set up the Crowdfunder, kicking it off with his own £500 donation. He bought the Ford Transit van for £2,400, kitted it out, and launched the service in early September.
Despite some initial wariness, the mobile DRC appears to be supported by many locals.
"Sometimes desperate people kick down our door and use our close [so they don't have to inject out in the open]," one resident of Parnie Street told me. "I empathise with them, but there are elderly people in some of the flats and there's a hygiene issue too. One time there was blood spattered across the wall.
"So, I'm glad the van is here. But it would be even better if there were more of them around the city - as well as a permanent facility."
Krykant's mobile DRC has also been backed by the Scottish Drugs Forum and Andrew McAuley, reader in public health epidemiology at Glasgow Caledonian University.
And yet, it is being thwarted by a perceived lack of boldness. Though MP Thewliss has praised Krykant as "brave", there has been no official (or indeed unofficial) backing from the Scottish government or SNP MSPs.
"[Minister for public health] Joe FitzPatrick doesn't take my calls or answer my emails and he hasn't been to visit the van," Krykant says.
This negativity may have filtered down to other organisations. Krykant has also invested in a couple of gazebos in the hopes of expanding. A couple of weeks ago he set one up near the People's Palace, but more sites require more volunteers willing to challenge the status quo.
Dozens of medical students signed up to help until Glasgow University warned them off, telling them they might jeopardise their future careers.
When it comes to Waverley Care, Krykant cannot hide his disappointment. "There are many good people there, but as an organisation working with those who are injecting drugs in the city centre, and trying to get a handle on the biggest outbreak of HIV in the last 30 years, they should have supported me."
Meanwhile, the argument over the van's legal status rumbles on. The Scottish government says the Lord Advocate has made it clear the setting up of a DCR would "require legislative change to establish a legal regime for its operation through a democratically accountable process" and that it cannot condone any action which is against the law.
However Krykant and Former Labour MP Paul Sweeney, who has volunteered with the van since its launch, have become increasingly unconvinced the van is in breach of the Act, which has little to say about injecting.
Previously, Release, a charity with expertise on drugs law, has said the Misuse of Drugs Act 1971 does not make it illegal to allow someone to possess or inject controlled drugs on your premises, which suggests a carefullymanaged facility could operate within the existing law. The charity concedes this may not be enough to reassure medical professionals about their liability in the event of a serious issue.
Sweeney also points out the Lord Advocate has previously provided a letter of comfort - immunity from prosecution - to pharmacists who supply naloxone without prescription to staff working at services with a high rate of overdoses" and that the West Midlands police force recently stopped automatically criminalising those in possession of drugs.
McAuley believes Krykant's experiment will prove successful. " If you look at DCRs in other parts of the world, a lot of them have started with this type of civil action before eventually becoming formalised," he says. "I think you are seeing that play out with Peter's experiment. There's been little public opposition to it and - apart from that one intervention - the police have largely observed from a distance.
"Ultimately, down the line, I think it's going to force somebody's hand. I can't imagine we will be sitting here in two or three years time, with the van operating on its own - I think there will be some legal intervention."
Whatever happens, the mobile DCR is attracting international attention. On the day I spent with Krykant, a journalist and photographer from the New York Times had also been dispatched to cover the story.
There are other UK cities keeping a close eye on developments, too. The deputy mayor of Bristol, Asher Craig, is keen to see a DCR set up in her city. There are also several forward-looking Police and Crime Commissioners, including David Jamieson in the West Midlands and Arfon Jones in North Wales, who are enthusiastic.
"Momentum is important," says McAuley. "If similar initiatives were to start popping up elsewhere - if they were to be more visible, and if they were seen to operate without causing any disruption, they might become normalised."
Krykant's converted minibus is already beginning to prove its worth.
Though no-one has overdosed in the van itself, a volunteer recently administered naloxone to someone in a nearby alleyway. "If we hadn't been there he might not have survived," Krykant says.
But for a DCR to fulfil its potential, it needs to be integrated with other services. A permanent facility could - like Skyen - offer testing and harm reduction advice, while helping users access other services such as psychologists or treatment programmes.
Most of the men and women who visit the van would benefit from extra support. "So many of them want to talk, to tell you their life stories," says Sweeney.
"It demonstrates the need for wraparound care. 'You have done the drugs, now we have a friendly CBT-trained counsellor who can talk you through some of the things you can do, groups you could go to'."
Graham Shepherd is desperate for conversation. He talks about the days before drugs when he used to climb mountains with the Scripture Union. He talks about his sister who owns a Mini Cooper and goes on holiday to Majorca; he talks about a drugs-free future when he will be reunited with his grandparents. "I'm going to write a book one day to help some lost boy like myself," he says. "But I have to wait for the happy ending."
Krykant is rooting for that happy ending; but his first priority is preventing overdoses and the spread of HIV; his first priority is keeping people alive.
"The abstinence-based projects do great work, " he says. "But you can't make it to a recovery cafe or a 12-step Fellowship session or a Smart Recovery meeting if you are dead."
A message from the Editor:
Thank you for reading this article. We're more reliant on your support than ever as the shift in consumer habits brought about by coronavirus impacts our advertisers.
If you haven't already, please consider supporting our trusted, fact-checked journalism by taking out a digital subscription.
Want to join the conversation? Please or to comment on this article.