Lockerbie trial 'catastrophic' for Scottish justice
The trial of the only man ever convicted of the Lockerbie bombing has had a "catastrophic" effect on the Scottish criminal justice system, with the damage intensified by authorities' "continuing avoidance" of a reexamination of the entirety of the evidence, according to the father of one of the victims.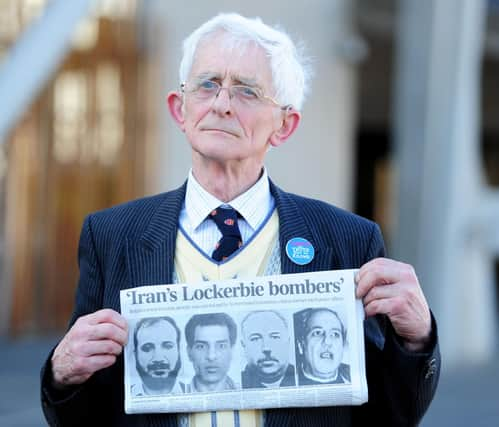 Dr Jim Swire, whose daughter, Flora, died in the atrocity, said that steps were required to ensure the better administration of justice of Scotland, but warned that such an overhaul would "have to be propelled by a force outwith Scotland."
Today marks the twentieth anniversary of the conviction of the late Abdelbaset al-Megrahi, who was found guilty of mass murder unanimously at a specially-convened Scottish court in the Netherlands.
Two weeks ago, judges at the Court of Criminal Appeal rejected a third appeal on behalf of the Libyan national, who died in 2012.
However, his family and numerous campaigners, Swire included, have long maintained he was the victim of a miscarriage of justice.
Now, Swire has told Scotland on Sunday that the biggest mass murder trial in British history continues to cast a long shadow over Scotland's judiciary.
Swire sat throughout the trial at Camp Zeist, and collapsed in court after the verdict was read out. It was held before three Scottish judges - Lord Sutherland, Lord Coulsfield and Lord MacLean - with no jury. The trial's architect, Professor Robert Black QC, initially proposed it should have involved an international panel of judges, presided over and chaired by a Scottish judge.
Asked if he thought Megrahi would have been convicted on the evidence presented under such an arrangement, Swire said: "Answers about questions based on 'what if' carry little weight, but from what I know now, this would seem to have been a far safer solution than that allowed at Zeist.
"Nelson Mandela himself warned me that 'No one country should be complainant, prosecutor, and judge'. History, to my sorrow, has proved him right, for Scotland became all three at Zeist."
Swire, now 84, said the past two decades had been "torturous," and accused the Crown Office and "certain leaders" in Scotland's legal profession of following a "readily visible course" based on the premise that the Netherlands court was infallible.
"Appeals have managed to avoid or ignore many of the aspects of the Zeist evidence in which failures are self evident, and have never fully addressed some of the further pieces of evidence which have emerged since," he added.
"From a layman's point of view, this seems to have been skilfully achieved. If I were asked to answer, 'Why would they do that?', I would have to reply that the impression given to me a layman is that they wish to conceal the profound failings within their system and its dangerous opacity to criticism, in order that damage to its reputation shall be minimised."
Asked to respond to Swire's criticisms, a Crown Office spokesman said: "The conviction of Abdelbaset al-Megrahi for the murder of 270 people at Lockerbie in 1988 has been reviewed and appealed twice in accordance with the law over twenty years.
"His conviction stands and the investigation by Scottish prosecutors and police officers into the involvement of others with him in the plot to attack an American aircraft continues."
A message from the editor:Thank you for reading this article. We're more reliant on your support than ever as the shift in consumer habits brought about by coronavirus impacts our advertisers. If you haven't already, please consider supporting our trusted, fact-checked journalism by taking out a digital subscription.
Comments
Want to join the conversation? Please or to comment on this article.