Lil Wayne pardon: why has Donald Trump pardoned the rapper - and what was he charged with?
The president has also granted clemency to rapper Kodak Black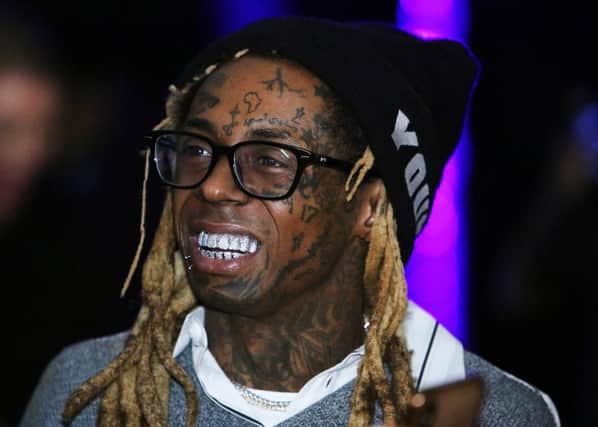 In-keeping with the presidential tradition of using clemency powers at the last minute, Trump's pardons included his former adviser Steve Bannon, former Detroit Mayor Kwame Kilpatrick - and rapper Lil Wayne.
Lil Wayne, whose real name is Dwayne Carter, pleaded guilty to a federal weapons charge in December 2020.
Here's everything you need to know about Lil Wayne's pardon.
What was Lil Wayne charged with?
Lil Wayne, 38, was facing a 10-year prison sentence after pleading guilty to illegally possessing a loaded weapon last year.
The Grammy award-winning rapper was found on a private plane with a .45 calibre gun and six rounds of ammunition by federal agents in Miami in December 2019.
As Lil Wayne is a convicted felon, due to a gun charge in 2007, it was illegal for him to possess a firearm.
After he was charged, the rapper's lawyer, Howard Srebnick, issued a statement which read: "Carter is charged with possessing a gold-plated handgun in his luggage on a private plane.
"There is no allegation that he ever fired it, brandished it, used it or threatened to use it. There is no allegation that he is a dangerous person.
"The charge is that because he was convicted of a felony in the past, he is prohibited from possessing a firearm."
According to Sky News, Lil Wayne entered his guilty plea before US District Judge Kathleen Williams, during a remote hearing.
He was freed on $250,000 (£186,000) bail but was due to be sentenced on 28 January 2021 - just a few days after he was pardoned.
A pardon cancels a criminal conviction, while a commutation shortens or ends a prison sentence.
Why has Lil Wayne been pardoned?
Many people are surprised that Donald Trump chose to pardon Lil Wayne - but for others, it makes sense.
In October 2020, the rapper came out in support of the president for re-election before he went head to head against Joe Biden.
He also showed support for Mr Trump's Platinum Plan, a campaign aimed at black Americans which promised jobs, capital and opportunities.
Posting a picture of himself and Mr Trump to Twitter, Lil Wayne's caption read: "Just had a great meeting with @realdonaldtrump @potus besides what he's done so far with criminal reform, the platinum plan is going to give the community real ownership.
"He listened to what we had to say today and assured he will and can get it done."
Lil Wayne was heavily criticised for the endorsement by social media users.
Who else did Donald Trump pardon?
A statement from the White House listed the 73 individuals who President Trump has pardoned, and the 70 individuals who had their sentences commuted.
A large majority of the pardons and commutations on the list were given to people whose cases have been taken up by criminal justice reform advocates - including those serving long sentences for minor crimes.
However, Mr Trump has pardoned a few controversial names.
Most notably was Steve Bannon, a key aide and adviser to the president during his 2016 campaign.
Mr Trump reportedly spent the last few days deliberating over whether to pardon his former adviser.
Bannon was charged in August 2020 with fraud over an online fundraising campaign to build a border wall between the US and Mexico.
Mr Trump has also commuted the sentence of rapper Kodak Black, real name Bill K Kapri, who was doing time in federal prison after pleading guilty to a firearms offence.
Another name was Elliott Broidy, a former fundraiser for Trump's campaign who admitted to accepting funds to lobby the president for Chinese and Malaysian interests.
And former Detroit Mayor Kwame Kilpatrick, who was sentenced in 2013 to 28 years in prison on charges of racketeering, bribery and extortion, has had his sentence commuted.
Wikileaks' Julian Assange, Edward Snowden and Tiger King Joe Exotic were not on the list.
Neither was Mr Trump himself or members of his family. The president's aides have reportedly cautioned him that issuing those pardons may imply guilt.