Kenny MacAskill: Devolve drink drive penalties as well as alcohol limit
Former justice secretary Kenny MacAskill is calling on the UK government to devolve the power to set penalties for drink-driving to Holyrood.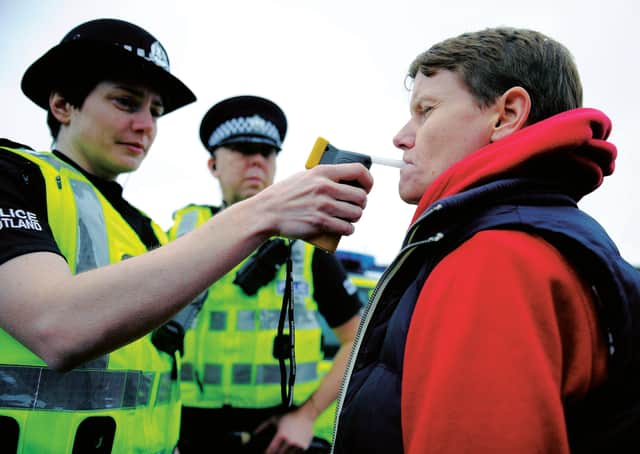 Kenny MacAskill believes only a more joined-up policy can significantly change motorists' attitudes. Picture: John Devlin
MacAskill who won the East Lothian seat for the SNP at the last general election says it is "absurd" that the Scottish Government are allowed to set the legal limit but have no say on the penalties, which include a mandatory one-year ban.
The legal alcohol limit in Scotland was reduced by law on 5 December, 2014, from 80mg to 50mg in every 100ml of blood, with the Scottish Government arguing the change would help save lives and make the country's roads safer.
The limit in England and Wales remains at 80mg, which is higher than in most countries in Europe.
This allows a man of average height and weight to drink as many as four units or two pints of normal strength beer and still drive.
Two weeks ago MacAskill asked then Transport Secretary George Freeman MP, who was later sacked in Prime Minister Boris Johnson's cabinet reshuffle, whether there were any plans to devolve the powers to vary penalties to the Scottish Parliament.
Freeman said no to this and also confirmed there were "no immediate plans" to lower the drink drive limit in England and Wales with the UK government believing "rigorous enforcement and serious penalties for drink drivers are a more effective deterrent than changing the drink driving limit'.
MacAskill is arguing that if Scotland were to reduce the limit further – which currently equates to an average man limited to just under a pint of beer or a large glass of wine, and women to half a pint of beer or a small glass of wine – the penalty would be too harsh.
He said: "England and Wales are looking a bit out of kilter now. It used to be Luxembourg and one other country that had the 80 milligrams of alcohol in 100ml of blood limit. But it's now just England and Wales that have this blood limit. Everybody else – Ireland, Luxembourg and Malta – all moved.
"It's up to them and I can't stop them but what Westminster can do is stop us going further if we wish – because I think many in Scotland would like to see an even lower limit.
"They recognise there's a sanction of one-year's disqualification for a reading that might involve half a pint.
"We don't control the power to vary the penalties and that's absurd.
"Why do you devolve the power to vary the limit, without devolving the power to vary the penalty?"
At present the UK-wide penalties for driving or attempting to drive while above the legal limit or unfit through drink may result in six months' imprisonment, an unlimited fine, or a driving ban for at least one year (three years if convicted twice in 10 years).
MacAskill said: "You need to have a consultation in Scotland – you could have a yellow card equivalent, you could have penalty points, a disqualification if you did it multiple times within the year.
"But I think people wouldn't want to give you a mandatory one-year ban if we reduced the limit even further below 50mg in every 100ml, but they would certainly want to mark your card."
He added: "We don't have any power to alter the penalty from one year – we can't vary the penalty at all.
"I think people would want to reduce this to penalty points and a warning not to do it again.
"There's a difference between the current limit that people know and a slightly lower limit – so I think you'd have to graduate it.
When outlining what the benefits of lowering the alcohol limit might be, MacAskill said: "At the present moment folk think you can have a pint [and still drive] and actually this is about trying to say – 'No you just don't drink and drive.'
"I just think they haven't thought it through – not being prepared to vary it."
He added: "It stops Scotland going it's own distinctive way."
One in nine deaths on Scottish roads are still alcohol-related, and an estimated 9,050 people were killed or injured in drink-driving related incidents across the UK in 2016.
A spokesperson for road safety charity Brake, said: "Drink driving is illegal, dangerous and puts lives at risk. Drinking even a small amount of alcohol before driving increases your risk of crashing and killing or seriously injuring someone. We are calling for an effective zero-tolerance limit across the UK, making it clear to drivers that not a drop of alcohol is safe behind the wheel."
Want to join the conversation? Please or to comment on this article.