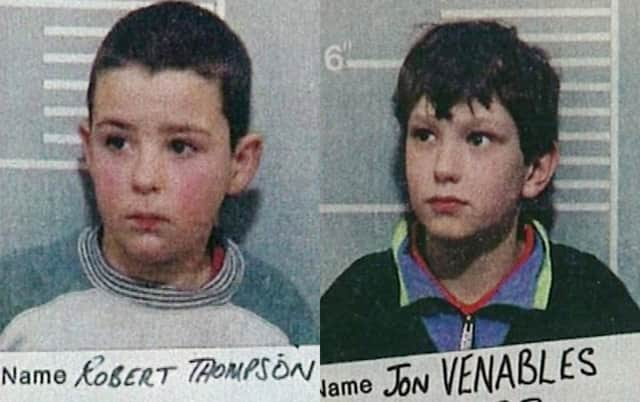 Jon Venables and Robert Thompson led James away from a shopping centre before killing him (Getty Images)
A new Channel 5 documentary looks at the murder of two-year-old James Bulger in February 1993.
Titled Lost Boy: The Killing of James Bulger, the two-parter focuses on the horrific crime committed almost 30 years ago by 10-year-olds Jon Venables and Robert Thompson.
James was led away from a shopping centre in Bootle, Merseyside by the two schoolboys before they tortured and killed him.
Two-year-old James Bulger was murdered by Venables and Thompson in 1993 (Getty Images)
So, what happened to James Bulger - and what is the new programme about?
Here is everything you need to know.
What happened to James Bulger?
James had been taken to the New Strand Shopping Centre in Bootle by his mother Denise on 12 February 1993.
Denise was briefly distracted in a busy butcher's shop when she noticed that her son had disappeared.
CCTV footage taken from the shopping centre showed Thompson and Venables watching children and looking for a target.
After luring James away from his mother, the two 10-year-olds walked him for two and a half miles.
A CCTV image showing the child being taken away by the hand became one of the infamous pictures of the case.
The three boys were spotted by 38 people as they walked, but when some challenged them Thompson and Venables claimed they were all brothers.
The pair took James to a railway line in Walton, where they tortured, beat and sexually assaulted him.
Modelling paint was poured in his eyes, he was kicked and bricks were thrown at him.
The toddler, who was a month away from turning three when he was killed, suffered 10 skull fractures after the schoolboys dropped a 10kg iron bar on him.
He eventually died from his injuries.
James was then placed on the railway tracks, with Thompson and Venables hoping a train would hit him and the brutal attack would look like an accident.
His body was found two days later cut in half by a train. He suffered 42 injuries in total.
Who are James Bulger's killers?
Robert Thompson and Jon Venables became the UK's youngest murderers in 250 years after they killed James.
The two boys were identified when a woman recognised Venables from CCTV footage distributed by police.
Physical evidence tied them to the murder scene, including paint on their clothes that matched the substance on James' body.
Thompson and Venables were charged with the child's murder on 20 February 1993.
They were referred to as "Child A" and "Child B" throughout the trial.
The case against them was built using 20 hours of video interviews conducted by the police.
Both Thompson and Venables did not speak during their trial.
The pair were found guilty on 24 November 1993 and were sentenced to a minimum of eight years in a juvenile detention centre.
What happened to them after their release?
Thompson and Venables stayed at the detention centre until they were released aged 18 in 2001.
They were both presented with new identities, on the understanding that they had been rehabilitated and would not break the law again.
Explaining why a worldwide injunction preventing details about Venables and Thompson was imposed, then-Home Secretary David Blunkett said: "The injunction was granted because there was a real and strong possibility that their lives would be at risk if their identities became known."
The new identities included a fabricated passport, qualification certificates and medical records.
Thompson and Venables were also not allowed to contact each other following their releases.
In 2010, under his new name, Venables was jailed after being found with child abuse images on his laptop.
After three years, he was released and given a second new identity.
What is the new documentary about?
Airing over two consecutive nights, Channel 5's Lost Boy: The Killing of James Bulger explores the harrowing case.
For the first time, the victim's brothers speak in the documentary, along with police officers and journalists, solicitors and other members of the family who were involved in the investigation.
The programme includes details of the hunt to find James, including archive footage from the time.
James' mother Denise also speaks on camera and says, 28 years later, the pain from losing her son is still unbearable.
"I was holding his hand and within seconds of me reaching for my purse to pay for some chops at the butcher's he'd gone," she says in the documentary.
"I shouldn't have let go of his hand. It's hard for me to say, but it's the truth. If there's such a thing as closure, I don't think I'll get it any time soon.
"He'll never be forgotten by us. Every single day, even after all these years, I miss him."
A review of the programme in The Independent gave it four stars and said it was "made with care and professionalism".
The first part of Lost Boy: The Killing of James Bulger aired on Channel 5 on Wednesday 10 March at 9pm.
If you missed it, episode one is now available for catch up on My 5.
The second part will air on Thursday 11 March at 9pm, and that episode will also become available on catch up after it is shown.