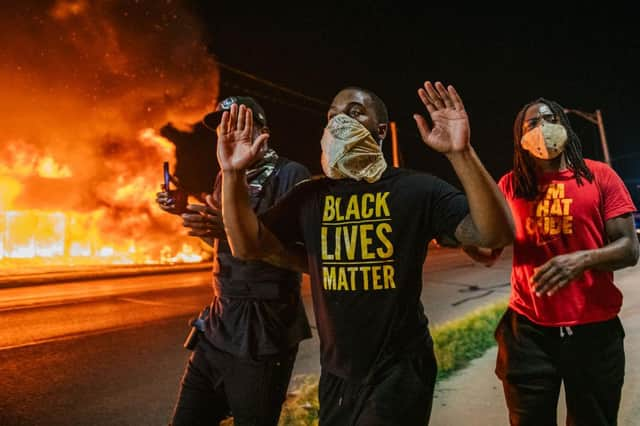 Demonstrators took to the streets in Kenosha following the shooting of black man Jacob Blake (Getty Images)
The police officer who shot of a black man in Wisconsin, sparking clashes between demonstrators and authorities has been named
Officer Rusten Shesky shot Jacob Blake in the back several times on Sunday night.
Footage of the incident sparked outrage on social media, with Mr Blake shown walking around his car while followed by armed policeman.
A policeman then grabbed Blake by the shirt and shot him several times. Blake's children were reportedly in the car at the time of the shooting.
Blake is paralysed from the waist down following the shooting.
The incident comes four months after the death of George Floyd in police custody which sparked international Black Lives Matter protests.
Cars and buildings have been set alight as protestors continue to call for justice, with two people shot dead in clashes between armed white men and protestors.
What happened to Jacob Blake?
The Kenosha State Department confirmed the shooting on Sunday, saying that police officers were responding to a "domestic incident".
At the time of the incident there was an active arrest warrant in Blake's name.
Raysean White, who filmed the incident, said that police officers wrestled with and tasered Blake prior to his shooting, asking him to drop a knife – a knife which White claims he did not see.
The names of the officers have not yet been revealed, while officers in Kenosha do not wear body cameras.
Civil rights attorney Ben Crump said that Blake was celebrating one of his children's birthdays on Sunday night prior to the shooting.
Blake's three sons were in the car at the time of the shooting.
A knife was found in Blake's care but no other weapons.
What is Jacob Blake's condition?
Jacob Blake's father confirmed that his son was paralysed as a result of the shooting.
He said there were now "eight holes" in his son, and it was unclear if he would recover from his injuries.
He told the Chicago Sun Times: "I want to put my hand on my son's cheek and kiss him on his forehead, and then I'll be OK," his father said. "I'll kiss him with my mask. The first thing I want to do is touch my son."
He also pleaded: "What justified all those shots? What justified doing that in front of my grandsons? What are we doing?"
Lawyers have said that Jacob Blake will need a miracle to walk again, after one of the bullets went through his spinal cord.
Lawyer Ben Crump said: "His family believe in miracles, but the medical diagnosis right now is that he is paralysed and, because those bullets severed his spinal cord and shattered some of his vertebrae, it is going to take a miracle for Jacob Blake Jr to ever walk again."
Lawyers also revealed that most of Blake's colon and small intestine had to be removed while he also suffered injuries to the stomach, arm, kidney and liver.
What has been the reaction?
In reaction to the shooting Wisconsin Governor Tony Evers has called lawmakers into session to fast track a package of bills aimed at curbing police brutality.
Evers has also called in the national guard to support local authorities.
Lt. Gov. Mandela Barnes, the state's first Black lieutenant governor, meanwhile said that action needed to be taken.
He said: "this didn't start with George Floyd, unfortunately. It's been around far longer than him and if we don't do anything this will continue as we saw yesterday."
Protests have gripped the city since Sunday night, sometimes turning violent.
On Tuesday night two demonstrators were shot dead by an armed 17-year-old.
Widely shared footage show the white gunman running through the streets holding an assault rifle, while being chased by protestors with gunshots heard seconds later.
US president Donald Trump has sent federal law enforcement to Wisconsin, tweeting the need to combat "looting, arson, violence, and lawlessness on American streets".