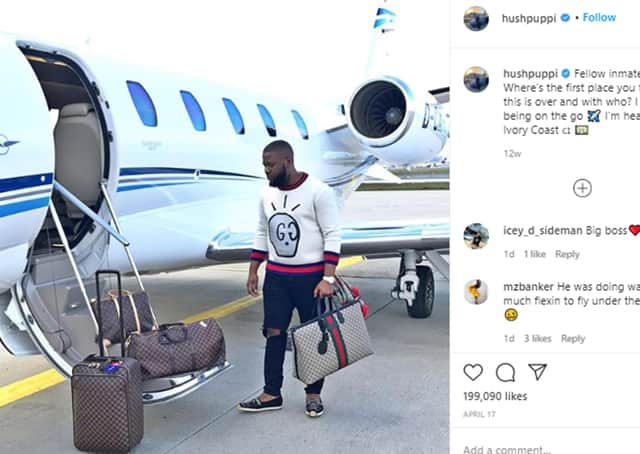 Ramon Abbas has shared online images of his lavish lifestyle
A prominent Instagram influencer has been accused of leading a plot to defraud a Scottish company of £200 million as part of an international cyberscam.
Ramon Abbas, who has attracted millions of followers on the social media network by sharing images of his lavish lifestyle, is alleged to have conspired to launder hundreds of millions of pounds from frauds known as Business Email Compromise (BEC) and other scams.
Authorities in the United States said that those targeted as part of the "large, transnational conspiracy" included an Edinburgh-based firm. The company has not been identified.
Abbas, better known to his 2.5 million Instagram followers as Hushpuppi, is also alleged of conspiring to steal £100m from an unnamed English Premier League football club.
The alleged acts form part of what the US Justice Department described as a "transnational network" which used computer intrusions, fraudulent schemes, and money laundering to target victims around the world. Abbas, it said, was one of the network's leaders.
Details of the alleged targeting of the Edinburgh company have emerged in a criminal complaint served in the US District Court of for the Central District of California, which accuses Abbas of conspiracy to engage in money laundering.
Abbas, who went by the name "The Billionaire Gucci Master" on Snapchat, appeared in a Chicago court earlier this month where he was denied bail. He is expected to stand trial later this year.
His lawyer, Gal Pissetzky, has said the 37-year-old is not guilty of the charges against him, and described his client as an entrepreneur who had made his money legitimately through real estate and "promoting brands" on Instagram.
In the complaint, Andrew Innocenti, a special agent with the Federal Bureau of Investigation (FBI), who investigates cybercrimes, claims that Abbas and an unnamed co-conspirator exchanged messages last May about the Scottish firm.
Abbas has attained celebrity status thanks to his prolific social media updates, which include selfies taken aboard private jets, and photographs of him wearing designer clothes or posing alongside collections of luxury cars and designer watches.
But officials in the US say the 37-year-old's opulent lifestyle was financed through crime, with the network "targeting victims around the world in schemes designed to steal hundreds of millions of dollars".
Police in the United Arab Emirates arrested Abbas last month alongside Olalekan Jacob Ponle, another Nigerian influencer who goes by the name 'mrwoodbery' on Instagram, and ten other individuals.
Brigadier Jamal Salem Al Jallaf, the director of Dubai CID, said that officers confiscated £32.4m in cash, 13 luxury cars worth around £5.3m, as well as 21 computer devices, 47 smartphones, 15 memory sticks, and five hard discs containing the addresses of 1,926,400 alleged victims.
An affidavit filed alongside the complaint alleges that Abbas and others also committed a Business Email Compromise scheme that defrauded a client of a New York-based law firm out of around £730,000 last October.