Police were called to Kelvingrove Park in Glasgow to break up large groups of people as hundreds gathered in the area on the hottest day of the year.
Thousands of people across the country have taken to city parks, beaches and beauty spots across the country as temperatures soar.
Yet the public has been reminded to keep social distancing measures in place despite the balmy weather.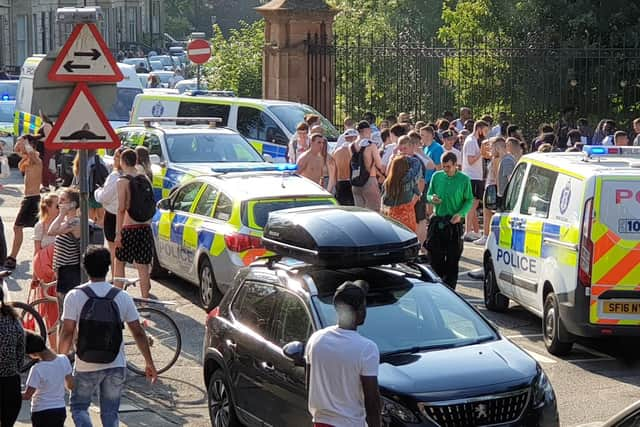 About 6.30pm this evening, officers were seen 'clearing' the Glasgow park of visitors who were seen drinking and gathering in large numbers.
A police spokesman said: "Officers are in attendance at Kelvingrove Park following a large number of people gathering. There is no major incident we're aware of but the police presence is due the number of people in the park."
Inspector Lesley Docherty, from Partick Police Office, said: "The regulations remain that people should only leave the house for very limited purposes, for example for basic necessities, for exercise or recreation, for medical needs or travelling for work which cannot be done from home.
"The Chief Constable has made it clear that we are asking people to take personal responsibility to do the right thing and remember the purpose of these measures is to aid the collective effort to stay safe, protect others and save lives by preventing the virus from spreading.
"Our officers will continue to engage with the public, explain the legislation and guidance and encourage compliance. We will use enforcement as a last resort only where there is a clear breach of the legislation."