Edinburgh student jailed for ten years after terrorism trial
A student who was "addicted" to reading about mass murders carried out by misogynist "Incel" killers has been jailed for ten years for breaching terrorism laws.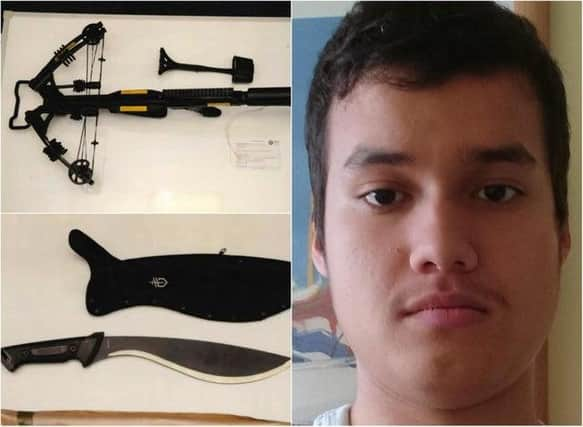 Gabrielle Friel, 22, took possession of a lethal crossbow, 15 bolts for the weapon, a scope, and a ballistic vest to prepare for committing a terror attack.
During his trial last month, the High Court in Edinburgh heard Friel, who lived in the city's Comely Bank area, repeatedly searched the Internet looking at ways he could acquire a gun.
The aspiring terrorist also studied mass shootings carried out by men who described themselves as being "Incels" - involuntary celibates.
A jury heard followers of the internet subculture are men who believe that society is organised according to physical good looks.
A leading academic told the court Incels believe physically attractive people dominate society and they form part of the underclass.
The court heard many Incels believe physically attractive women should be subjected to rapes and acid attacks.
A psychiatrist who was treating Friel for personal problems believed the accused was identifying with the Incel movement - as did a social worker who worked with him.
A jury convicted Friel of a charge which stated that between June 1, 2019 and August 16, 2019, at various locations in Edinburgh, he possessed the weapons "for a purpose connected with the commission, preparation or instigation of an act of terrorism." This breached section 57 of the 2000 Terrorism Act.
Jurors found a second charge against Friel not proven. This charge stated he breached the Terrorism Act by conducting research in a bid to acquire a gun.
This charge also stated that he carried out a search of the internet of mass murders committed by individuals "expressing motivation.. or affiliation" with Incels.
The charge to which Friel was also acquitted stated that he took possession of the weapons, assembled the crossbow and fired it at a drinks can before storing it at his home in the city.
Trial judge Lord Beckett remanded Friel in custody and ordered a report to be provided to him detailing his background before today's sentencing hearing.
It is not the first time Friel – who appeared via video from prison for today's proceedings – has faced prosecution.
In November 2017, the court heard he was detained following an incident at Edinburgh College's Granton Campus.
PC Mark McNulty, 25, told the jury he was one of the police officers who responded to the incident. He said Friel was found in some toilets. He said Friel pulled out an eight to ten inch kitchen knife from a bag and brandished it over his head.
PC McNulty and two colleagues grabbed him and he made stabbing motions during a struggle. One of his colleagues managed to get the knife but the other suffered a laceration to his shoulder. Friel subsequently pled guilty to assaulting the officer to his injury and danger of life and a sheriff imposed a community payback order on him.
He was ordered to be kept under supervision for two years, to carry out 300 hours unpaid work and to engage with medical or psychiatric treatment as required following an appearance at Edinburgh Sheriff Court.
During Friel's trial, the court also heard evidence about the Incel movement.
The jury was told that Incels believe society is divided into three tiers with very good looking people, known as alphas at the top, betas in the middle and Incels at the bottom.
Incels believe they are hopeless as they cannot move up the ladder in society.
They believe that society is changing for the worse and revered the myth of a golden age of patriarchy where looks did not count.
The court heard they showed a general hatred against women but also did not like men who are not Incels.
Jurors were told that although "Incel" was currently little known by the public it was taken seriously by intelligence and law enforcement agencies worldwide following a number of attacks.
Friel was treated by forensic psychiatrist Dr Alexander Quinn, who told the court Friel said he felt "an affiliation" with a Californian spree killer Elliot t Rodger, who killed six people in a stabbing and shooting spree in Isla Vista, California, in May 2014.
Before taking his own life following the attack, the 22-year-old posted a "retribution" video to YouTube.
On the video, Rodger sat in a BMW car his family had given him and complained about being a virgin at 22, saying he had "never even kissed a girl".
In a document, he described himself as the "ideal magnificent gentleman" and said he couldn't understand why women didn't want to have sex with him.
Friel denied ever planning a mass shooting.
A message from the Editor:
Thank you for reading this article. We're more reliant on your support than ever as the shift in consumer habits brought about by coronavirus impacts our advertisers.
If you haven't already, please consider supporting our trusted, fact-checked journalism by taking out a digital subscription.
Comments
Want to join the conversation? Please or to comment on this article.