Controversial US preacher awared £100,000 after Hydro event axed
A controversial Christian preacher whose arena event was axed will receive more than £97,000 in damages.
The Billy Graham Evangelistic Association (BGEA) successfully sued the Scottish Event Campus (SEC) after a sheriff decided that they were the victims of discrimination.
Franklin Graham, the son of the late evangelist Billy Graham who has faced criticism over remarks about homosexuality and Islam, had been due to appear at the Glasgow venue on May 30, 2020 as part of a UK tour.
The event at the Hydro arena was cancelled in January 2020, with security fears cited as the reason.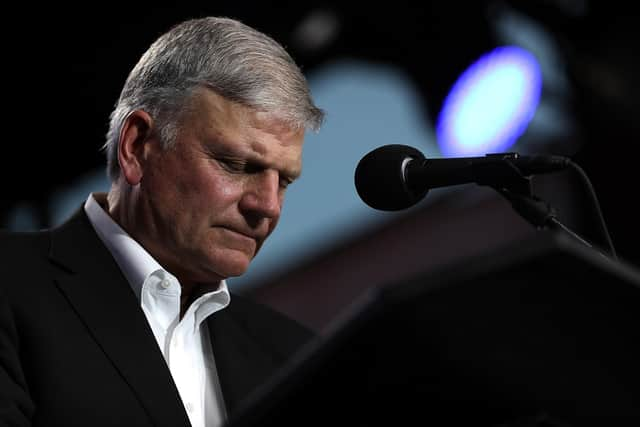 But the BGEA claimed SEC breached the Equality Act by not letting Mr Graham perform.
The organisation initially chased £200,000 in compensation or have Mr Graham perform as per the July 2019 contract.
A civil hearing at Glasgow Sheriff Court was told BGEA was due to appear at six other UK venues. Other venues had cancelled their bookings while four rescheduled.
The "private" event was to be non-ticketed where members of the public could enter free of charge.
The event was described as "an evangelistic outreach event to profess and promote religion or philosophical belief."
Sheriff John McCormick stated in his closing remarks: "The intended audience was the general public, irrespective of any religious belief or none and irrespective of sexuality."
The SEC became aware of opposition to the event in November 2019.
Preparations were made to cancel the event on January 28, 2020.
The decision to cancel was postponed until the next day following a meeting with city council members including leader Susan Aitken and former head Frank McAveety.
Sheriff McCormick stated: "The view of Glasgow City Council was conveyed to all present in unambiguous terms that the event should be cancelled."
Miss Aitken told the court proceedings: "My overriding concern, and I suppose the factor that ultimately was the most decisive for me in taking the view that the event should be cancelled was because I thought that – not just the expression of the views, but also the knowledge of, or the expectation that the views may well be expressed or could be expressed, which would have real life consequences for people in Glasgow."
Sheriff McCormick said: "SEC directly discriminated against BGEA in that it treated them less favourably than it would have treated others."