Ms Ponsati, who is a member of the Together for Catalonia party, was released after being detained a day earlier when she entered Spain and held a press conference in Barcelona.
Hours after her release, Ms Ponsati flew to Brussels for a European Parliament meeting but must appear before court on April 24 and be constantly trackable by Spanish authorities.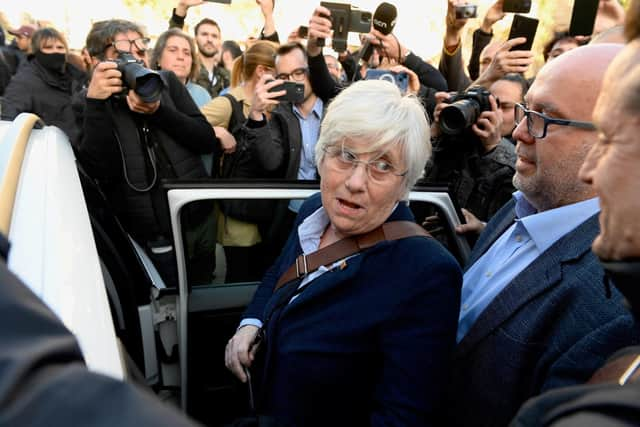 If convicted of disobeying explicit court injunctions not to proceed with the breakaway referendum, Ms Ponsati could face a fine and be barred from public office for up to two years, but will not face prison.
She previously faced charges of sedition, which would have meant time in prison, but a recent amendment to Spanish law no longer classifies sedition as a crime.
Ms Ponsati was among several other Catalan politicians who fled Spanish justice in 2017 following the referendum.
The group included former Catalonia regional president Carles Puigdemont who is also a Euro MP for Together for Catalonia and is wanted in Spain for embezzlement.
Ms Ponsati claims she has immunity as a member of the European Parliament but Spain's Supreme Court rejects this, saying the charges against her and Mr Puigdemont date from before they were elected to the body.
Her return to Spain comes after unity within the pro-independence camp was shattered last year when the two leading secessionist parties split, with Together for Catalonia leaving the regional coalition government headed by the Republican Left of Catalonia.
Unlike Together for Catalonia, the Republican Left party supports Spain's left-leaning coalition government and has held negotiations with Spanish authorities on resolving the dispute.
The Spanish government has also pardoned nine independence bid leaders who did not flee and were later convicted of sedition and misuse of public funds. The pardons were considered an attempt by central authorities to reduce tensions with wealthy north-east Catalonia.
Polls show that Catalonia's 7.5 million residents are equally split between those who want to secede and those who want to remain a part of Spain.