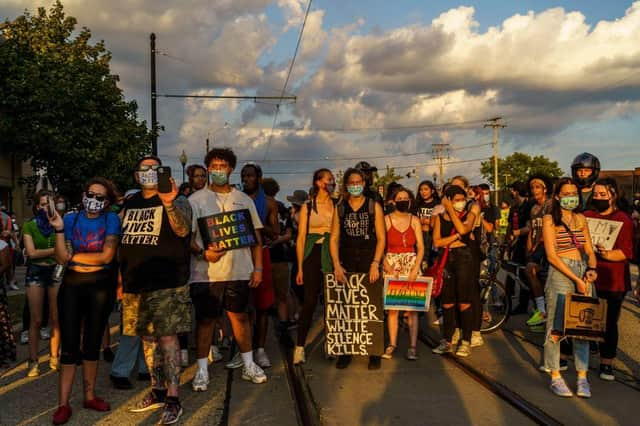 The two victims were shot during Black Lives Matter demonstrations in Kenosha, Wisconsin (Getty Images)
The victims of August 25 shooting at the Kenosha, Wisconsin protests were named as Anthony Huber and Joseph Rosenbaum.
A third man who was injured in the shooting but survived was named as Gaige Grosskreutz.
A 17-year-old charged with the homicide and attempted homicide of the trio was earlier named as Kyle Rittenhouse.
Rosenbaum, Huber and Grosskreutz had been taking part in protests against police brutality and racial injustice when they were shot.
Who were the Kenosha shooting victims?
According to the Milwaukee Journal Sentinel, Joseph Rosenbaum, 36, was a Texas native who had moved to Kenosha recently.
He is survived by a fiancee and young daughter.
His sister wrote on his Facebook page: "May you forever be with the angels and rest easy bro. I love you!"
Anthony Huber, 26, was a keen skater described by friends as "a sweet person" with one friend saying he "always had a smile on his face".
Friend Tim Kramer, 26, told the Journal Sentinel "He was always really friendly. He got along with everybody. He was a class-clown-type of guy. He loved skateboarding. It's been a big part of his life."
Skateboarders gathered at Kenosha skate park on Wednesday to remember their friend.
Gaige Grosskreutz was shot in the arm but is expected to survive. Grosskreutz has attended several Black Lives Matter protests in recent months where he volunteered as a medic, according to the Journal Sentinel. He is a senior at his local college and has previously worked as a sea kayak instructor and medical instructor.
What happened to the Kenosha shooting victims?
All three were in attendance at protests on Tuesday night with running battles reportedly taking place between armed gunmen and protestors.
According to reports Joseph Rosenbaum was shot in the head.
Anthony Huber was chasing the accused gunman with his skateboard when he was also shot.
Grosskreutz was shot in the arm and is currently recuperating in a local hospital.
What happened in Kenosha?
On August 25 crowds in Kenosha gathered for a third night to protest the shooting of Jacob Blake, who was paralysed from the waist down following Sunday night's shooting.
According to witnesses at the scene, clashes between demonstrators and a gang of armed white men guarding a petrol station - some of whom were wearing body armour - became increasingly heated.
Police had used tear gas and rubber bullets in an attempt to disperse the two groups.
At 11.45pm local time Kenosha police revealed "reports of shots being fired and multiple gunshot victims".
A statement from the police department stated: "the shooting resulted in two fatalities and a third gunshot victim was transported to a hospital with serious, but non-life threatening injuries."
Video of chaotic scenes in the Wisconsin city began surfacing on social media, appearing to show the shooting taking place.
In one clip the gunman can be seen being chased down by protestors before gunshots ring out. Other footage shows armed men standing outside businesses they claim they are trying to protect.
Following the shooting crowds dispersed in the city.
On Wednesday night Kyle Rittenhouse was arrested and charged with first-degree intentional homicide.