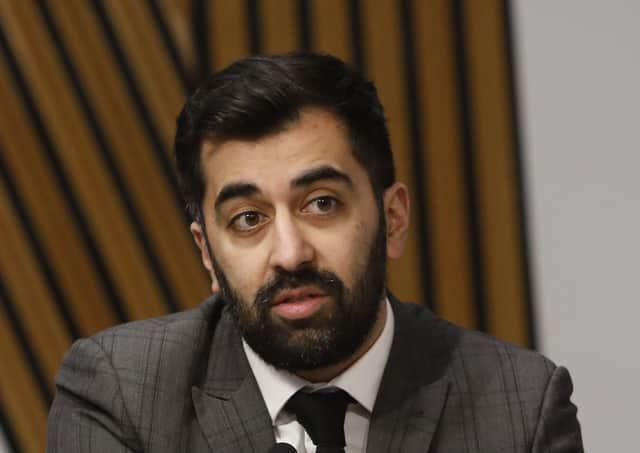 Justice secretary Humza Yousaf said all prison visits were suspended as of Tuesday
Humza Yousaf said there were "robust" plans in place across the prison system to deal with the pandemic, with any prisoner who displays symptoms told to self-isolate.
The justice secretary told MSPs at Holyrood the Scottish Prisons Service (SPS) had considered all necessary steps to reduce the risk of the virus spreading, which meant visits would be suspended.
"This was a decision not taken lightly," he said.
"We recognise that maintaining family contact, perhaps more so now than ever, is crucial in these challenging times.
"SPS are working on other options as a matter of urgency, in which we can maintain and support family relationships, including establishing a dedicated family help-line.
"More difficult operational decision may lie ahead."
James Wolffe QC, the Lord Advocate, told MSPs the only business continuing to go through Scottish courts at present was "essential custody business".
It was announced last week that no new jury trials will commence north of the Border until further notice, while most summary trials have now been adjourned.
Mr Wolffe said: "The police will continue to respond to crime. They will continue to report cases to the Procurator Fiscal.
"Where individual or public safety justifies that course, accused persons will, in accordance with guidelines, will continue to be taken into custody, and prosecutors will continue to take action.
"Where there is sufficient evidence and the public interest requires a prosecution, prosecutions will be initiated. We will seek where we can to resolve cases, and to progress them, with the minimum need for appearance at court."
He continued: "Where a hearing requires to take place and the accused is in custody, the accused, where possible, will attend via video link. Where cases cannot be resolved, and the case is one of the very small number of summary cases where a trial can and should take place, we will keep the number of witnesses to the minimum necessary.
"Where a trial cannot take place, and I have to be frank, that will be the great majority of cases which cannot otherwise be resolved, we will have no option but to defer that trial until public health guidance allows us to resume - even if that means the accused has to remain in custody if public safety demands it.
"We will need where necessary to seek extensions of the statutory time limit which applies."