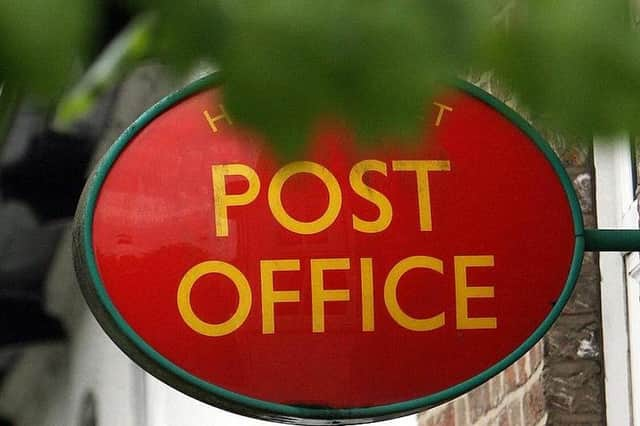 Prime Minister Boris Johnson described the original convictions as an "appalling injustice." Pic: Paul Ellis/AFP via Getty Images.
On Friday, Court of Appeal judges in England quashed the convictions of 39 former postmasters after what has been described as one of the UK's biggest miscarriages of justice. People were convicted of stealing money, and some were imprisoned, after the Post Office installed a defective accounting system - called Horizon - into branches.
The Scottish Criminal Cases Review Commission (SCCRC) has confirmed it is investigating the convictions of five sub-postmasters in Scotland.
There were 73 convictions in Scotland caused by the systemic failure, with individuals prosecuted for fraud and theft. The SCCRC has written to people it believes may have been the victims of possible miscarriages of justice in Scotland due to problems with the Fujitsu-developed IT system.
Fiona, along with her partner Phil Cowan, were accused of stealing £30,000 from their Post Office branch in Parsons Green, Edinburgh. The stress of the investigation sent Fiona into depression. She died in her sleep in 2009, aged 47.
Mr Cowan, who now lives in Thailand, told The Sunday Post: "Fiona may well be still alive today if she had not been facing court for false accusations of theft and died before clearing her name."
Mr Cowan told the newspaper he welcomed Friday's Court of Appeal decision to overturn the convictions of 39 sub-postmasters but said that for his partner it came "much too late" and that, for her, "there can be no justice."
Unknown to her, the Post Office charges had already been dropped before her death.
Mr Cowan told the newspaper that they found out much later that the case against her had been withdrawn through a freedom of information request while campaigning with other sub-postmasters, but he added: "The Post Office did not have the decency – nor inclination – to inform us."
Friday's Court of Appeal judgement was met with cheers from former postmasters outside court and was hailed by Prime Minister Boris Johnson, who described the original convictions as an "appalling injustice."
Announcing the court's ruling on Friday, Lord Justice Holroyde said the Post Office "knew there were serious issues about the reliability of Horizon" and had a "clear duty to investigate" the system's defects.
He said the Post Office had "consistently asserted that Horizon was robust and reliable," and "effectively steamrolled over any subpostmaster who sought to challenge its accuracy."
Post Office chairman Tim Parker said they are "extremely sorry" for the impact on the lives of these postmasters and their families caused by historical failures.
He said they have supported the overturning of the vast majority of convictions throughout the appeals process and are contacting other postmasters and Post Office workers with criminal convictions who may be affected.
A message from the Editor:
Thank you for reading this article. We're more reliant on your support than ever as the shift in consumer habits brought about by coronavirus impacts our advertisers.