Exclusive:

Climate change: Scottish firefighters deal with record number of floods and woodland fires amid budget cuts

The Scottish Fire and Rescue Service says investment is vital to meet 'changing risk and demand'
Firefighters across Scotland attended an unprecedented number of flooding incidents over the past year, with crews also dealing with a record number of woodland blazes, The Scotsman can reveal.
The call-outs have intensified concerns over the national service's ability to respond to the growing impact of climate change-related weather incidents at a time when it is facing up to multi-million pound cuts.
Newly released statistics published by the Scottish Fire and Rescue Service (SFRS) had to deal with 3,139 flooding incidents in 2022/23 – an average of nearly nine call-outs a day. Not only is that nearly double the 1,617 incidents recorded over the previous 12 months, it is by far the highest level on record since the national service's incorporation.
The data also shows firefighters had to contend with 745 primary woodland fires over the past year. There was a 40 per cent increase in such incidents compared to 2021/22, and they are up 477 per cent over the course of a decade.
While not every flooding or fire incident can be directly linked to the climate crisis, the escalating demand on fire crews has raised fears about the fire service's ability to cope with an upsurge in extreme weather events.
John McKenzie, the Fire Brigade Union's (FBU) regional secretary for Scotland, warned large vacancy numbers in the service's retained duty workforce, coupled with a lack of water rescue capability at many stations, had an impact on the ability of crews to respond to floods and wildfires.
Stuart Stevens, deputy chief officer of the SFRS, said while the service bolstered the likes of its water rescue capabilities and specialist equipment to support its wildfire stations, it "requires investment" to ensure it is able to "meet the changing risk and demand".
The SFRS attended an average of nearly nine call-outs for flooding every day in 2022/23. The service said the 94 per cent increase in such incidents, which include both groundwater flooding and flooding through other causes, such as burst pipes, was likely due to weather conditions experienced last winter, when large parts of Scotland were battered by heavy rainfall.
Several rail services were cancelled in December last year and swathes of the M9 and M74 motorways were closed after a period of intense rainfall. Last month close to four weeks' worth of rain fell across parts of Aberdeenshire and Angus in the space of just 48 hours.
But it is not just flooding that poses a resource drain. The surge in large woodland fires formed part of a trend that saw the number of primary outdoor fires also reach the highest level in a decade. The number of primary grassland fires also increased by 12 per cent – up from 142 in 2021/22 to 160 in 2022/23 – to reach the second highest level on record.
The FBU has stressed fire and rescue services across the UK are struggling to tackle the effects of climate change due to a lack of resources. It argues that with the number of wildfires and floods projected to rise, investing in services should be viewed as a "vital climate change mitigation" measure. Mr McKenzie said such concerns were clearly in play in Scotland.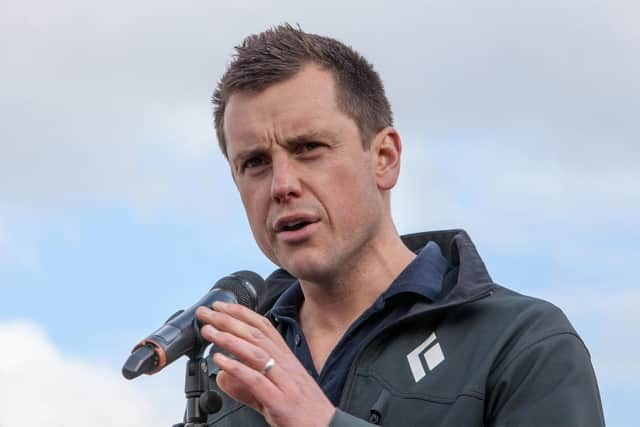 "There are only a very limited number of fire stations equipped to respond to water rescue incidents," he said. "We have a lot of people that are trained to respond to flooding, and can help walk people out of properties, but they don't have any access to boats or rafts if they need to rescue someone.
"There are only 24 stations in Scotland that have a water rescue capability, and part of the problem with that is that firefighters aren't contractually obligated to do that kind of work. That's something we've said for years should be resolved."
Mr McKenzie also said staffing issues were a factor when it came to responding to large wildfires, which predominantly take place in remote and rural areas of the country. He said: "Up until now, the big wildfires that have caught the traction of the public and media have been in rural locations, and the challenge for us is that, almost entirely, the firefighters who respond to those types of incidents will be retained.
"We're seeing real issues there, with around 700 vacancies in the retained duty system. The service can't attract, recruit and then retain these people. On any given day, there could be 150 retained appliances unavailable, just because they're not crewed."
The prospect of a climate change-related increase in the frequency and severity of flooding incidents, as well as the likes of wildfires, poses a significant challenge for the SFRS at a time when it is facing significant budgetary pressures. According to its chief officer, Ross Haggart, the service may have to make savings of between £14 million and £26m next year, with the figure rising to between £37m and £48m by 2026/27. However, the Scottish Government has pointed out it is providing the SFRS with more than £368m this year – an increase of £14.4m on 2022/23.
In its its most recent 'climate ready' report to Holyrood, the UK Climate Change Committee (CCC) said important steps forward had been made in considering the change climate in emergency response service planning, and noted the SFRS was working to assess community risks, address data gaps, and improve performance monitoring for flooding and wildfire events.
However, the CCC also said the Scottish Government should review the funding model for the SFRS, with a view to "providing multi-year funding to incentivise long-term planning and preparedness for climate change", a recommendation Mr McKenzie endorsed. "The frustration is that we're just not seeing the investment that's actually going to deliver," he said.
Mr Stevens said: "The impact of climate change is predicted to intensify and we continue to see increased risk of flooding, wildfire and other severe weather incidents across Scotland. This year we have witnessed two unprecedented weather events, firstly in June with one of the largest wildfires on record at Cannich in the Highlands. This was followed last month by the tragic events of Storm Babet in which people sadly lost their lives.
"These large-scale incidents undoubtedly place a significant demand on resources and it's imperative that our firefighters continue to have the right equipment to carry out their role and to keep themselves and our communities safe.
"We have prioritised our spend to ensure we can respond effectively. For example, we have bolstered our water rescue capabilities with 20 new boats strategically positioned to support our 66 flood response fire stations and have invested in specialist equipment and vehicles to support our 25 dedicated wildfire stations.
He added: "Our specially trained crews can be mobilised across the country to assist with areas impacted by severe weather events and we will always respond to every emergency. Moving forward we remain committed to modernising our service to do more for our communities and ensure we are best placed to meet the changing risk and demand we face across Scotland – but that requires investment."
Comments
 0 comments
Want to join the conversation? Please or to comment on this article.