Why we can all do one thing to help prevent wildfires in Scotland
Some ten days later, firefighters are still at the scene where flames ripped through the Scottish Highlands, including parts of a nature reserve.
Years and years of work building up species, restoring habitats, has been burnt to the ground.
The wildlife charity said many ground-nesting birds, including black grouse, have lost chicks or eggs because of the fire, and hundreds of native trees planted to regenerate habitats have also been destroyed.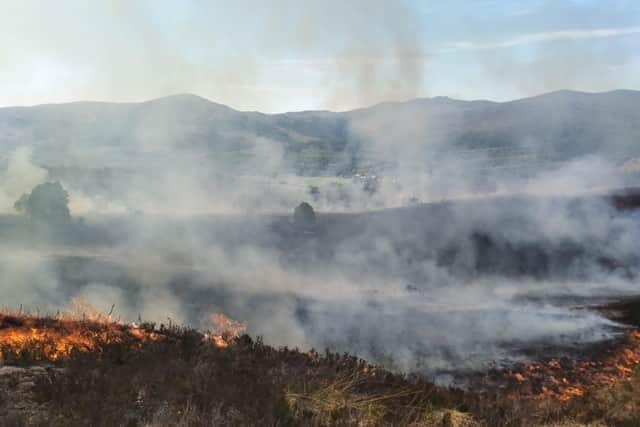 Aside from the wildlife, the cost to the public purse is also extensive. RSPB Scotland said the damage would be hundreds of thousands of pounds and take many years to restore.
Gamekeepers working on the ground said if it weren't for the fire crews and local help, the blaze could have easily swept all the way to the Isle of Skye.
Fire crews, who had previously attended blazes at the same area on four separate occasions since May 23, said the blaze was likely caused by accident from a campfire; a common culprit for some of the country's biggest wildfires.
It is perhaps no wonder the Scottish Fire and Rescue Service (SFRS) has upped its warning on wildfire risk to "very high" this week. The alert covers most of Scotland until Saturday. Parts of the Highlands, Dumfries and Galloway and the Borders are expected to reach "extreme" risk.
Muirburn – controlled burning – has been cited as one method to help prevent wildfires from reaching a catastrophic scale as they did last week.
Bruce Farquharson, of SFRS, has repeatedly spoken about how important it is for firefighters to work with gamekeepers on rural estates to share knowledge and expertise of muirburn and the land to reduce fuel load – which can be vegetation such as heather growing tall and thick.
Those in favour of the practice, from academics to farmers, argue the practice is essential at creating firebreaks to prevent a fire spreading and burning deep into the ground, particularly into peatland. Critics, however, claim it can threaten biodiversity and poses a risk to burning peatland.
Policy on muirburn is being debated in the Scottish Parliament, with politicians hearing evidence on draft proposals of the new Wildlife Management and Muirburn Bill. Some of these include enforcing a more strict licencing scheme on where controlled burning can be done.
But while peat experts, wildlife conservationists and politicians are busy working out what the legislation will say, there's one thing we can all do to help protect Scotland's landscape from wildfires, and that's not lighting a fire in the first place.
Comments
 0 comments
Want to join the conversation? Please or to comment on this article.