Comedian Josie Long takes her first collection of short stories to Wigtown Book Festival
The funnywoman uses her powers of observation to shine a light on the extraordinary that exists in the everyday.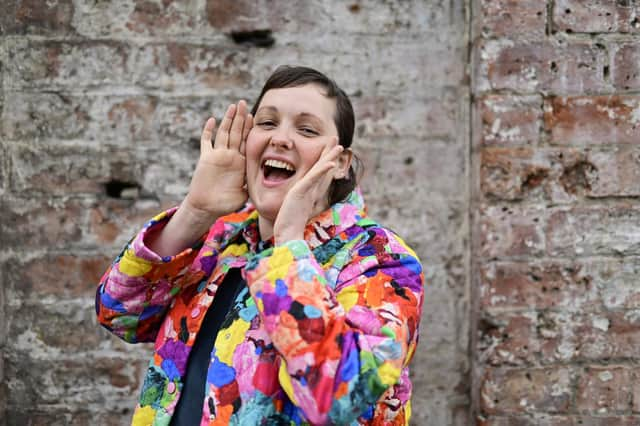 The long and the short of it is that comedian Josie Long has turned her hand to writing fiction and will be bringing her first book of stories, Because I Don't Know What You Mean and What You Don't, to Wigtown Book Festival next weekend.
Published in May, it's the culmination of years of writing that began in childhood but which took second place to other things, such as studying English at Oxford and launching a comedy career that saw her performing as a stand-up at the age of 14 and winning the BBC New Comedy Awards at 17. By the age of 24 her first full-length Edinburgh Fringe show had won her a Best Newcomer Award and the 41-year-old has been a staple of the capital's Festival scene ever since with this year's Re-Enchantment continuing its UK tour with gigs in Aberdeen and Inverness later this month. Along the way Long also relocated from London to Glasgow in 2020 and had two children with her partner, comedian and playwright Jonny Donahoe.
While her comedy career amassed her awards and success, Long had always wanted to write a book and when lockdown closed venues and coincided with her becoming a mother, she took the opportunity to get back to her writing.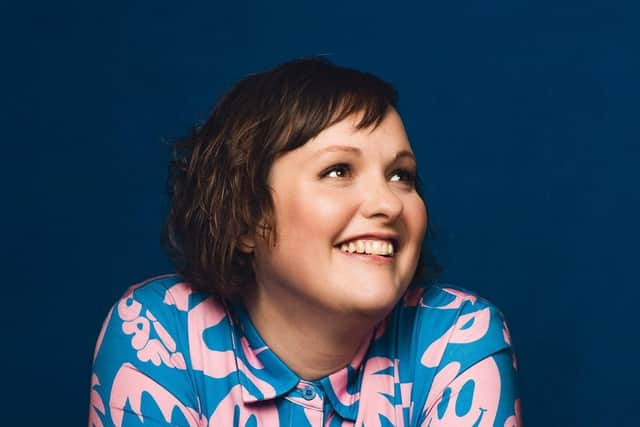 "I had ambitions to write it for ever, and really thought it was something I would get done quicker," says Long with a laugh.
"About ten years ago I spoke to Canongate and said I would love to do this and they were so supportive but it took me another three years before I actually started. I got one done in 2016 - I was at a friend's house and sat down one evening and wrote a story really quickly and was like 'oh this is going to be easy, I can get it all done in a week' then didn't do another one for four years. So it was quite a slow gestation process, but then most of them were written between 2020 and 2022."
Long had written stories as a child, hammering them out on her dad's word processor, printing them and carrying them around in a ring binder, later taking them to the pub to impress boys, but that was as far as her literary ambitions went.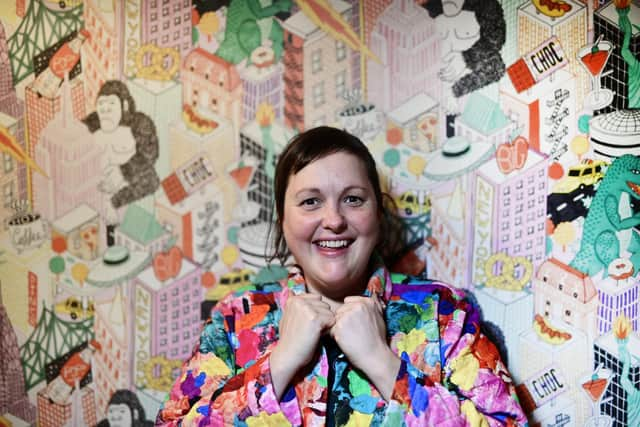 "As a little kid I used to write short stories. I have a strong memory of writing a story about a cat that used to sneak out at night and sing cabaret but it never finished. And later I would carry around this black ring binder full of my stories, like someone might think 'oh, this 12-year-old has got things to say, oh great she's got it with her', but I never finished them. Then as a teenager I thought it was a great way to get boys. So it was always something I loved but pushed to the sidelines then it got to the point where I was thinking time is of the essence, I can't just keep thinking it will magically happen and I did manage to get the time and space."
While the tale of the cabaret cat remains unfinished, Long's derailment by life and laughter has resulted in rich life experiences that she has mined for stories, making for a volume that is fixed in the everyday but takes leaps and bounds into territory that borders on the dystopian and scifi. A series of narrators entertain us with blast from the past exes, friends who are a bit rubbish, dysfunctional relationships, teenagers who believe they are witches and an admin/surveillance job that has the reader guessing if we've moved into a parallel universe.
"I didn't want it to be too fantastical," says Long. "I wanted it rooted in small things and deep feelings around little details. I think that's where it's like standup because in a show I try and note little details to make it richer. I didn't want to write big, high octane things. I wish I could write about things like, I don't know, rockets in space, but I find the small scale stuff interesting."
"I think thething that unites all of the narrators is a kind of intensity of feeling and perhaps an overthinking quality. It's definitely about people's very intense inner worlds. I also think there's quite a lot in it about political and climate anxiety and how hard it is to parent in the climate crisis so there's definitely a bit of political anxiety and opinion, but I would hope as well that all of them have a bit of love towards the characters too, that it's quite a loving book."
In fact the short story collection started out as a book about love, but grew wings as she wrote.
"It was going to be about my romantic experiences, then the more I wrote it became everything I had to offer. I'd had my kids and that was so much a part of my life and I care so much about politics I thought it had to be things that I talk about. And I like the idea of putting different types of energy in the book, having some stories more plot driven and some more emotional.
Given that she puts a lot of herself into her stand up, are the stories in any way autobiographical, for example the one entitled We Decided to Leave London?
"Oh no. I absolutely did not become involved in smashing up a fairy garden," she says. "I can legally and truthfully say this. I think that story did act as a vehicle for a lot of built up STRESS about class and respectability and niceness of people in England who want to be seen as good and also renting in London and poor quality accommodation. Twenty years of renting in London is a brutalising experiment on human beings. It's hard times.
"So I think it did reflect some things, like in the pandemic I was living in a flat that was really poor quality accommodation and it did drive me bonkers. The walls were made of paper and in the story someone makes the mistake of trying to put up shelves and discovering 'this is just plasterboard, this is not a wall' and I did do that.
"Also I'm somebody who didn't have a strong connection with nature growing up and discovering it has been life changing. So in that story, the woman finds this little scrubby bit of land and I really wanted that to be incredibly meaningful to that character, where even just seeing one beaten up fox is so beautiful it makes her feel she could have more from life.
So there was definitely built up resentment in the story, but I promise you it's not true. Every story is fictional."
While the stories are fictional, Long's experiences are often the spark, such as the final story in the volume, I Don't Know.
"That absolutely has its root in my stand up and experience of having my two kids and their being so little and feeling lots of climate anxiety and trying to get to a point where I feel I can be positive with them about the world and the future. So definitely that last one is as close to me as all of them."
And another called 2021, 20/21 where she uses an experience of a very controlling relationship, evolved as she wrote.
"That was so bizarre because the story is about a woman in her forties realising she had this abusive relationship and I wanted to use that as a springboard and examine the feelings I had about it, but it was not going to be that when I started. It was going to be about a woman whose ex-boyfriend shows up in her small community and it f*** her life up. Then as I wrote it I was finding all these things on Instagram and realising oh I have the name now, that was abuse, that was this, that was that, and so the story itself was my experience of writing that story. The writing of it meant I had to feel all those feelings. It was like this itch that I wanted to scratch but when I started scratching it I was 'oh, shit, oh no, ha ha, this is awful'.
"It was weird because I did it to myself but I think it must have been something I needed to do so that was a really interesting experience. And then there's another one about a kid in a violent home where it's mostly hidden and in my life I had experiences of living in a stressful environment, shall we say, and writing it had a kind of nightmarish quality for me. It was intense."
Long's own favourite story is set in 2050 and features a woman living in a commune in a world where global warming has changed things irrevocably.
"It's a meditation about climate change and hopefulness and I was really proud of that one because it was longer and I felt like I had put a lot into it in terms of emotional and plot elements."
With her comedy rooted in reality, Long has enjoyed the liberation of being able to fly off into fiction and simply make it all up.
"It's quite different from standup and lets me go to new places. For stand up I'm presenting a version of myself and feel like I have to stand by what I say, even though in ten or 15 years you look back and say 'that idiot, they didn't know anything'. Whereas with these, it was so wonderful to think I want to write about a creepy older man who behaves badly.
"Also I was able to take the stories into places that are not humorous and just stay there, because with stand up you maybe have a minute where you can be sincere but then I feel like you always have to puncture it, undermine yourself, so there's never the space to sit in something sad.
"On top of that there were ideas that just would not work as standup routines. I'm not very good at telling fictional stories on stage. For me it has to be from my experience or will relate to it in a whimsical way, whereas with these it can just be like two girls find a thing. And that was a thrill for me.
"So it was this really exciting process and hopefully it can happen again - and in a few years, not like 20!" She laughs.
Long hopes her ambitions to write more stories, and possibly a longer novel, will be aided by her recent diagnosis of ADHD.
"I'm about to get on ADHD medication and think that will mean I'm able to command the focus when I want it and hopefully for me that will mean that I can get more done. I'm really desperately hoping that, because it impacted me trying to write these stories. I finally had the time and space to write during the pandemic but found this horrible anguish and feelings of utter stultification around it. So getting the diagnosis was incredibly helpful because it was like 'oh this isn't me just being lazy or crap or inept, this is something my brain is doing that I can circumvent and learn to manage or even just acknowledge and move on from'. It's mad but pretty much every comedian has ADHD - it's why we're comedians," she says.
"It really is my baby at the moment and I'm really excited to have managed it because I feel like there are levels of depth of writing that I put in this that I haven't been able to put into stand up and that felt so deeply satisfying."
As a parent of a five year old and one year old for whom time is in short supply, Long loves short stories.
"I like them for the intensity because you go right to the heart of things then get out. I love reading them and also it feels like such an intellectual achievement when you're exhausted with a child to have read something literary for 30 pages - you've done something and it feels good."
She cites her influences as Raymond Carver - "the person who has influenced me most in my life", Jean Rhys "in terms of intensity of emotion I think she's just stunning", and says, "I really enjoyed recently a collection of short stories by a writer called Z Z Packer called Drinking Coffee Elsewhere, and Simon Rich, I love him."
As she continues with her stand up tour this month, heading north to Inverness and Aberdeen, Long also has her sights set on Scotland's South West and Wigtown Book Festival at the start of October in her new incarnation as a writer.
"It will be interesting because I don't drive yet, so if somewhere is not easily accessible by train it's like this magic world to me. I'm really excited to be going there, and I think it will be really fun. It's going to be beautiful.
"It's like embarking on a new career. Just finding something which feels creatively exciting, enriching and fulfilling is wonderful. And to feel like I can improve further is very exciting. I'm hoping it will mean when I come back to writing a new show it will give me more strings to my bow there because you don't ever want to get into a rut, creatively. You don't ever want to be doing just the same thing. It's been a really wonderful thing to work on these stories and know I can do more. That's the best thing, just to keep trying different things, having a taste of everything and trying to enjoy it. I have ADHD. I love a buffet."
Josie Long - Because I Don't Know What You Mean and What You Don't, Canongate Books, £16.99.
Jose Long appears at Wigtown Book Festival on Sun 1 October, 3pm, Festival Marquee, wigtownbookfestival.com
Josie Long Re-Enchantment tour, The Lemon Tree, Aberdeen, Wednesday 20 September, 7.30pm; Eden Court Theatre, Inverness, Thursday 21 September, 8pm, www.josielong.com