Travel: Grenada - Try some tasty winter sun with a Caribbean food and drink trip to Grenada
Eat like a local off the beaten track on the 'Spice Island' of the Caribbean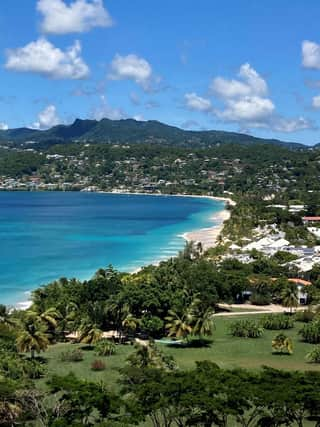 Sitting in a shady bar called Friday, overlooking the Maurice Bishop airport runway and the Caribbean Sea precariously close beyond it, I'm about to sample a Grenadian shot called 'under the counter' – and all before breakfast.
The co-owner Leana Mcintyre and her 19-year-old son, Kyle, show me the potion, which sits in a gallon glass jar filled with a myriad homegrown herbs, leaves and spices including lemon grass, ginger, nutmeg and perhaps even a centipede, forming a brown concoction steeped in the local Rivers white rum.
It's a welcome drink often given to regulars free of charge, and when the mixture sears the back of my throat, I decide that the herbs and spices are more for show than flavour.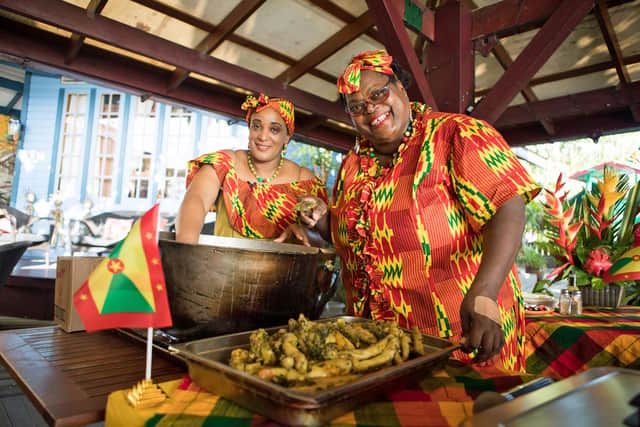 Islanders claim that Rivers rum, produced organically on the River Antoine Estate, the oldest rum distillery in Grenada, doesn't give you a hangover no matter how much of it you drink, because there are no chemical additives. I'm yet to be convinced.
After knocking it back I'm served a hearty Caribbean breakfast of curried aubergines, salt fish, amberjack, fried plantain and a puffed up fried bake the consistency of a doughnut.
It's accompanied by a creamy-tasting cocoa drink; chocolate is big on Grenada with its profusion of cocoa fields, six chocolate companies offering tree-to-bar experiences and an annual chocolate festival.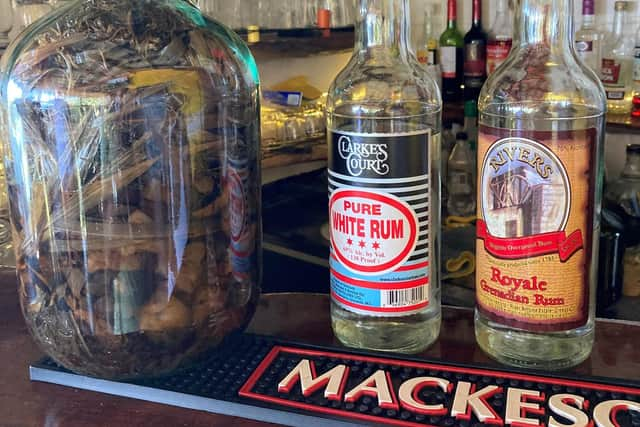 Laid-back hospitality and casual dining eateries are peppered along the hilly climb out of the capital St George's in the south west, home to the majority of low rise hotels, from the swanky Silversands at one end of the 2.5-mile Grand Anse Beach, to the relaxed, airy boutique hotel Mount Cinnamon, where we're staying, at the other.
Some offer all-inclusive packages, but if you're looking for eateries and bars off the beaten track in any of the six parishes which make up the regions of the island, you won't have to go far.
At 21 miles by 12, Grenada – known as the 'Spice Island' due to the profusion of spices grown in its fertile, volcanic soil – is a little smaller than the Isle of Wight. I last visited in 2018, pre-Covid, and while bars and restaurants were dormant during the pandemic, they have now come out of hibernation.
This is typical of the resilience and the optimism of the islanders, who use the rich land to its maximum, growing everything they can in what small spaces they have, from bread fruit and nutmeg to soursop, lime, coconuts, bananas, mangoes and avocados.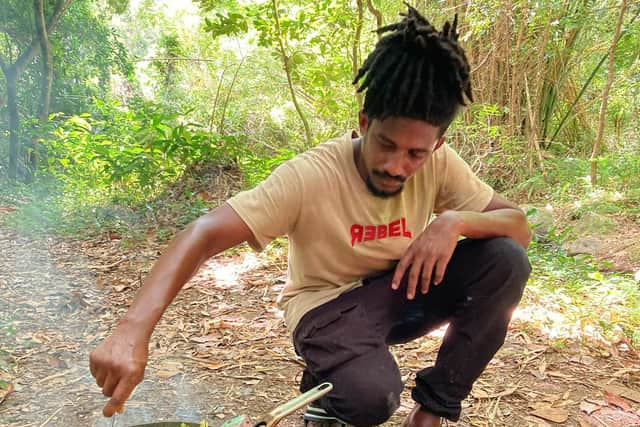 The lush, mountainous landscape offers a huge bounty of delicious edibles, while the sea provides lobster, lion fish, mahi mahi and king fish, which are as popular in the upmarket hotels as they are in Grenadian homes. No one goes hungry.
Village communities swap their surpluses – an avocado for a soursop, a jackfruit for a star fruit. Nothing is wasted. Calabash shells double up as food bowls and dried coconut husks provide the fuel for outdoor cooking.
"If you use everything from the earth, you should get everything you need," guide Ashel reflects of the Grenadian ethos, as she takes us through the chocolate-making process at Tri Island Chocolate, the smallest chocolate factory in Grenada and one of the stops on a Spice Foodie Tour (EC$160/around £48; [email protected]) exploring the island's culture, signature dishes, local eateries and street food.
Among the favourites is oil down, Grenada's national dish and its most famous comfort food, widely available from street vendors and low-cost joints.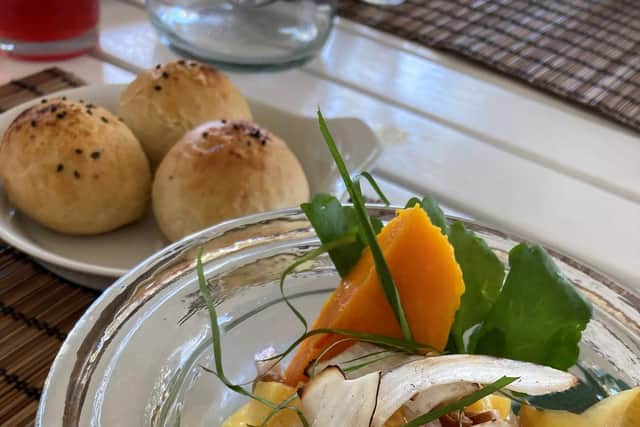 This hearty, flavoursome one pot stew of breadfruit, pumpkin, sweet potato, meat or fish, dumplings, callaloo (like spinach) and spices is all steeped in fresh coconut milk, which cooks down to leave the oil from which the dish gets its name in the bottom. It's filling, satisfying, salty and delicious.
Travelling an hour across country, winding roads cutting through the Grand Etang Forest Reserve, I arrive in Grenville, the second largest town in Grenada, on the east facing the rougher Atlantic coastline.
Amid the honking horns of traffic edging forward between brightly coloured ramshackled buildings, vendors at street stalls and shacks are flogging all manner of goods, from local Carib and Stag beer to dangling dried orange peel for tea infusions.
It's here on the tour that we stop at Boogie Buss Up Shot Joint, a popular take-away for 'buss up shot', a roti street food brought to the Caribbean from India in the 1830s, around the time slavery was abolished.
The nickname literally means tattered shirt because of the way the paratha flatbread is served, almost like a torn shirt. It's served with chicken, pork or lambie, which is curried conch, accompanied with perfect dipping material including chickpea and potato aloo, and mango amchar, like a chutney.
I've barely room for Grenada's trademark gooey, rich dark sweet potato pudding, a blend of sweet potato, ginger, coconut milk, dark sugar, cinnamon, nutmeg and bergamot served to us by Daniela Thomas in her front garden, cooked in metal drums fired by charred coconut shells on the top and coals underneath.
Vegans are also catered for, given the bountiful fruits of the island. Budding entrepreneur and vegan Joachim Joseph set up Volcan Vegan three years ago, which offers farm to table events.
"There are six in my family and I used to cook for them all the time. I've got more creative but I always cook with love," he says.
He meets us in the forest next to the popular Annandale Waterfall in the hills of St George's, where he is cooking our lunch in a wok on an open fire fuelled by nutmeg branches.
I have a quick swim in the cool pool below the fall before returning to the forest where, in the shade of giant bamboos, he has prepared a tasty stir-fry with cabbage, peppers, tomatoes and spices including turmeric, giving the mix a yellow hue.
He serves the meal in calabash bowls, accompanied by coconut dumplings and crispy roasted and fried breadfruit, which tastes like potato.
"Eighty per cent of my customers aren't vegan," he says proudly. As a carnivore, I'm impressed with his veggie offering. An experience will cost from around £34, depending on the menu.
You can also enjoy fine dining off the tourist trail, as I discover taking a table on a white verandah at Armadillo, a small guesthouse and restaurant at Mount Rodney in St Patrick in the north, run by Swiss chef Bernie Huss and his wife, Andrea Nyack.
While hummingbirds hover amid the flowering vine which frames the dining area, I feast on lion fish ceviche before Bernie shows me his garden, which is more like a wild, tropical arboretum with banana palms, coconut trees and other exotic plants.
Other regular food experiences can be enjoyed at the Dodgy Dock street food night every Wednesday at the True Blue Bay boutique resort in St George's, featuring a host of street food vendors who'll cook and serve your favourites, while you listen to live music from a Caribbean band.
There's also Fish Friday at Gouyave, the fishing capital of the island 45 minutes north from the main hotel district, a joyful, noisy affair which comes alive with steel drums, as local vendors equipped with grills and cookers tempt hungry customers to try everything from barbecued snapper to conch, lobster and fish cakes.
All washed down with some 'under the counter' – and fingers crossed no hangover the next day.
British Airways offers seven nights in Mount Cinnamon Resort & Beach Club on a B&B basis from £1,705pp (two sharing), including return flights from London Gatwick.
For more information on Grenada, visit puregrenada.com