The Bracken Hide, Skye: The Portree luxury wilderness resort prepares for opening
It's a retreat for couples who love the outdoors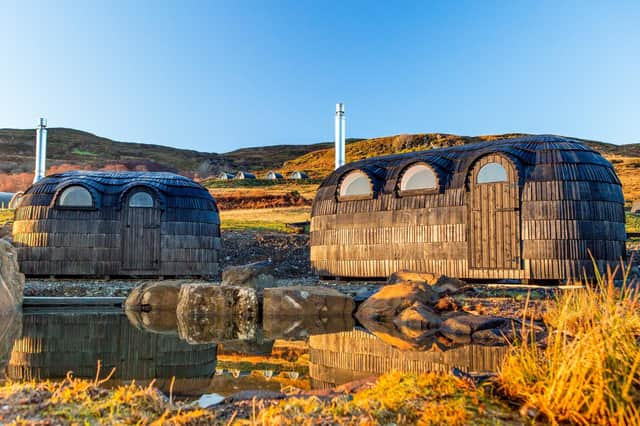 There's no shortage of holiday accommodation on Skye.
Choose from upmarket hotels, like The Three Chimneys or Edinbane Lodge, or opt for bed and breakfast, glamping, self-catering cottages or tents.
The island is your oyster, though it's safe to say that there hasn't been anything quite like The Bracken Hide.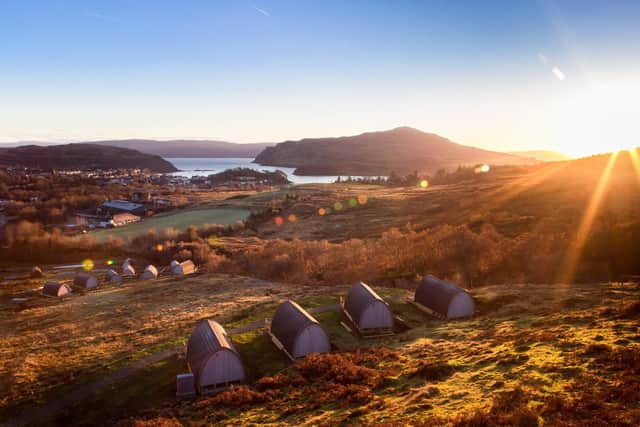 It consists of a building that's constructed from dry stone walls, a turf roof and glass, for a look that's slightly sci-fi, a bit Icelandic and very dramatic, yet camouflaged against the hillside, with its view to Portree Harbour, the Cuillin Hills and the Isle of Raasay.
The double bedrooms themselves are contained in 45 pods, which are stationed in four tiers across the 53 acres of land, spaced out among clumps of rusty-coloured bracken and scrubby wild grasses.
Although bookings are being taken, this venue's official opening date is March 31. They're currently waiting for the snow to clear so they can finish the landscaping.
"That's what happens when you open something in a remote location, you can't count on the weather," says Miranda Garton Jones.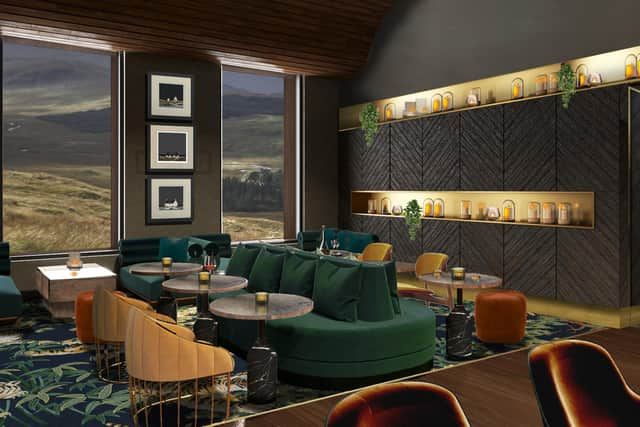 She owns this destination with her husband, Charles Garton Jones, and these property developers already have The Cowshed Boutique Bunkhouse in Uig. Although their original business also offers sleeping pods, it has a more relaxed vibe than their new place, which will be four-star.
Miranda took charge of most of the interior design, and she's kept things simple.
"The person that made our pods originally worked as an engineer and designed aeroplanes. So he really knows how to make every single little bit of space useful," she says. "They're not self-catering cabins with microwaves and a cooking area. They are like hotel rooms. You've got your beautiful bedroom and then an ensuite bathroom".
To dress these spaces, she's added some Harris tweed, herringbone blankets and sheepskin rugs from SkyeSkyns.
"If anyone is a vegan, we'll put an alternative down," says Miranda.
There's lots of bare wood and the interiors have neutral decoration, though a few soft furnishings echo the russet and teal of the landscape. There's underfloor heating, and power showers, as well as little fridges.
If you want to eat on site, visit the main building, The Hub. As well as an area with video consoles and other games, and a cinema room, they have a whisky bar and a restaurant, Fraser's, where they'll serve all meals, including, eventually, high tea.
"Everything's going to be sustainably and locally sourced. George Fraser is going to be running it and it's his restaurant. So it's a little bit like in London, where many hotels outsource the restaurant so someone can run it independently," says Miranda. "George has been in the industry for years and, ultimately, he was singing from my hymn sheet. He's aiming to have a restaurant that is completely gluten-free".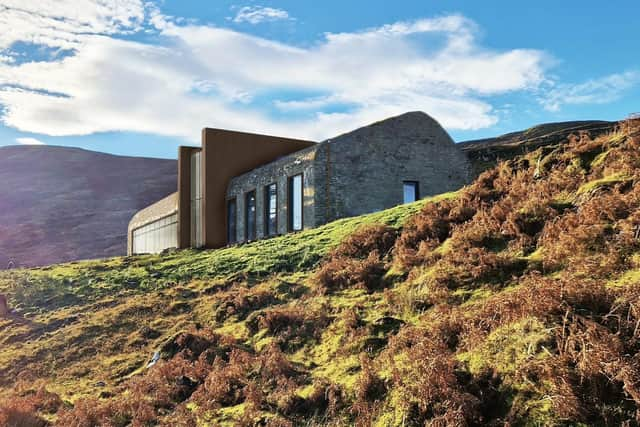 The chef, who has previous experience at restaurants including Duisdale House Hotel, will be kicking off his tenure with a menu that includes a starter of roasted Skye scallops with cauliflower puree and Parma ham crisps, and a main of duck breast, blueberry emulsion, sweet potato fondant and honey poached carrots. Pudding includes a chocolate and Talisker delice.
It's certainly unusual for a holiday destination to have an entirely gluten-free restaurant. Despite this, the most unique element of The Bracken Hide has to be its Estonian sauna. They have two of these, and are hoping to add a third so it can also double as a treatment room, while the heat is switched off.
Miranda was sold on the idea after trying a Finnish sauna a few years ago.
"The idea is that it's really really hot", she says. "So you don't sit there for 15 minutes waiting to sweat. You're in it for five minutes and then come out and get straight into ice cold water for as long as you can bear it, then back into the sauna again for five minutes. You do that three or four times and your skin feels completely different. It's absolutely extraordinary and really good for your spirit and your circulation. When you've had a really long day walking and there's miserable weather, it's such a lovely pick-me-up".
Just outside their sauna, there's a natural pond, for guests to cool off.
"Obviously, you have to be a bit brave," says Miranda. "Apparently people who do these saunas love being the first one to crack the ice".
We wonder who'll be first in at The Bracken Hide.
A night's stay including breakfast at The Bracken Hide (Struan Road, Portree, Skye) costs from £150 per night, sleeping two. This rises to £260 per night in high-season, call 01478 298 332 or see www.brackenhide.co.uk
Comments
 0 comments
Want to join the conversation? Please or to comment on this article.