Isle of Skye's Cafe Cuil owner and head chef shares her food loves and hates
Clare Coghill, owner and head chef of Café Cùil on the Isle of Skye, shares her food loves and hates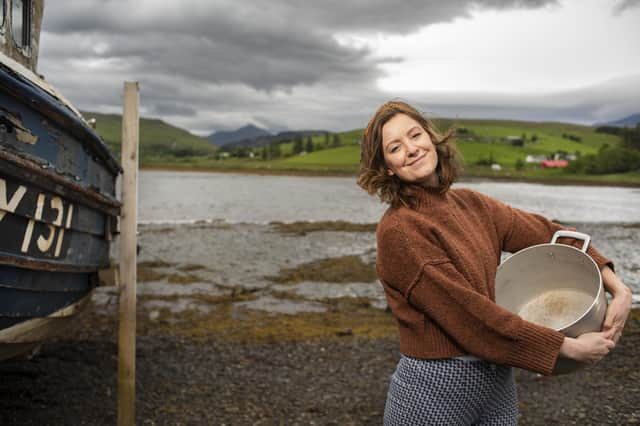 What's your favourite ingredient?
Skye langoustines. There is something so satisfying about collecting them from Calum the fisherman hours after they've been caught. You can use every part too, from the meaty tails to the shells.
Do you have a guilty food pleasure?
As a chef, it can be quite a thought coming home from a long day and having to think of something to cook. I loved living in London and being able to order all sorts of cuisines. From ramen to Thai red curries, a take-away will always reign supreme.
Tell us about your first food memory?
I grew up in Sligachan Hotel which has been in my family since 1913. Being the youngest of five children, my mum had to return to work when I was quite young. I always remember hiding behind her in the kitchen while she prepped the menu and would taste anything I could get my hands on when she wasn't looking. Other staff members would have to entertain me, which must've been very annoying while trying to get through their prep lists.
What's your favourite Scottish restaurant, deli or cafe?
For a delicious deli bite I'd always choose Birch, owned by my friend Niall who has a great intuition for pairing interesting ingredients. For a special meal, I'd go for Edinbane Lodge owned by Calum Montgomery. I went to school with both of these guys and it's amazing to see them doing so well.
What would be your last supper?
Slow roasted belly of pork with crispy crackling, perfect roasties, Yorkshire pudding and apple gravy. It would be enjoyed with a nice glass of red surrounded by my pals in the Hemingway Pub near Victoria Park in London. Many a Sunday was spent there with full bellies thinking 'this is the life'.
I have much more of a savoury tooth and rarely opt for a pudding over an exciting starter option. I love being able to choose from local seafood or shellfish to start the dinner off.
Do you have any food hates?
Bone marrow. It's become quite a buzz ingredient in fine dining restaurants and I've tried to change my mind. I was given some in Mexico City a few years back and it put me off for life.
What starters, main and dessert would be served at your dream dinner party and who would you invite?
Crab, langoustine or lobster paired with new potatoes, kale salads, pickled cabbage and flavoured butters. We'd finish off with sticky toffee pudding, miso caramel sauce and ice cream. I would invite my closest foodie friends; the ones who appreciate good food and like to discuss the ingredients and collaborate on the cooking. For me, the process of cooking with friends is just as enjoyable as eating.
What's your favourite geographical foodie destination?
London and its abundance of food options. During my stint here I was introduced to a wide variety of cuisines, and it shaped who I am as a chef. From the authentic curries of Brick Lane to dumplings in Soho, living in London introduced to me new ideas that I have taken with me to Skye and adapted.
Comments
 0 comments
Want to join the conversation? Please or to comment on this article.