Review: Gleneagles Hotel, Auchterarder - enjoy a dog-friendly autumn adventure - Scotland on Sunday Travel
Rosalind Erskine enjoys a dog-friendly autumn adventure in the glorious playground of Gleneagles.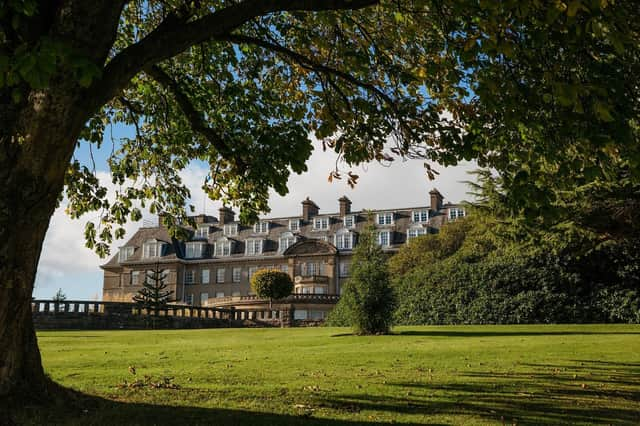 Arguably Perthshire hits its peak of beauty in the autumn, with the rolling hills and woodlands becoming golden and russet hued as the seasonal transformation takes hold. One of the most iconic places to base yourself to enjoy this spectacle is The Gleneagles Hotel which, from September until November, has an Autumn Adventure package, created for those looking to make the most of the outdoors. The hotel has also recently introduced dog-friendly rooms, as well as continuing to offer their kennels service, for travellers who want to bring their four legged friends.
Known for its five star luxury, and with rooms from £350 to around £750 per night, this is a boutique, luxe break. The Autumn Adventure starts from £495 in September and October and from £350 per room per night in November.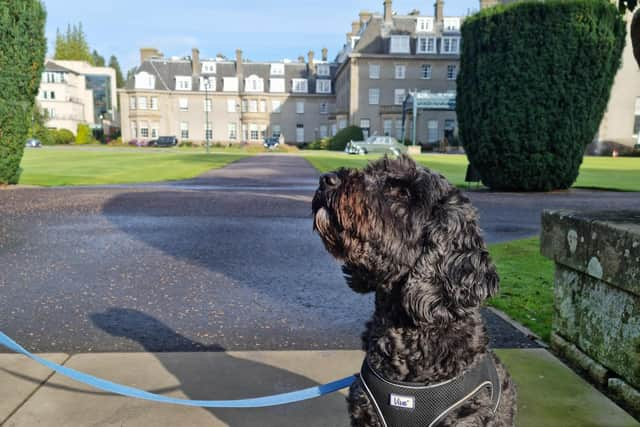 The hotel has more than 200 rooms, split between the main, original building and Braid House, the more modern extension. As we'd booked a dog-friendly room, we were allocated a ground floor room within Braid House with outdoor access. Our spacious room, with a king bed, small dining set up with table and chairs, a sofa and armchair and large bathroom with walk-in shower and stand alone tub was also kitted out with a tartan dog bed, ceramic water and food bowl, a small bag of treats and poo bags.
From a design perspective, it's light and airy with traditional touches in the scalloped headboard, ceramic table lights and dark wood furniture. The bathroom too continues this – a bright cream and white room, with circular window - with marble style tiles and traditional style sanitaryware including a claw foot bath.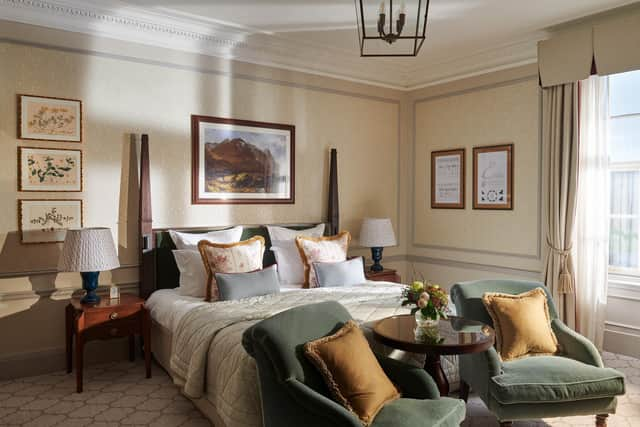 Gleneagles is famous for being home to Scotland's only two Michelin Star restaurant, Restaurant Andrew Fairlie but there's also the grand dining room, The Strathearn, The Birnam, Garden Cafe and The Century Bar, all available for dining. If you fancy fine dining with a 1920s style ambience, book The Strathearn and make sure to try the dishes that are served table-side via the theatre of the trolley (when we visited these were the beef wellington and flaming crepe suzette). Service is impeccable and there's the added joy of a singer and pianist serenading the room. Lunch can be taken in the Century Bar (the plush, 1920s style bar) or the Garden Cafe - a bright and airy, bistro style offering within the modern part of the hotel. Afternoon tea is available in Glendevon while The Birnam offers a modern Italian-American grill menu.
There's seating for dog owners by the arcade and, weather permitting, on the terrace outside of the Century Bar.
For after dinner cocktails the American Bar is an atmospheric room with statement low lighting and an extensive drinks list - The Book of Berries - full of eye-catching creations, many of which repurpose items that would normally be discarded. For example, leftover blueberry muffins from breakfast which are used in the vodka-based blueberry cocktail, as well as fruit skin and stones making an appearance in other drinks.
Speaking of breakfast, the Gleneagles breakfast is the stuff of legend. The huge buffet has everything from large bowls of fruit to smoked salmon bagels, freshly made omelettes, kids' station, an array of breads, pastries and muffins as well as cereals, cold meat and cheese and cooked breakfast items. There's also a menu of cooked options. Try the grain bowl if you're feeling healthy or the fluffy buttermilk pancakes served with salted almonds and Nutella if you're not. Fresh juice and coffee are served by dapper waiting staff and, to make the most of any sunshine, sit in the orangery - the conservatory at the back of the dining room.
Worth getting out of bed for
The Autumn Adventure package offers guests a range of activities to enjoy during their stay, including fly fishing, horse riding, clay pigeon shooting, an owl display, field archery, stargazing (weather permitting) and a woodland walk as well as access to the Inglenook, a cosy alfresco bar, complete with wood burner and roaring fire, and a welcome drink, crisp and moreish venison croquette and complementary Talisker cocktail from a list of seasonal creations. Try the fruity Amber drink with Talisker, pineapple and coconut or the Gold - Talisker, yuzu and elderflower.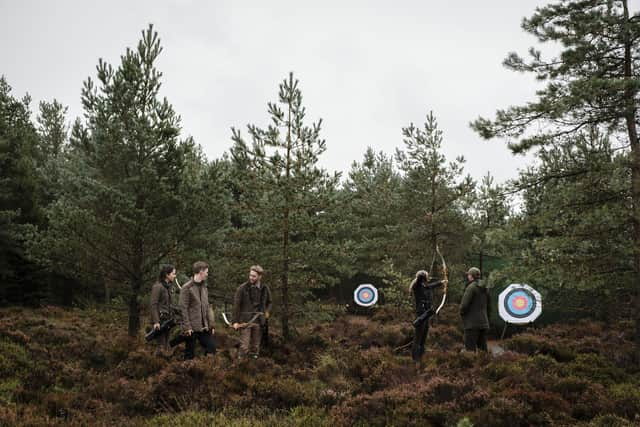 On our owl experience we met, and found out more about, a barn owl, eagle owl and a tiny owl all in the Mews building before heading out on the evening woodland walk - a half hour stroll across the estate to woodlands, to find out more about owl's habitats. We also enjoyed a morning archery session, which was fun and informative (and I managed to hit the target a few times), which ended with delicious hot chocolate and a giant marshmallow.
Our room had a Nespresso machine, a range of teas and packets of Gleneagles shortbread along with robes and slippers. The dog accessories were welcome as was the turndown service, complete with mini sleep spray by the bed.
Since opening its doors in June 1924 Gleneagles has been one of Scotland's most iconic hotels and sporting estates. Set beneath the Ochil Hills in the heart of Perthshire, it has been the must-go destination for travellers for nearly a century. Beginning its life in the glamorous age of travel when guests arrived in great style at Gleneagles' very own train station, the 850-acre estate epitomises the natural beauty for which Scotland is famed. With its Glorious Playground of country pursuits and activities, the hotel is reclaiming its position on the social calendar.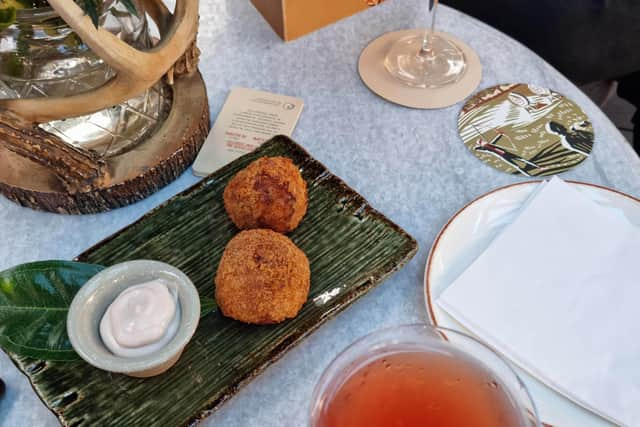 Nestled in the heart of the breathtaking Scottish countryside, the Gleneagles Hotel offers a unique outdoor experience for guests seeking adventure and relaxation. With a wide range of countryside pursuits and outdoor activities, from fishing and falconry, to shooting and golf, Gleneagles is the ultimate destination for those who love to explore the great outdoors.
Rooms start from £350 to around £750 per night. The Autumn Adventure starts from £495 in September and October and from £350 per room per night in November.
The Gleneagles Hotel, Auchterarder PH3 1NF (01764 449041, gleneagles.com)