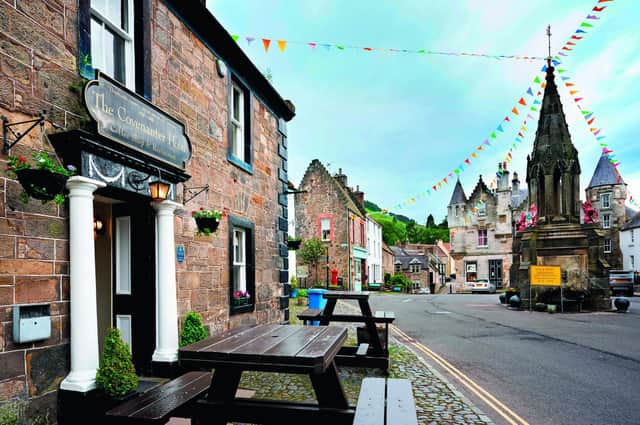 Since eighteenth-century Highland warrior Jamie Fraser and resourceful 20th-century medic Claire Randall met on screen in the first TV series of Outlander in 2014, millions of viewers have fallen for Scotland's wild hills and craggy castles. Diana Gabaldon's genre-fusing romantic historical fantasy novels already had lots of fans before they were adapted for TV, but the shows have made the story an international phenomenon. And by giving the stories real settings in the physical world, the series has created iconic locations that Outlander fans love to visit. The resulting boom in tourism has been dubbed "the Outlander Effect".
There have been six seasons of adventure so far, with a seventh due to kick off next month, in June 2023. The action spans continents and centuries. The first three seasons of Outlander mostly take place in Scotland. When the action shifted to 18th-century North Carolina for seasons 4 to 7, the TV series continued to film in Scotland with a few CGI tweaks. These are five locations you can reach by public transport to fill the Droughtlander void. Even if you're not a fan, they make for a great day out.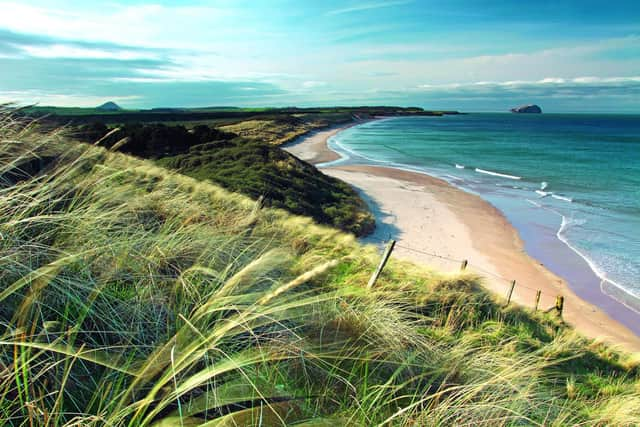 Outlander's version of Inverness, where crucial early scenes take place, is filmed in the village of Falkland in Fife. In Season 4, Roger drives into the now-familiar square with its lion-topped fountain and crow-stepped gables. Bairds B&B, Claire and Frank's guesthouse from Season 1, is actually The Covenanter, a hotel and coffee shop. The Fayre Earth gift shop next door became Farrells and Son, where Claire admires a blue jug.
There are walking maps at the Stables café on the nearby Falkland Estate. You can follow streamside paths to a little waterfall at Maspie Den or wander through woods to the organic farm shop and café known as the Pillars of Hercules. Bus 36 from Bridge of Earn and bus 64 from Ladybank railway station both run hourly to Falkland. The biggest tourist attraction in Falkland is a wonderfully-restored royal palace with painted ceilings, carved beds, tapestries and beautiful gardens. www.nts.org.uk/visit/places/falkland-palace
Queen's Park and Pollok Park, Glasgow
Different parts of Pollok Country Park, with its hundreds of acres of Highland cows, beech woods and rhododendrons, have been Outlander locations in different seasons and it's due to appear again in Season 7. Half an hour's stroll away, through café-rich streets, Queen's Park appears in Season 5, when Claire meets Brianna in 1960s Boston. As they chat, Claire and Bree walk down a wide flight of steps bordered by lime trees.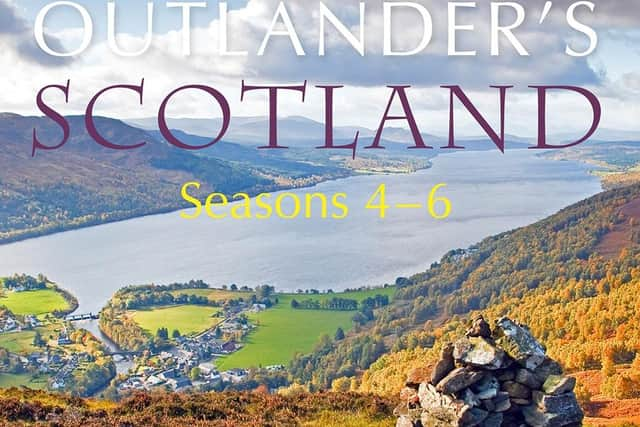 Regular Scotrail trains run from Glasgow Central Station to Queen's Park station or to Pollokshaws West near Pollok Country Park. In Season 4, a grassy area in Pollok Park became the site of the Scottish Festival, with its colourful tents and wicker deer, that Brianna and Roger attend in North Carolina. You can also visit the impressive, revamped Burrell Collection, which houses all kinds of treasures from Egyptian pots to impressionist paintings. https://burrellcollection.com/
East Lothian, with its miles of coastline, has provided some memorable Outlander locations, from the village of East Linton to the dune-fringed beaches near Dunbar. There are regular trains and buses to Dunbar from Edinburgh. Bus X7 runs through East Linton, where Preston Mill made a memorable appearance in Season 1. Jamie hides in the millstream from the redcoats who arrive as he is fixing the waterwheel.
A few miles away, Tyninghame Beach was used in Season 5, when Brianna is kidnapped. The wildlife-rich John Muir Country Park is a huge area of smooth sandy beach and saltmarshes, dotted with samphire and sea asters. Several scenes in Season 7 were filmed in this picturesque bay. You can walk here along the coast from Dunbar, over Belhaven Bridge, past the atmospherically craggy ruins of Dunbar Castle and the gannets diving into the sea.
Newhailes House, near Edinburgh
The Dunbar trains and several buses from Edinburgh run through Musselburgh, where another Outlander locations stands in wooded grounds just minutes from the beach. In Season 4, Claire and Jamie dine with Governor Tryon and he makes them an offer that radically changes their plans. Tryon's dinner party was filmed at Newhailes, a Palladian mansion near Edinburgh.
Book a tour to visit the rooms with their golden shell motifs and baroque plasterwork. The scenes in Season 4, where Claire is wearing a ruby and hoping to find a buyer for it, were filmed in the elegant dining room near an ornate fireplace with a distinctive marble lion's head and sunflowers at the top. Governor Tryon invites Jamie into the library for brandy after supper and sit on either side of another strikingly decorated Italian marble fireplace. In the grounds outside, there's a ruined summerhouse, cascades and grotto – all part of the 18th-century water gardens built here to impress the mansion's guests. www.nts.org.uk/visit/places/newhailes
Scotland's best-preserved example of a 17th-century royal burgh, Culross makes an unmissable, time-travelling trip for any visitor. Its quaint cottages and cobbled alleys, cared for by National Trust Scotland, have been used in several seasons of Outlander. Culross Palace was built for a wealthy merchant and is beautifully restored inside and out. Hourly bus 8 from Dunfermline bus station stops opposite the palace and Culross is also on the route of the fabulous 117-mile Fife Coastal Path, which passes other Outlander locations like atmospheric Aberdour castle and Dysart harbour.
Round the corner from the Mercat Cross, a substantial house on Little Causeway represented the outside of Laoghaire's home in Season 4. Brianna stays here for a while when she first arrives in the 18th century and helps in the garden. The Outlander team edited the view to create a more rural, Highland setting and changed the look of the doors and windows to make them more 18th-century. If you look closely, you can even see where they disguised the drainpipe with creepers. The palace also appears in Season 4. The inside of Laoghaire's house was filmed in the palace's high hall and its painted chamber. www.nts.org.uk/visit/places/culross Don't miss the terraced gardens with their herb beds, vines and views across the Firth of Forth.