The Highland Hutter, Peter MacQueen tells us about his new book, The Art of Hutting
It features useful advice and lifestyle tips for the wannabe hutter in Scotland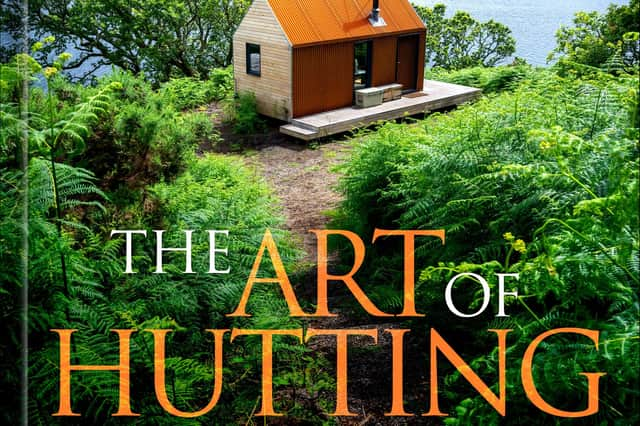 We're always told that supersizing is best, but sometimes the smaller things are more appealing.
From the man shed, to the trend for small house living, humans are a bit like cats, in that they can feel more secure in bijoux boxes.
BBC Alba presenter Peter MacQueen knows all about this, and he's written The Art of Hutting: Living Off-Grid with The Highland Hutter to celebrate this very Scottish (and Scandinavian) pursuit.
According to the 1000 Huts - a project from the charity, Reforesting Scotland - website, the hutting movement originated in this country between the First and Second World Wars and involved workers paying ground rent to a landlord to build their own residence.
These days, hutters don't usually live in their creation, but visit them for short intermittent periods.
Among other things, The Scottish Planning Policy defines these vernacular buildings as having a small footprint, being of usually 30 metres square or less, made from sustainable materials, and they not often connected to the grid, sewerage or water mains. They can be stand alone, or part of a group.
"Culturally, we've always done this, but in the modern day, hutting is on the rise, mainly thanks to Reforesting Scotland through their 1000 Huts initiative. As more people create a hut and forge a connection with a spot, and they become more common, they may not go on aeroplanes to go on holiday but pop to their hut instead," says MacQueen. "I met some hutters in Fife, who live 30 minutes drive from their hut and they told me that often they'll pop down for dinner in the evening then go home".
In the book MacQueen travels round Scotland and speaks to the owners of various styles. These range from bothies, like the dramatic-looking cliff-side Mangersta Bothy on Uig, to the shielings on the author's home of the Isle of Lewis. He mentions a few commercial sector huts, like the one on the cover at Inverlonan Bothies, for those who just want a taster of hutting life. There's also colourful wooden huts in the Scottish Borders and seaside versions in South Ayrshire and Hopeman, where MacQueen has a cuppa with hut owner, James.
"His pals Sandy and Paul come down every morning at 10.45 and they have a pow-wow," says MacQueen, who had tea and Aberdeen butteries with the trio.
Their 'huttie' is a colourful affair, with barely enough room to swing a cat.
"This is the beauty of hutting," says MacQueen. "It can be any expression you want it to be. You get some big ones, fancy huts, some very geared back and minimalist, and others are ramshackle. One lady I spoke to made her dream house, but in miniature".
There's also a section dedicated to the author's Argyll family hut, which his dad built back in 2017. It's his father's pride and joy.
"As they can pop down whenever they want, it's great for my parents," says MacQueen, whose partner is Coinneach MacLeod, aka author and TikTok star, The Hebridean Baker. "It's the family hut, we all use it at different times, or at the same time".
MacQueen Senior remains the gatekeeper, and maintains a diary, so the family arrange their trips with him first.
"We're very grateful to him because he does the bulk of the maintenance and keeps it ship-shape," he says.
When he visits his dad's hut, MacQueen focuses on growing vegetables, while his brother will head there to do some fishing and check the creels, and "Coinneach likes to bake at the stove". Surprisingly, the couple prefer to visit in the winter, "as there's nothing like cosy-ing up when the wind is howling outside".
"I also like to potter around and get the garden established so I've been planting fruiting trees, raspberry canes and I've got a wee veg plot, potatoes and strawberries", he says. "Last year I planted garden peas and we got a bumper year, but this year, I think the mice discovered this store and none came up. You win some, you lose some".
In the book, MacQueen speaks to other hutters, who are also living the good life, to find out what they get up to. Gardening seems to be a very popular activity, and, in a way, the hutting movement is akin to keeping an allotment.
The Art of Hutting is full of useful advice when it comes to maintenance and self-sufficiency. It demonstrates how to create handy knots, with the help of MacQueen's dad, the joys of managing a woodpile and handling an axe. It also shows readers how to build a fire, either outside or in their stove, then what to cook, and MacQueen includes a few of his favourite recipes in the book, some of which have been donated by his hutting buddies.
There's Chaya's masala hot chocolate, Katrina's elderflower grapefruit gin punch, and Trish's vegan wild garlic pesto. There are also tips on how to create a Zeer pot, which is a contraption that can be traced back to the Ancient Egyptians and doubles as a fridge.
If you don't have a hut, you will covet one by the end of the book. Then you can join the queue.
"You can form a group or find a group that will help make a hut site happen," he says. "There's one very exciting group called the Carnock Woods in Saline, Fife, and it's a 50 acre forest. They opened up looking for hutters and over 600 people applied to be one of the 12 building the huts. When I started writing the book, there was one up and currently there's four, and the other eight are in build. That's an exciting project".
The Art of Hutting, £22, Black & White Publishing, November 9
Comments
 0 comments
Want to join the conversation? Please or to comment on this article.