The Hebridean Baker, Coinneach MacLeod, invites readers to the Isle of Lewis, with his new cookbook release
It's a celebration of the islands, as well as food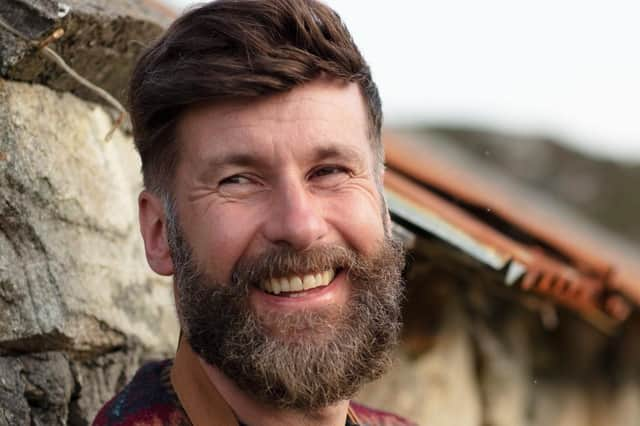 The Hebridean Baker, aka Coinneach MacLeod, is going to catch up with the prolific Nigella, Jamie and Hugh soon, as he's already releasing his third cookbook. That makes one every year, since his first in 2021.
"I know you shouldn't have a favourite child. But this is definitely my favourite," says Isle of Lewis-based MacLeod, who has over 26 million views on his social media videos.
This time, his game has been raised, like whisky-laced gingerbread after a heavy dose of bicarbonate of soda.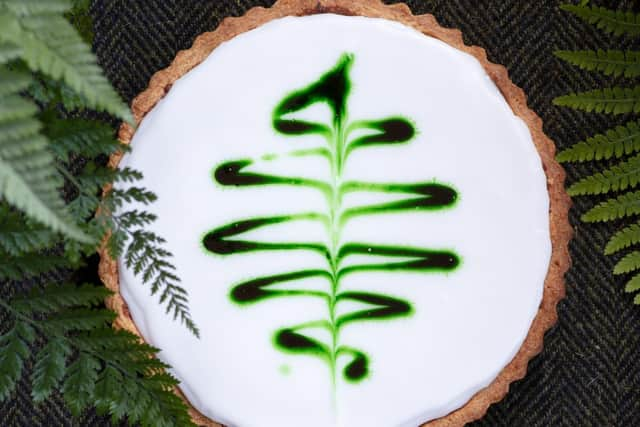 For example, on the cover of new read The Hebridean Baker at Home, there are a few notable blurbs, including a special one from another national treasure, Douglas Stuart.
"Weaving together delicious recipes with tales from home, this is a heartfelt book that's good for the soul," says the Booker-Prize-winning author of Shuggie Bain, who met TikTok star MacLeod while they were both at New York Tartan Week, and they decided to have a wander around book shops to ask if they could autograph their publications for readers.
Indeed, MacLeod's new pal is right, as the cookbook has all the lovely hygge-inducing recipes you might expect, from Atholl Brose cheesecake to sticky toffee Orkney broonie, Loch Duart salmon Wellington, morning rolls with Lorne sausage, and even the retro bakery favourite, fern cake.
There's a lovely photograph of that in the book, except it has a green pattern on top of the icing, instead of the reddy brown shade that might be more familiar.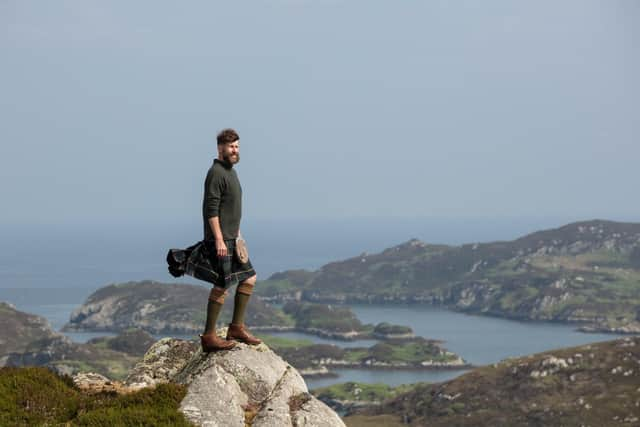 "It was the only colouring gel I could find in the Co-op in Stornoway!" says MacLeod, 49. "But I think it looks festive. I think I need to start one of these campaigns to bring fern cakes back to bakeries because you don't really see them anymore. Since I told people it was going in the book people are like, 'oh my goodness', so I'm delighted to pull on the heartstrings".
Considering his earlier books featured about 75 recipes in each, the writer has done well to extend his repertoire. He started off with 120 ideas this time round, then cut them down, depending on what looked best in the photographs, which were taken by Susie Lowe.
In common with the earlier releases, this book also has his West Highland terrier, Seoras, on the cover, and, as well as the familiar furry hat, MacLeod is sporting one of his signature Fair Isle sweaters.
"I feel like Sarah Jessica Parker", says the author, who tells me about his huge collection of these jumpers. You need them, when you live in the Hebrides.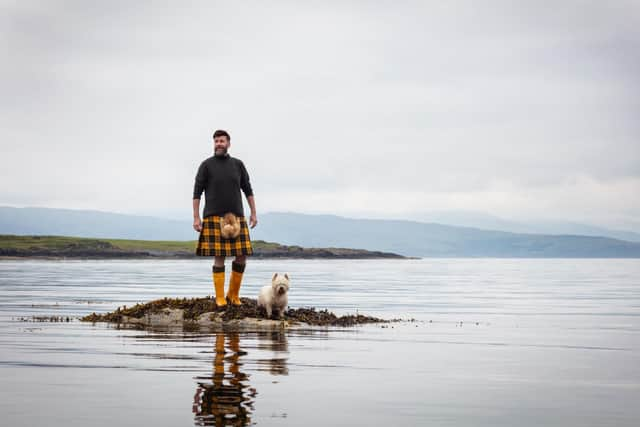 Although the cover may be familiar, there's more of a travelogue vibe to the newer book.
MacLeod included a couple of My Hebrides chapters: Inner and Outer. Then he got a few "well kent" folk to share their tales of the archipelago. After all, when he uses the term "at home" in the book title, he means the islands, rather than his own cottage.
"Julie Fowlis, Anna Campbell-Jones, Kate MacLeod and all these amazing people gave me their wee secret nooks that they love on the islands, it's fabulous," he says. "Finding out how Julie cycled to Uist, over the causeway to Berneray, and to learn that Douglas Stewart loves to walk through the villages to hear the clicketty-clack of the tweed looms, it really brings it to life".
Did the celebs share any favourite places that MacLeod didn't know about already?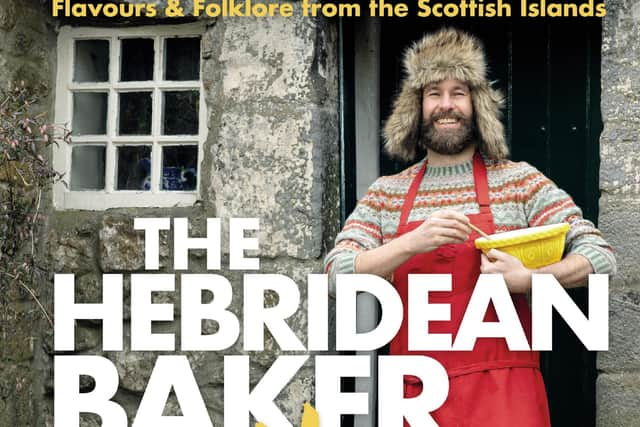 "Calum McLean has got his own book about wild swimming and a TV show on BBC Alba about wild swimming around the island," he says. "As you probably know, Lewis and Harris are the same island, even though we classify it as two. People often ask me what is at the divide, apart from 'Welcome to Harris', but McLean told me about a secret underneath your feet. Just as you cross the stream that marks the boundary, if you go underneath the road, somebody has written a beautiful piece of poetry about Lewis on one side and Harris on the other. The second he told me that, I drove there and made my day actually to find something I hadn't seen before, only a few miles away from where I was born".
The travel stories make a holiday in the Hebrides seem very appealing. We wonder if any of MacLeod's US and Canadian fans will come over. He has a massive following over there, and experienced it first hand on a sell-out book tour earlier this year.
"On my night in Washington, DC, the demographic is predominantly women and there were about 300 and walking onto the stage, I felt like I was in The Beatles. There was screaming," he says. "I didn't expect that learning how to bake a clootie dumpling would make this happen".
Obviously his charm, extreme likeability and excellent knitwear collection has something to do with it, but MacLeod feels that his popularity also has something to do with ex-pats nurturing a sense of belonging, or heritage.
"Even in central Scotland, maybe in the past, The Hebrides were a wee bit mystical or unknown," he says". And certainly across the world anyway. And so the fact that people are enjoying learning about identity, the Gaelic language and visiting as well, it's actually amazing that I helped make that happen. There is that sense of place that people crave, especially from North America. We have a beautiful word in Gaelic called cianalas, which is hard to translate, but it's the longing for somewhere, even if you've never been".
The Hebridean Baker at Home by Coinneach MacLeod, out October 12, Black & White Publishing, £26
Comments
 0 comments
Want to join the conversation? Please or to comment on this article.