Review: Medusa, Edinburgh - get a summer wolf cut at one of these hair salons
We get a summer makeover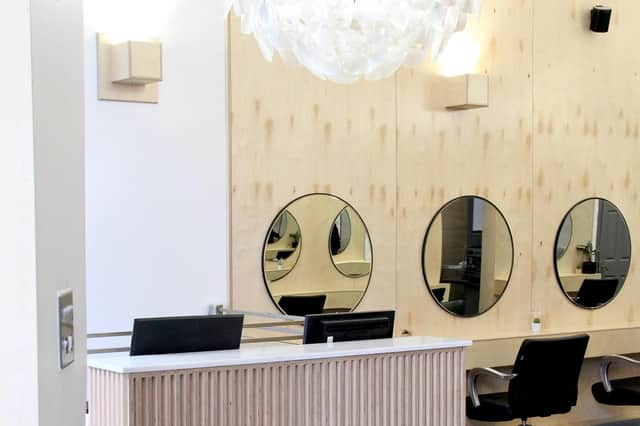 I seem to have lost all decision-making skills when it comes to my hair.
When Kate McAndrew, the director at Medusa's Teviot branch, asks me what I want, all I can do is hum and haw.
I was vaguely thinking about a crop, but also a bob, and also wondering if I should retain the length. I hadn't worked out that you can't have all of those things at the same time.
Thankfully, she gently takes the reins.
"How about a wolf cut?" she says, in reference to the shag-style Seventies-esque look that's fashionable at the moment and has been sported by celebrities including Miley Cyrus, Billie Eilish and Jenna Ortega. I go for it, though I feel in such safe hands that I'd probably have accepted a skinhead or Tiger King mullet too.
First, she's going to cover my increasingly grey roots and use a toner that will intensify the contrast with my existing blonde balayage. She paints on the colour, using a clever brush gadget that quickly sloshed the potion on and cuts the usual application time in half, and we chat about her time working in Dubai, Hungary and the Bollywood film industry. That's not to mention her more recent years at Medusa, which has five salons in the Capital, including Stockbridge, Bread Street, Broughton Street and a brand new one on Elm Row, in the former premises of hairdresser, Neil Barton That will replace Medusa's Musselburgh venue, as it closed down relatively recently.
Whatever she does with my mane is going to be good, I think, so I go with the flow.
Also, though I'm never keen on getting my hair cut in the summer, when it's sunny outside and you don't want to be stuck in a chair, chatting with Kate and putting the world to rights makes the whole experience enjoyable.
After the colour has been given about 20 minutes or so to marinate, I'm led through to the back of the space, and get a shampoo, followed by a glossing treatment to beat my dry summer frazzled bits, then another thorough lather, followed by a blissful head massage that sends me into a hypnagogic state.
Then I'm back into the chair for a cappuccino and the cut.
My hair is already layered, but Kate takes some of the heaviness out of the inflated top tier, and a few inches off the bottom. It doesn't feel as if much has been removed at all, until I see the thatch I've shedded onto the salon floor. She blow-dries a lot of bounce into my thick but flat wig, but encourages me to go with my natural waves, which are accentuated by the cut.
The final result looks very glamorous.
Not so much wolf, as Crufts pedigree flat-coated retriever, especially as it stays looking glossy for days, and into the next wash. Ah-wooo!
A cut, colour and shine treatment with Kate McAndrew starts from £149, Medusa, 6-7 Teviot Place, Edinburgh (0131 225 6627, www.medusahair.co.uk). The new salon is at 28 Elm Row.
Comments
 0 comments
Want to join the conversation? Please or to comment on this article.