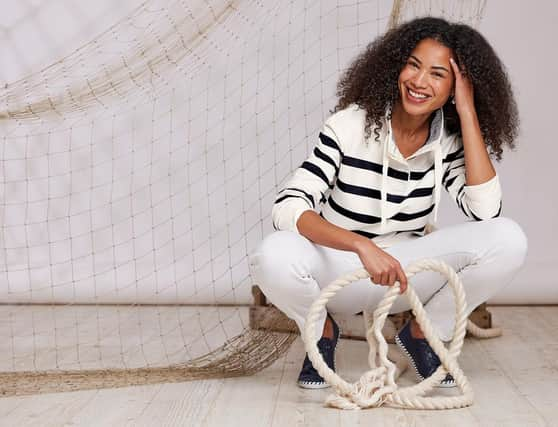 Located just off the A9, a visit to a Highland highlight – The House of Bruar –has become a doorway to the very best of Scotland.
Now, for the first time ever, the family-run company has produced a spring summer collection, showcasing outstanding quality and style and seamlessly merging craftsmanship and luxury natural fibres to create its own unique take on country clothing staples.
Working with trusted brands such as Joules, Crew Clothing and Barbour, the new collections are a breath of fresh Highland air. There are four distinct themes, ready to capture your own sense of style, with soft, pretty pastels, clean and bold nautical, colourful and daring brights and even a charming safari collection – go wild for the patterns and colours.
One of the firm favourites for the season will be the House of Bruar Liberty Print Cotton Tana Lawn collection, perfect for dressing up or down for picnics, parties and holidays. Beautiful dresses, blouses and skirts offer classic style and timeless beauty, the epitome of a post-winter antidote.
Underpinning each collection is quality … cool dry cottons, smart crisp linens and feather weight cashmere, this collection will not only create you a comfortable new look for spring summer 2023 but with the kind of quality that will last a lifetime.
You can call 01796 483236 to request a catalogue or visit the website - www.houseofbruar.com. It's packed with stunning imagery to bring the House of Bruar elegance and quality alive, and inspire you to embrace the new season collections.
Of course, a catalogue can only show you a fraction of what's on offer, and a visit to House of Bruar, just off the A9, is a must to spend a delightful few hours browsing through ladieswear and menswear, looking at the gift and homeware collections, admiring the display of Scottish art or tasting the very enticing whisky selection. And no visit is complete without a flavour of Scotland – visit the 600 seater restaurant and luxury lobster, fish and chip shop.
Proud to be a family business, House of Bruar has been run by the Birkbeck family for 28 years, with Mark as Chairman, Patrick as Managing Director and Tom as Creative Director.