Clarins owned product line myBlend launches in H Beauty at the St James Quarter
The luxury collection is split into three categories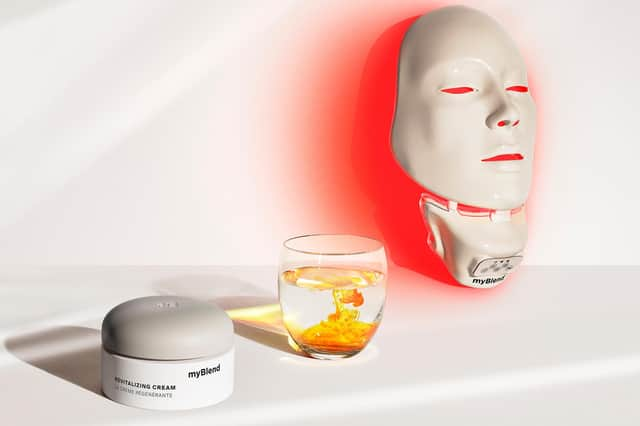 I'm traumatised whenever I take a selfie.
Thus, I try to avoid doing one at all costs. I make a rare exception when doing the skin diagnosis from myBlend - Clarins' luxury offshoot brand, which recently landed at H Beauty in St James Quarter, Edinburgh.
This mobile friendly tool, which can be accessed via their website, is helpful when it comes to shopping from this line. It selects the most relevant of 30 products, all of which are divided into three categories, DERMA (skincare formulations), TECH (gadgets) and NUTRI (supplements), and created under the expertise of Dr Olivier Courtin, who is the director of the research laboratory and son of Clarins Group's founder, Jacques Courtin.
As well as analysing 11 key skin concerns on your face, the virtual consultation includes a few questions about your lifestyle. It asks how you like to cleanse - with or without water - and your preferred textures. You can also tap your top three skin concerns and I go for sagging, wrinkles and dullness, before emitting a deep sigh. I tell them I'm feeling stressed today - as always - and admit that I consume caffeine, sugar and alcohol regularly.
Thankfully, technology is not advanced enough to disapprove of my lifestyle choices.
After some quick calculations, it recommends the brand's Revitalising Cream (£210) the Superserum Radiance (£65) and a few other bits and pieces, including the Nutri Glow drink (£65). You can sample these at the Play Tables in Edinburgh's H Beauty, and even have a whirl of the LED Face and Neck Mask gadget, which comes in at a cool £1200. When I discovered the price, I held the red light emitting device against my face for a few seconds longer.
I try a few potions later at home, including the serum. It's something of a tonic, with vitamin C, a radiance peptide and an enzyme to exfoliate. You can use a pump once in a while, or every day for about six weeks, which I do, and find that my grey skin does pep up. Their Glow Fluid (£65) can help with that too, as this lotion has cosmetic ingredients to provide a sheen, though it's best undiluted without foundation on top.
The cream is lovely too - light and easily absorbed, thanks to fermented turmeric extract, vitamin E and hyaluronic acids, and comes in their slick signature white and grey packaging.
I am still to tackle the drink, but I'm sure it'll be the final step to get me selfie-ready.
myBlend, H Beauty, St James Quarter, Edinburgh (0131 385 9802, www.harrods.com)
Comments
 0 comments
Want to join the conversation? Please or to comment on this article.