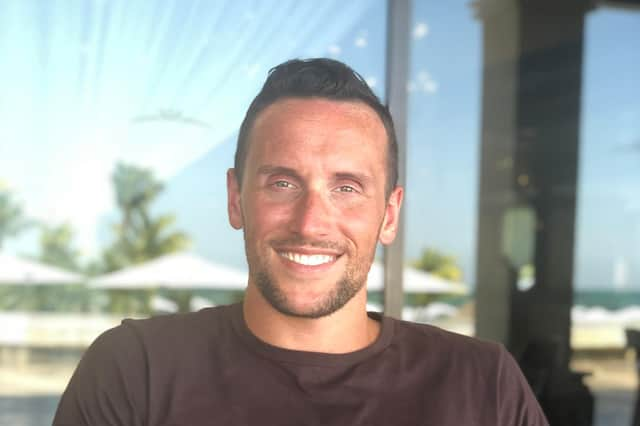 Lewis Smith
The former swim coach at sports and venue operator Glasgow Life, who now works as a teacher and coach at an international school in Brussels, says that he began to experience struggles with mental health for the first time when the UK went into lockdown.
Jemma Docherty, left, says running has helped her meet new people
With gyms, pools and leisure facilities closed due to the pandemic, Lewis decided to try running as a way to get outdoors and stay positive.
"Running was really the thing that got me outside and cleared my head," he explains.
"[The benefits] weren't so much on the physical side because I have always been relatively fit, but mentally and psychologically running provided a big relief and kept me in balance from everything I had been going through."
Before long, running had become a daily activity for Lewis.
Gordon Penman has been running to break up his working day
Taking on the Stirling Marathon
Having run every day for several months, he decided it was time to take on a challenge, setting his sights on the Stirling Marathon.
The event, taking place on Sunday, 15 May, incorporates some of Scotland's most impressive scenery.
The half marathon will be held on the same day, while the 5k and junior run will be held the day before.
Having a goal helped Lewis find a focus. He adds: "[The last two years] has been miserable for everybody but it was a time when I had a lot more emotions that I had never really experienced before, so I found that being active and having a goal whether it is a marathon, half marathon or just being out and active, psychologically it can be a really important part of someone's life."
From zero interest to 50 miles
Like Lewis, Jemma Docherty from Aberdeen and who previously had "zero interest in running" took up the hobby for the first time during the pandemic.
When the third lockdown hit in January 2021, the keen equestrian decided to get fit by signing up to the Alzheimer's Society's challenge to run 50 miles that month.
In February she clocked 100 miles and in March, she had achieved 150.
As well as improving her horse riding ability, the workforce coordinator for an oil and gas company says running has helped her meet new people and boost her self esteem.
"I am much more confident in myself. When I started running in January it was cold weather then in March to April it was quite nice weather and some of the girls were in shorts," she says.
"There was no way in a million years I was going to run in shorts. And one of the girls actually bought me this pair of crazy Lucy Locket shorts and I just loved them so I spent the majority of the summer in shorts.
"I would never have had the confidence to do that before if I hadn't been running."
She and some friends set up a Facebook group to encourage others to get involved.
"It has been really fun just expanding your friends and meeting others you wouldn't otherwise meet. I was that person, and I still am really, who has days where I think I can't be bothered but my friends encourage me so it makes it easier if you have people who can help you and encourage you along."
She is looking forward to taking part in her first official marathon in May and gaining a medal at the Stirling Marathon.
Helping adapt to the 'new normal'
Gordon Penman, from Glasgow, will too be taking part in the event having found that running helped him adapt to home working.
The sales and variables cost analyst was a keen runner during his university days and had previously run marathons, but hadn't done much after graduating from Edinburgh University in 2015.
"I found running helped create some structure in my day and helped to break up the working day and time in the house," he maintains.
"I had been working from home since 2019, so I was there 24 hours a day and mostly on my own. Getting outside and seeing the sky, the grass and surrounding myself with other people going about their daily business became a huge part of the day for me.
"Whether it was first thing in the morning or in the evening, going outside was something that I really held on to."
With many people now working from home, Gordon says the 'new normal' means that getting out for a run is much easier and can be used to break up the day rather than being an activity he would previously have to "shoehorn" in between work and the commute.
As a result, he now considers running as a reward rather than something that needs to be done.
On the 26-mile Stirling Marathon, Gordon says he is looking forward to exploring the scenery of the route and running alongside people.
"We are all there for the same reason; we are all trying to get to the end. It doesn't matter if you are aiming for three or five hours, everybody is there to run the same distance around the same route. So I am looking forward to being with like minded people."
What would he say to anyone who is unsure of whether or not to join up for the event?
"Go for it. Anybody can run a marathon if they put their mind to it. If you want to aim for a time goal then you have to work hard to achieve that, but if you want to run two or three times a week, you will be able to run a marathon. It is one of the most rewarding feelings crossing that finish line.
"That first beer or glass of wine just tastes ten times nicer after 26 miles!"
Sign up to the Stirling Marathon here and use the code RUNSM15 to receive a 15 per cent discount.
A message from the Editor:
Thank you for reading this article. We're more reliant on your support than ever as the shift in consumer habits brought about by Coronavirus impacts our advertisers.
If you haven't already, please consider supporting our trusted, fact-checked journalism by taking out a digital subscription.