Ray Mears visits Argyll to present an environmental project, Seawilding, with National Lottery award
The author, presenter and bushcraft expert talks to us about the awards and spotting big cats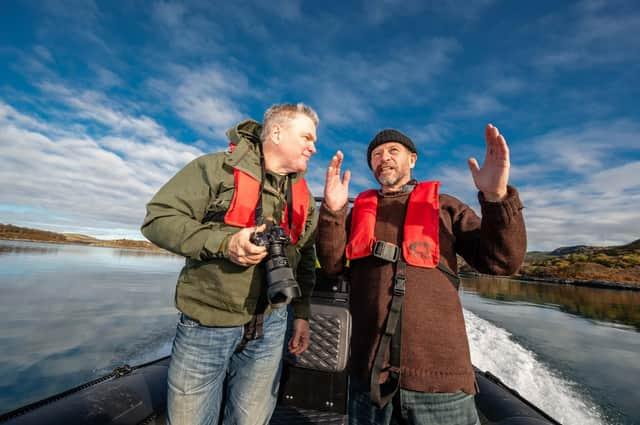 If you've ever seen a familiar face from TV in the depths of a Scottish forest, it might've been Ray Mears.
He spends a few weeks every year in Perthshire, as part of his Woodlore school of bushcraft sessions, which also take place in Finland, Namibia and East Sussex.
However, this time, he's crossed the border to present a National Lottery Heritage Fund award to former journalist Danny Renton and his project Seawilding. In partnership with Craignish Restoration of Marine and Coastal Habitats (CROMACH), this charity aims to restore biodiversity through reintroducing native oyster beds and seagrass in Argyll's Loch Craignish, and train other coastal communities to do the same.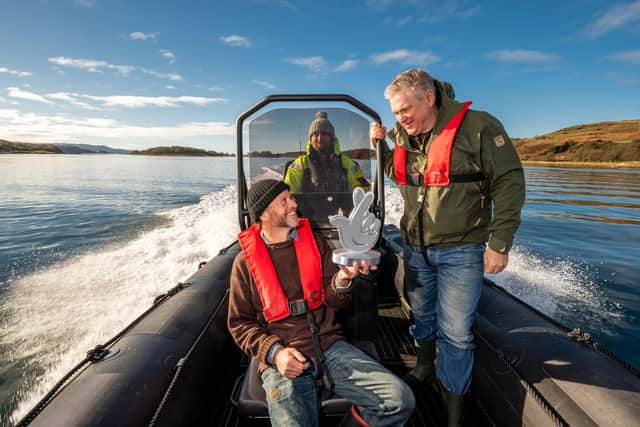 It was chosen by a judging panel from 3780 nominations.
Mears wasn't involved with that bit, but he's very impressed with their choice.
This sort of thing makes him feel more positive about the future of our environment.
"I'm not without hope," says the author and presenter. "That's what's exciting about projects like this. They energise, because you've got people who. rather than sitting down apathetically, get up and do something about it. And that's fantastic. I think nature is very good at recovering. Ultimately, it will always continue, but if we give her a helping hand, we can massively make a difference and benefit. That's exactly what's going on here. It's tremendously exciting work".
This television presenter and author has done his bit for the environment too.
Ultimately, he sees his job as "connecting people with nature", whether that be through his telly programmes, or his vast catalogue of books, which include Wilderness Chef, Essential Bushcraft and his memoir, My Outdoor Life. However, he describes his most recent read and last year's release as the "most important".
"British Woodland basically tells the story of our forests from the end of the last Ice Age onwards. It's an interesting story," he says. Apparently, there's another one in the pipeline, and some other telly work, though he won't share any details.
Mears still connects others with nature through bushcraft courses, which will variously show people (mainly blokes, if the website pictures are anything to go by) to, among other things, make fires, build shelters and track. Of course, Mears excels at this. The police even hired him to help find murderer Raoul Moat, back in 2010.
Since lockdown, he says that people increasingly want to learn these skills
"There's been growing interest year on year. The problem is that there aren't experts to provide it. There are a lot of people pretending to be experts who aren't then honest enough to get tuition, but there is an interest and that's encouraging. It's a great thing for people to learn. It's not just for children but very much for adults".
And Mears really is a professional. I wonder if he's ever made a mistake and, say, eaten anything he shouldn't, like a dodgy mushroom.
"Well, I'm still here, so, no. I've only ever come close once and that was when I worked with a wonderful professor of botany who's no longer with us. We spent 10 years trying to work out what our Mesolithic ancestors were eating. And he came up with a hypothesis for the processing of one poisonous plant. So we tried it. And I'm eating this root and my mouth is starting to tingle, so I said, 'Are you sure this is edible?' and he replied 'theoretically'. I asked 'Why is my mouth starting to swell then?' and he said 'Good point. I think we should spit it out'".
Mears' courses have been running since 1983 and predate his first ITV series, Tracks, which he started presenting in 1994. It was followed by Ray Mears' World of Survival and then reinvigorated after a hiatus as Survival with Ray Mears. His prolific portfolio also includes plenty of wildlife programmes. Apparently, his finest animal moment was spotting big cats for 2021 series, Wild China.
"Oh, wow, that was amazing. They gave me a day and a half to find snow leopards and they were so certain that they'd end up having to use stock footage that they didn't even give us a long lens," he says. "We only had a wide angle one, but I found the cats with the help of a local biologist - we worked together. We went tracking and on the basis of what we saw, we put ourselves in the right place. And we managed by pure accident because I had the right adapter - my spotting scope - so we could put it on the camera and film them. And it was a mother and a male cub. It was fantastic. Their camouflage is amazing".
Apart from the greyer hair, Mears looks the same as he did when first appearing on our screens back in the Nineties, though he's turning 60 next year. "Thanks for reminding me," he says. Does he crave home comforts more as he gets older?
"This is a really good question because you get to this age and you do think about those things. I still love getting up at five o'clock in the morning and putting the fire on to get water for my shower," he says. " Life is so simple out in nature and as I get older, I become more skilful. I'm still learning things. And in a strange way, my methodology outdoors is simpler than it used to be, because I've worked out what's important and what isn't. And I love it".
Comments
 0 comments
Want to join the conversation? Please or to comment on this article.