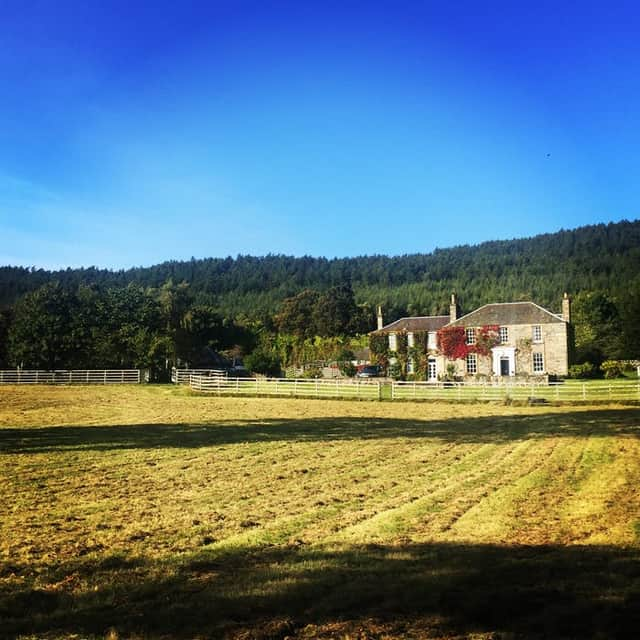 Hankering after a more rural life for their family, Anne and Archie MacDonald bought a Highland estate and started the process of transforming the Old Manse of Blair
Many people dream of escaping city life to somewhere more peaceful, but for Anne MacDonald and her family this dream became a reality in 2016.
"Archie and I were both brought up in the Outer Hebrides, and found it difficult to see our children, ten-year-old twins Sara and Angus, growing up without the freedom and space around them that we were privileged to have," Anne says.
The family were living in Bearsden, East Dunbartonshire, when Anne started the search for their ideal country retreat.
Picture: David Brown/Cool Stays
"We looked at lots of properties and one evening decided to change our search parameters and the Old Manse of Blair came up. It's such a grand property and at first it was slightly overwhelming."
The Old Manse of Blair and its walled garden was part of a sale of an estate, which included outbuildings, ten acres of land and a steading house where Anne and her family now live.
It was the history of the estate plus its enviable location that appealed to Anne, especially from a business point of view as she and Archie wanted to transform the manse into a self-catering and events destination.
"The House of Bruar is on one side of the estate and Blair Castle is on the other," says Anne.
"The Caledonian sleeper connection close by means we can get to London really easily, we're only half an hour from Perth and all the major cities are within reach.
"The property was built in 1828 with the Georgian wing added in 1842. The layout of the property has changed over the decades and census records, which we've recovered with the help of local genealogist Marigold Massie, of Old Oak Genealogy, have given us lots of really good information on who the ministers of the parish were and who lived in the manse and how many windows there were and how many servants lived here. It's quite fascinating."
Picture: David Brown/Cool Stays
After buying the estate, Anne started renovations, which took about 13 months and included a few setbacks.
"The most painful experience was removing the fabric that was attached to the dining room walls," she says.
"It had been stapled into place, layered with a fur like substance and re-stapled. We must have removed millions of staples.
"We uncovered lots of interesting decor choices which had been papered over down the years."
Picture: David Brown/Cool Stays
Another key installation was a new kitchen. Anne says: "On moving day I stopped at a supermarket and bought chicken drumsticks for the children thinking I could pop them in the Aga – that was meant to be serviced and working – whilst we continued to unload.
"Three hours later they were still raw. Thankfully the Manse now has a wonderful new kitchen thanks to the cabinet makers Birkwood, who worked with us to renovate the entire space."
When it came to the interior, Anne wanted the decor to reflect the nature and landscape around the property in a contemporary way, without being predictable.
Picture: David Brown/Cool Stays
"The interior very much reflects my style. I love true unique quality and I've never been one for scrimping on key items.
"It feels like a very creative space without being uncomfortable. The balance between heritage and contemporary style on a property of this scale can be tricky but I think we've pulled it off pretty well."
Picture: David Brown/Cool Stays
This balance can be seen throughout the Manse but in particular the dining room. "Every item in the dining room is a bespoke commission," says Anne.
Picture: David Brown.Cool Stays
"All our guests from across the globe who have dined here absolutely love the room with its unique light and atmosphere.
"I found the deer sculpture in the back of a barn while attending a music festival, it was sitting on top of a pile of hay bales.
"As soon as I saw it I knew I would find it hard to live without it and would be taking it home with me."
The centrepiece in the dining room is a banqueting table commissioned and made from a tree which fell at Diana's Grove at Blair Castle.
The tree was almost 200 years old, a similar age to the house. A local craftsman made the table and the oak was kiln dried in Rannoch, crafted and assembled in Dunkeld and returned to Blair Atholl.
"I think that's pretty special and when coupled with these immense leather chairs from Timothy Oulton, that's a great combination," Anne says.
Picture: David Brown/Cool Stays
Scottish crafts and quirky additions can be seen throughout the interior, including Harris Tweed, artwork from Gerard Burns and a piano stool covered with fabric from Iona Crawford.
"I had never tried to find a piano stool but after investing in a baby Steinhoven I knew I couldn't pair it with just any stool," says Anne.
"Instead I chose a bench from Iona's collection with The Glasshouse velvet fabric."
Picture: David Brown/Cool Stays
Despite the amount of work that has been undertaken, Anne and Archie still have some grand plans: "We have just received listed building consent to add an orangery to the rear of the building.
"This will open up the space and really add to the building, giving it more flexibility for dining and socialising for group stays and corporate events," says Anne.
But overall they are happy with the work they have done and the legacy that they will leave behind.
Picture: David Brown/Cool Stays
"There is a real responsibility that comes with owning a listed building.
"You're effectively a custodian and how you use and look after the building will be a legacy for future generations. I know the work we've completed has secured its future."
Picture: David Brown.Cool Stays
The Old Manse of Blair is available to rent from Cool Stays.