Spa Spy: We try Bamford's new menopause treatment, B Balanced, at Fletcher's Cottage Spa in East Lothian
This 60-minute treatment has just been launched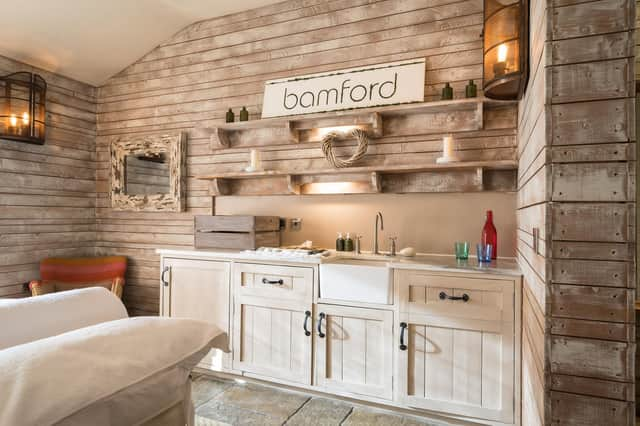 I'm not quite at the hot flush stage, but I'm getting there.
I can already tell that the menopause is not for sissies. Thus, I'm an ideal candidate for the new 60-minute B Balanced treatment from spa brand, Bamford.
This therapy, which is available at Fletcher's Cottage Spa at Archerfield, has been created to help those who're menopausal, but also guests whose mind, body and energy levels are out of whack. It's also a bit of a showcase for their matching new B Balanced Body Oil, which is made from a heady and sweet blend of rose, frankincense and cardamom.
Therapist, Stephanie, is looking after me today. I'm one of the first to try this experience but she's obviously got the routine down pat already.
My therapist puts her hands on parts of my body - my ribs; behind my heart, and at the lower back - and asks me to deeply inhale into each area three times.
It's a great introductory exercise to get in the relaxation zone.
Next, Stephanie applies the warmed oil to my back, and there's a flowing massage, which moves up to the tips of my shoulders and down to my palms. This is punctuated with an application of the new B Balanced Cooling Gel with rose water and chamomile.
At the beginning of the treatment, I'd been shown the smooth and dark green marbled gua sha tool that they utilise at this point. It's smoothed upwards on each leg, in order to stimulate the lymph and get the circulation moving.
It's followed by fingertip pressure on certain meridian points. According to Chinese medicine, each spot matches an organ. For instance, when Stephanie presses the inside of my ankle, it feels intense. Apparently, this area is the equivalent to one's bladder. I knew I shouldn't have had that pre-therapy coffee.
Once I'm turned over, there's the same routine on the front of my legs, but we also do a few stretches. These have been added to aid in joint pain, which often accompanies the menopause. My limbs are bent like I'm a frog, then lifted out to the side, then across my body, to release my hips and lower back.
The experience also includes a stomach massage, using circular moves, and the gua sha is gently skimmed across the decollete.
It's all rather heavenly, and I feel extremely chilled afterwards. Equilibrium has been restored.
Comments
 0 comments
Want to join the conversation? Please or to comment on this article.